While Chicago Blackhawks prospects have been noticed with their impressive performance at the recent Traverse City Prospects Tournament, there are three Blackhawks veterans destined to play a pivotal role in the 2017-18 season. Centerman Artem Anisimov, winger Richard Panik and defenseman Brent Seabrook all possess the elite skill that helped power the Blackhawks to the top of the Western Conference last season.
Each of them tracked a career-altering trajectory that, going forward, could make-or-break the team's success. With the Blackhawks set to open training camp on Sep. 15, here's a closer look at how their play might significantly shape the Blackhawks' fortunes in the coming campaign.
Artem Anisimov
Second line centers Michal Handzus (2013) and Brad Richards (2015) were key contributors in the Blackhawks' last two Stanley Cup championship runs, but quickly departed after hoisting the Cup. So it was no surprise that general manager Stan Bowman immediately signed Anisimov to a five-year, $22.75 million contract extension after acquiring him in July 2015 from Columbus in exchange for Brandon Saad.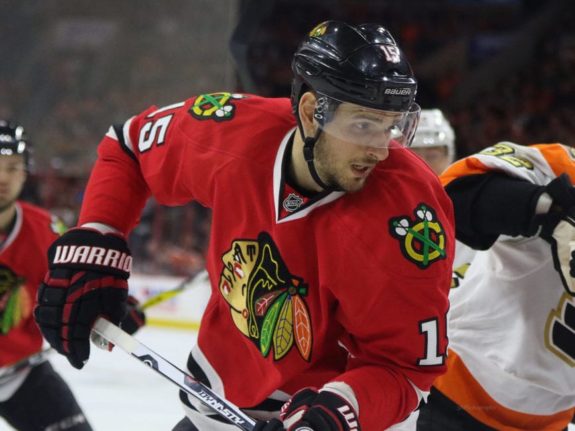 The big money started to flow last season and Anisimov immediately delivered, posting a career-high 45 points and seven game-winning-goals in 64 games while centering star wingers Patrick Kane and Artemi Panarin.
Now that Panarin has departed for Columbus, there is endless speculation over who will skate on the left wing with Anisimov. Patrick Sharp, Nick Schmaltz, Ryan Hartman and prospect Alex DeBrincat are all likely candidates. Kane is a lock to start the season on the right side where the formidable chemistry he's forged over two years with Anisimov should continue to produce copious points.
For his part, Anisimov has a nose for the net and scored almost all his 22 goals last season from point-blank range with an eye-popping 21 percent shooting percentage. The 29-year-old centerman moves well for a big man, has great hands and excels at protecting the puck. He's also an accomplished two-way player who kills a lot of plays on the backcheck and defends well in his own zone.
Troubling Trends
Anisimov's only significant shortfall is in the dot where he's won only 44.5 percent of his draws over two years as a Blackhawk. It was even worse against the Nashville Predators where he lost a staggering 71 percent of his chances in the four-game playoff series.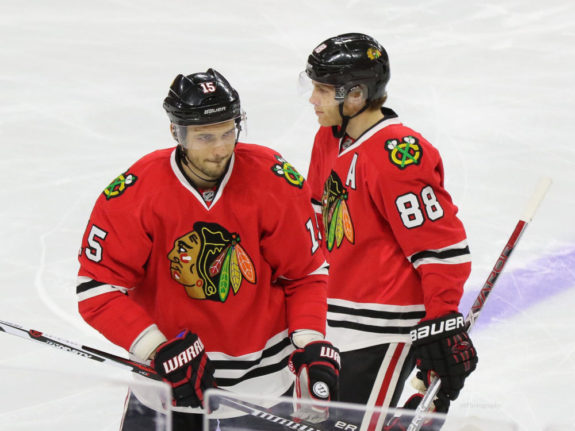 Even more worrisome, Anisimov has been dogged by injuries over the past five years, and he skated in just 64 games last season. After sustaining an injury to his left leg in mid-March, he missed the last 13 regular season games and was clearly less than 100 percent after returning to action in the playoffs against Nashville.
As training camp gets underway, several questions linger over Anisimov's health. If he goes down early, the Blackhawks will look to second-year players like Schmaltz or Tanner Kero to fill the void, and the dominoes will fall down the lineup from there. Schmaltz is a natural center but found his game last season on the left wing. Kero came on strong down the stretch but is a better fit centering Chicago's checking line with his tenacious defensive play.
The Blackhawks can outscore Anisimov's deficiencies in the dot, but I'm not optimistic they can overcome his lengthy absence from the lineup, especially down the stretch.
Richard Panik
Blackhawk Nation was dealt an emotional blow in June with the announcement that Marian Hossa will not play this season due to a chronic skin condition. The pain was especially acute since Hossa had enjoyed a resurgent 2016-17 season with 26 goals and 45 points.
No player can duplicate what Hossa has achieved over eight years wearing the Indian Head sweater, but fellow countryman Panik is already drawing comparisons with his play at Hossa's old spot on the right wing next to Jonathan Toews.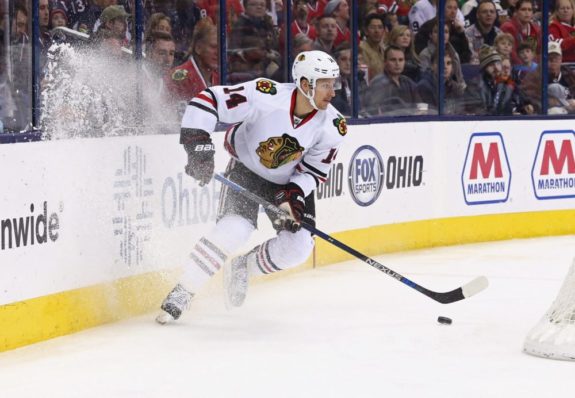 Panik spent three years spinning his wheels in the Tampa Bay Lightning and Toronto organizations, then finally caught a break when he came to Chicago in the January 2016 trade that sent Jeremy Morin to the Maple Leafs.
After gaining some notice with six goals in 30 games for the Blackhawks that season, the 26-year-old power forward really broke through in the 2016-17 campaign posting career-highs with 22 goals and 44 points  He skated in all 82 regular season games and ranked among the Blackhawks' top-six forwards with five game-winning-goals, 155 shots and 14:44 minutes average ice time.
At 6-foot-1, 208 pounds, Panik's a strong skater with a classic power move to the net, but can turn on a dime and undress defenders on his way to open ice. He's fearless along the boards and in the corners, and his 147 hits led the team last season.
Streaky Scoring
After a red-hot start in which he notched 10 points in 11 games, Panik went cold with just five points over the next 32 games, including a 13-game pointless drought. But all that changed on Feb. 2 when Panik was reunited with Toews and Schmaltz on the top line and everything clicked. The trio combined for 26 goals and 73 points down the stretch to lead the Blackhawks to the Western Conference title.
Panik really got it going during his second stint with Toews, stringing together a career-best 11-game point streak along with 11 goals and 22 points. The captain also clearly benefited from the partnership, posting 30 points over his last 29 regular season games. The Blackhawks were impressed enough last May to ink Panik to a $5.6 million, two-year bridge deal with a realistic expectation that Panik and Toews, along with Brandon Saad on the left wing, can produce among the league's top lines.
Panik needs to add another 40-50 shots on net and find a more consistent scoring touch, but clearly, has the skill to reach the magical 30-goal mark this season and break into the top-tier of the league's power forwards.
Brent Seabrook
After signing his monster eight-year, $55 million contract extension two years ago, Seabrook found another gear offensively, putting up a career-high 14 goals and 49 points in the 2015-16 season. But when the new money kicked in last season, Seabrook took a big step back on both sides of the puck, and his $6.85 million AAV cap hit is starting to look like a grossly inflated gift for past performance rather than a true measure of his value going forward.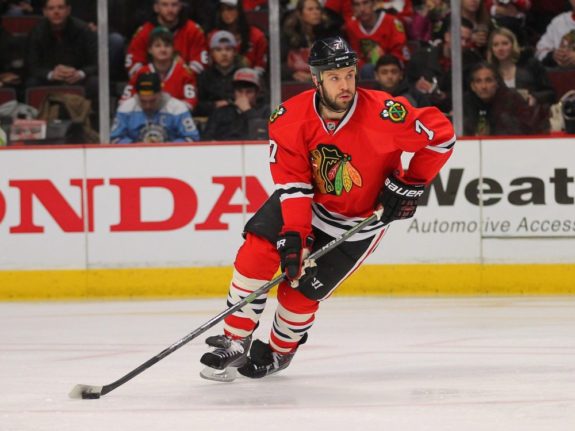 Still, Seabrook appeared in 79 regular season games and logged top-pair minutes while skating in all situations. He scored only three goals, but led Blackhawks defensemen with 111 hits and was second with 36 assists and 147 blocked shots.
The Aging Blue-liner
Peer beyond the summary, and it's clear that Seabrook is no longer the imposing presence he was in the past. The 12-year NHL veteran has lost more than a couple of steps to faster, younger opponents who frequently out-maneuver him around the crease, in the corners, and along the boards. Seabrook's ratio of giveaways-to-takeaways has soared in recent years to an almost unthinkable 88:24 ratio last season.
On offense, Seabrook can still connect with a stunning two-line stretch pass and a laser shot pass but he generated only 131 shots last season and a minuscule 2.3 shooting percentage.
With the loss of defensemen Nicklas Hjalmarsson, Trevor van Riemsdyk and Brian Campbell, the Blackhawks will need another big serving of quality minutes from Seabrook —  both on the ice and in the room — if their reconstituted blue line has any hope of competing against stronger, faster and more experienced opponents.
At the Crossroads
You could argue that the play of Toews, goaltender Corey Crawford or any number of other players will impact the Blackhawks as much or more than the three veterans I've chosen here. Still, Anisimov, Panik and Seabrook all stand at a crossroads of some sort in their NHL careers and are potential game-changers at both ends of the ice. The Blackhawks' 2017-18 season will likely turn on their performance.
Minnesota native who traveled the world as career naval officer before settling in Pacific Northwest. Former contributor at Blackhawk Up. Hiking, music and reading are my cures for the hockey malaise.