It's almost becoming a tradition now. The Blackhawks find themselves in a playoff overtime scenario, and who else but big defenseman Brent Seabrook comes through to deliver the game clincher.
It happened once.
Then it happened again.
And then in last night's triple overtime marathon, it was just one minute into the third extra frame that Brent Seabrook found the back of the twine yet again.
Sweet Seabs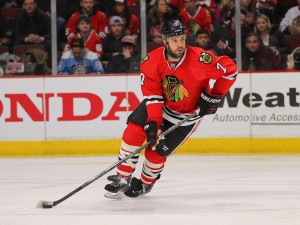 I'm not one to put very much stock at all into the "clutch" factor, but it's very interesting just how good Seabrook has proven to be at coming up big in playoff overtime situations.
No defenseman in NHL history has more than Seabrook's three overtime goals. For a guy whose career high in goals lies in the single digits, that's pretty staggering.
Seabrook isn't exactly known for his offensive contributions, which is why it's so big for the Blackhawks that he pulls off these overtime goals at critical times.
Over the last five years, there have been 182 defensemen who have logged at least 2,500 minutes of even strength ice time. According to stats.hockeyanalysis.com, Seabrook ranks 30th out of those in shots against per 60 minutes. This statistic is a pretty good indicator of shot suppression and thus defensive ability, and Seabrook's mark is better than some very notable shutdown defensemen names over the same period. Ryan McDonagh, Ryan Suter, Zdeno Chara, Marc Staal, and Shea Weber all allow more shots on goal at even strength per 60 minutes than Seabrook does.
When it comes to helping generate shots on goal, Seabrook is somewhat surprisingly even better. In shots for per 60 minutes, he's 8th in the league out of those same 182. He's not known for his ability to rush the puck up the ice or dominate with easy controlled zone entries, but Seabrook very quietly has one of the league's best breakout passes. Seabrook's passing ability and Keith's puck carrying ability make up an excellent tandem to help get the puck up the ice to the lethal forwards Chicago possesses.
Seabrook's two-way game is often overlooked due to the excellence of his partner, Duncan Keith. But as these stats show, the list of defensemen who excel at both ends of the ice to an equal or greater degree when compared to Seabrook is a very short one. When it comes to overall share of shots on goal at even strength, Seabrook's mark of 54.6% puts him at 7th in the league.
The Blackhawks will take that level of consistent excellence out of Seabrook every day of the week. And if he wants to continue winning playoff games with timely goals, hey, that's just fine with them too.