Now that Tomas Tatar's new contract has been signed, the Detroit Red Wings have some maneuvering to do before the 2017-18 NHL season begins.
With the Slovakian winger set to earn $5.3 million next year, Detroit's projected team cap hit comes to $75,329,167 – $329,167 over the salary cap maximum. That number excludes Johan Franzen (long-term injured reserve) and factors in Evgeny Svechnikov, Tyler Bertuzzi, and Martin Frk playing in the AHL. And they still need to sign Andreas Athanasiou.
There are a few things Red Wings GM Ken Holland can initially do to comply with NHL salary cap regulations, but being a rebuilding team up against the salary cap with more than a few long-term commitments is not an enviable position. He'll have his work cut out for him this summer.
Signing Athanasiou
First and foremost, the Red Wings need to sign their speedy forward to a bridge deal. Dallas' recent deal with center Radek Faksa should be a good comparable for Athanasiou. The two have had similar NHL careers thus far:
| | | |
| --- | --- | --- |
| Entry-Level Contract | Andreas Athanasiou | Radek Faksa |
| Year 1 | 55 GP – 16 G – 16 A – 32 PTS (Grand Rapids/AHL) | 32 GP – 4 G – 6 A – 10 PTS (Texas/AHL) |
| Year 2 | 37 GP – 9 G – 5 A – 14 PTS (Detroit/NHL)* | 45 GP – 5 G – 7 A – 12 PTS (Dallas/NHL)* |
| Year 3 | 64 GP – 18 G – 11 A – 29 PTS (Detroit/NHL) | 80 GP – 12 G – 21 A – 33 PTS (Dallas/NHL) |
*Both split the 2015-16 season between the NHL and AHL.
Since Athanasiou is better suited as a winger than a center like Faksa, it's possible his contract will pay him slightly less than the Stars pivot. If he and the Red Wings agree to a three-year contract with a $2 million AAV, Detroit's collective cap hit will rise to $77,329,167.
Cutting Costs
With salary cap commitments more than $2.3 million over the limit, moves will need to made so the Red Wings can become compliant. There are a few ways to go about doing this.
Long-Term Injured Reserve
Late last season, Ryan Sproul partially tore his left ACL. It's entirely possible that he's not ready for the start of the season and will need to placed on long-term injured reserve (LTIR) during training camp. The same could be said for Luke Glendening, who had offseason ankle surgery. Placing them on LTIR will offer some cap relief, but at least one player—likely Frk, who needs waivers to be sent down—will need to stick around so Detroit can ice 12 forwards and six defensemen in their home opener.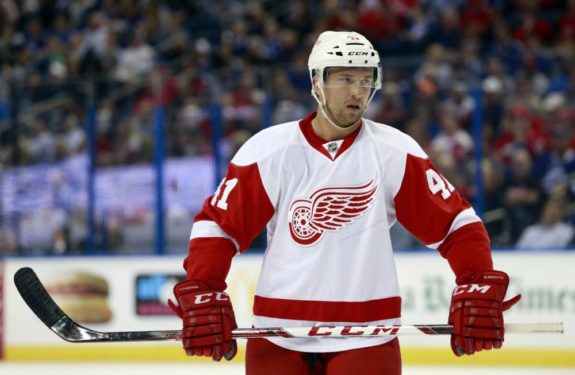 Though these moves save some cap space, they are still not enough to become compliant. Plus, this is a band-aid approach for the Red Wings – Sproul and Glendening will be healthy at some point. Detroit cannot rely on players being injured to comply with salary cap regulations.
Trio of Goalies
The salary cap commitment number above includes Jared Coreau's contract staying with the Red Wings. As previously discussed, carrying three goalies would not benefit Detroit in any way apart from simply ensuring all three stay in the organization.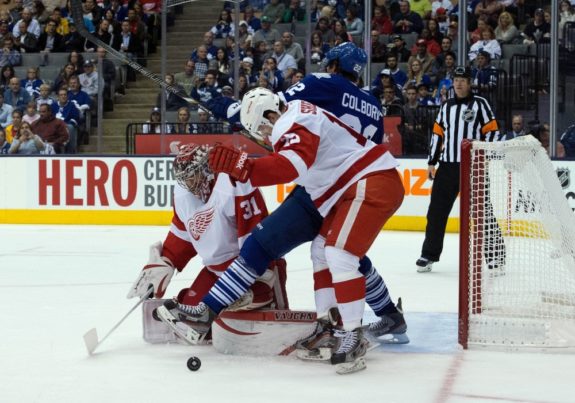 Sending Coreau down to the AHL would free up some sorely needed cap space, though not that much ($612,500). Plus, the goalie now requires waivers to be sent down. It's unlikely that Detroit would want to risk losing the reigning Calder Cup championship goaltender for nothing, especially if the cap savings from his assignment are minimal. A more beneficial scenario would be the Red Wings trading one of their higher-paid goalies: Petr Mrazek or Jimmy Howard. Howard has the most value now, but that could change once training camp begins.
Trading a Defenseman
Detroit has a surplus of NHL contracts in net and on the blue line. If the Red Wings want to keep both Howard and Mrazek, they could look to ship out a defenseman with a hefty contract. That's easier said than done, though.
| | | |
| --- | --- | --- |
| Player | Cap Hit | Contract Expiration |
| Mike Green | $6,000,000 | 2018 |
| Danny DeKeyser | $5,000,000 | 2022 |
| Niklas Kronwall | $4,750,000 | 2019 |
| Jonathan Ericsson | $4,250,000 | 2020 |
| Trevor Daley | $3,166,667 | 2020 |
Of Detroit's well-compensated defensemen, it's unlikely that they trade Niklas Kronwall, Trevor Daley, or Danny DeKeyser at this time. Kronwall is a lifetime Red Wing and the heart and soul of the blue line. Detroit, being a proud and player-friendly organization, wouldn't trade him unless they knew he was done playing (similar to Pavel Datsyuk's situation).
Considering they just signed Daley earlier this month, Detroit would not look to trade him right away. As for DeKeyser, they are committed to the defenseman despite the brutal campaign he had last season. The Red Wings believe DeKeyser will rebound in the coming year rather than regress further in the top-pairing role.
That leaves Jonathan Ericsson and Mike Green. Surely, Red Wings fans would prefer to see Ericsson traded over their smooth-skating offensive defenseman. But to trade Ericsson, Detroit would likely need to "pay" another team to acquire him. The Red Wings could opt to package Ericsson with a third-round pick in exchange for a late-round choice from a team with cap space to spare. Alternatively, Detroit could trade Ericsson and Riley Sheahan for a small return to shed over $6 million in cap hits. However, trading high draft picks or young players is not ideal for a team trying to rebuild.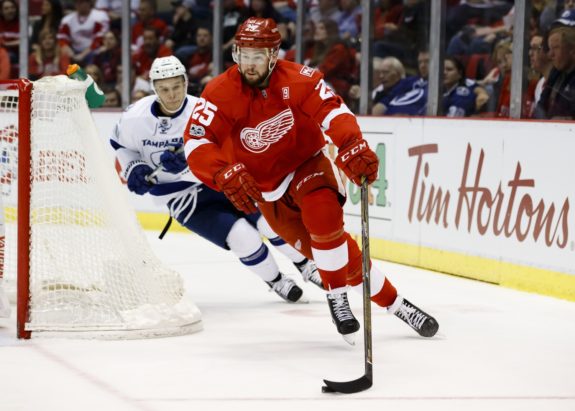 Considering their haul for Brendan Smith, the Red Wings could turn this cap conundrum into a step forward if they trade Mike Green. He's a valued member of Detroit's blue line, but clearing $6 million off the cap would resolve Detroit's dire salary situation and bring back at least a second-round pick in return for the rental player, if not more.
Another Red Wings Buyout?
In a recent article covering Tatar's arbitration process, The Athletic Detroit's Craig Custance noted that it would be unlikely for the Red Wings to buy someone out, despite the salary cap issues. At this point, Detroit wouldn't want to hint at a buyout anyway. Suggesting that a buyout is possible would be the last resort for getting rid of a player – why would a team trade for someone who they could possibly sign after a buyout in the not-too-distant future?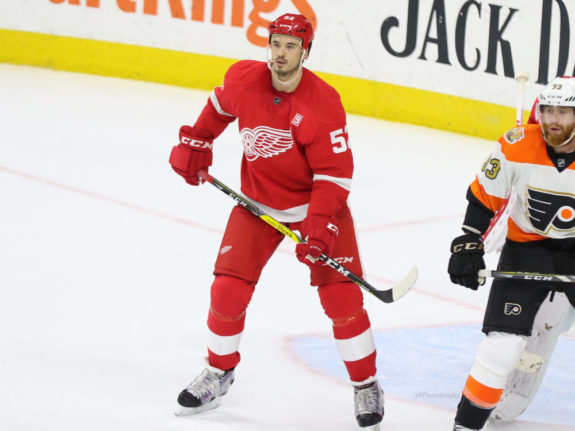 Besides, if the Red Wings bought out Ericsson—the likeliest candidate—the resulting cap savings would not be enough to keep Detroit compliant once Glendening and Sproul return from injury. A buyout would need to be accompanied by a trade of another player (Sheahan or Gustav Nyquist for example) to bring the Red Wings back under the upper cap limit.
Further, a previous buyout is burning the Red Wings this year more than ever and is a significant contributor to the cap issues. Remember Stephen Weiss? His buyout accounts for $2,566,667 of the salary cap this year.
Maneuvering Needed
The offseason may be slowing down, but the Red Wings still have quite a bit of salary cap positioning to do before the season begins. It's probable that a defenseman or goalie is traded prior to the 2017-18 campaign, if not multiple players. Additionally, Detroit could bury a player like Luke Witkowski and have his entire cap hit come off the books. But for a team looking to build for the future, Detroit surely should not be up against and over the salary cap like they are now.
Detroit's cap situation will become more and more of an issue as we count down the days to the start of training camp. Holland will need to find the right opportunity to shed salary over the next couple of months. Unfortunately, this requires finding a balance between accepting good value in return and waiting for the right offer to come along. Hopefully the Red Wings can resolve their salary cap issues without it costing them now or down the road.