Ryan Hartman of the Chicago Blackhawks has made a name for himself in the 2016-17 season. On a team with incredible star power, he has had the privilege to play on all four lines alongside stars such as Jonathan Toews, Patrick Kane, Duncan Keith and Marian Hossa. His rookie season is the dream of any NHL prospect, and a Stanley Cup victory is the only thing missing from the equation.
In the salary cap era, it is rare for a player to remain with one team throughout his career. There are plenty of exceptions, many of them on the Hawks. At 22, Hartman shows plenty of promise, but does he have what it takes to stay with the Hawks for the long haul?
An Outstanding Season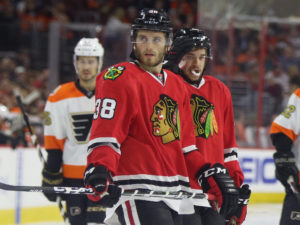 Although he isn't a top Calder Trophy contender, Hartman has stood out among the Blackhawks' rookies all season as he leads them statistically with 18 goals and 11 assists. He also scored his first career hat trick against the Nashville Predators in January. Often compared to former Blackhawk Andrew Shaw for his style of play, he has quickly emerged as a fan favorite. He has also become a favorite among teammates and head coach Joel Quenneville.
"He gives us a little abrasiveness, some net presence, some presence in the puck area. I'll say he has a little [Andrew Shaw] in him. He's starting to find the net, as well, but certainly, he gives us some abrasiveness," Quenneville told Mark Lazerus of the Chicago Sun-Times.
Patrick Kane is also a fan of Hartman's gritty style.
"I love it, I love it, it's great," Patrick Kane said. "You saw in Dallas there, he was special. He was doing something every shift. He was running guys over, he was creating chances, scored a big goal for us, had a lot of time in the offensive end, as well. You need that," Kane told Lazerus in a separate interview with the Chicago Sun-Times.
Although his rookie season doesn't compare to Artemi Panarin's Calder Trophy-winning performance last year, it has been one to remember.
Cap Issues
The biggest issue facing Hartman's future with the Hawks is the salary cap. The cap has forced the Hawks to let go of many great players, especially in recent years. The Brandon Saad trade is the perfect example. After winning the Stanley Cup with the Hawks in 2013 and 2015, he was traded to the Columbus Blue Jackets in the summer of 2015. Andrew Shaw faced the same fate a year later when the Hawks traded him to the Montreal Canadiens.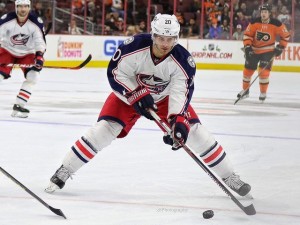 Like Hartman, Saad and Shaw were top forwards for the Hawks and critical parts of their success. The fear that Hartman will face the same fate is a reasonable one. Hartman's contract expires at the end of the 2017-18 season and has a cap hit of $863,333. If Hartman continues to play at his current level, he will likely ask for a larger contract.
It is impossible to judge how much cap space the Hawks will have when Hartman's contract expires. It will be easier to judge after free agency this summer. Unfortunately for Hartman, the recent history of the salary cap does not play in his favor.
In It for the Long Haul?
Earlier in the month, the Hawks made roster moves that gave the appearance that they want to protect Hartman from the expansion draft. Hartman has the talent to remain on the Hawks and win multiple championships. Hartman's fate with the Hawks will all come down to the salary cap. It doesn't matter how good he is or how much he wants to stay, or how much the Hawks want him to stay. It's all about business in the end. There is plenty of hope that Hartman can stay beyond his current contract, but only time will tell regarding his future with the Hawks.
Illinois State University graduate and lifelong Chicago Blackhawks fan. I also write for The Odyssey at Illinois State and Fans Talk Sports. Other than hockey, I love to write historical fiction and nonfiction.