With 11 games remaining on the Columbus Blue Jackets' schedule, they have already clinched a spot in the Stanley Cup Playoffs. Their 100 points have them locked with the Washington Capitals and Pittsburgh Penguins in a heated race for first in the Metropolitan Division. It's the first time in franchise history that they've accumulated 100+ points in a season.
It's been a first for many things this year as the Blue Jackets have been enjoying a record-breaking season. Seemingly every game the team is rewriting their franchise history while also penciling their names into the NHL record book.
From defenseman Zach Werenski's record-setting rookie season to the team's 16-game winning streak, the Jackets are proud of many outstanding accomplishments. I might miss a few but I thought I would highlight a handful of their most astounding achievements.
Team Achievements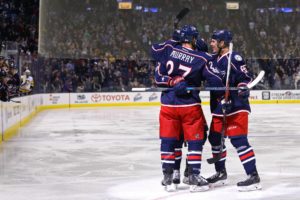 Before this season, the highest point total ever accumulated by the team was 93. They obtained their 44th victory and 94th point of the season after a win against the Philadelphia Flyers. The Jackets will look to crush that record as they key in on 50+ wins.
After defeating the Florida Panthers at Nationwide Arena on Thursday, they set a new franchise record for home wins in a season (26).
They won 16 games in a row from November 29 to January 3 making them only one of two teams in NHL history to reel off that many consecutive wins.
Their current goals per game is 3.18 with their previous best being 2.77. The next goal they score will match a franchise high in goals for in a season. At the same time, their goals against per game is currently 2.30 which is also a franchise best.
Half of the skaters on their active roster have double-digit goal totals. Additionally, there's a pretty good chance that five players will end up with 50 points by the end of the regular season, a feat never accomplished by the team.
Individual Accomplishments and Milestones
Zach Werenski Breaking Records on the Back End
If you haven't heard by now, Zach Werenski is really good. So good that he not only broke the single-season record for most points by a Columbus rookie defenseman but also Rick Nash's rookie-season record of 39. And remember, there's still 11 games left.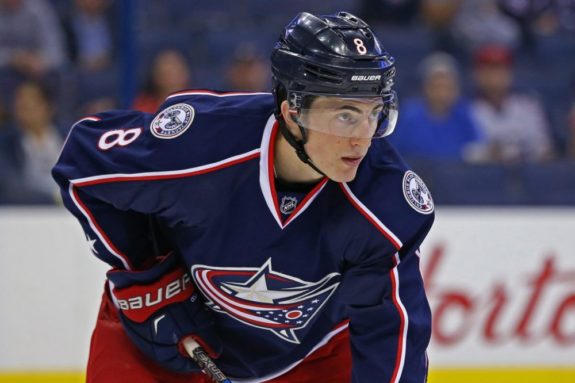 Remember that Nash is the majority owner of most records in Jackets franchise history. It is incredible how good Werenski has been all season long. And if it wasn't for a couple kids named Auston Matthews and Patrik Laine, Werenski would take home the Calder Trophy.
Goalie Bob Is a Brick Wall
Goaltender Sergei Bobrovsky set a franchise record with his 34th win of the season when there were still 18 games left to play. His next win will bring him to 40 and with the rest of his insane numbers, he's likely the favorite to win the Vezina Trophy, an award he won in 2013.
Atkinson and Wennberg Having Career Years
Forwards Cam Atkinson and Alexander Wennberg have each set career highs in goals, assists and points this year. Because of their offensive efforts, they are the top-two point-getters this season for Columbus. Atkinson cracked the 30-goal plateau for the first time in his career while Wennberg is racking up assists, leading the team with 42. Atkinson has 60 points and if Wennberg can produce six more, he will also reach 60.
Not Just the Players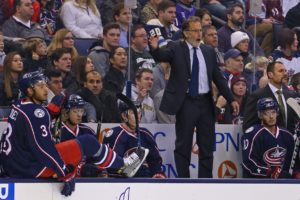 In the middle of the team's historic winning streak, head coach John Tortorella became the first American coach to win 500 games. Torts is likely to win the Jack Adams award for coach of the year after turning a bottom-dweller into a Stanley Cup contender in less than a year.
And even Blue Jackets broadcasters are reaching milestones. Television play-by-play man Jeff Rimer called his 2,000th NHL game earlier this month. This recognition surely won't go undetected by me in this writing (only Jackets fans will understand this).
Food Left on the Plate
There's a chance for even more milestones to be reached by the team and its individual players. The crazy thing about all this, though? The Blue Jackets weren't even supposed to be good this year. Hockey experts figured there was a higher chance the Jackets would finish last instead of first. It would be a phenomenal underdog story if they won the Presidents' Trophy.
.@Bdubi17 is happy to be in the playoffs, but wants to win rest in such close standings pic.twitter.com/cg3WGKqS40

— FOX Sports Cincinnati (@FOXSportsCincy) March 19, 2017
Presidents' Trophy or not though, this Jackets team is trying to win their first playoff series in franchise history. The last two times the Jackets were in the playoffs, there was a "happy to be here" feeling. This time around, they're hungry and very confident. One playoff series win might not be enough for this team. They're trying to break all the records.