It's a nervous time in Bruins nation, and understandably so. After jumping out to a remarkably hot start under interim head coach Bruce Cassidy, the B's have hit a rough patch, dropping three straight games, the latter two against divisional rivals.
Boston's seemingly safe playoff position all of a sudden appears to be a lot less secure. Given the collapses that have occurred over the past two seasons for this team, it's understandable that there's a sense of déjà vu creeping into the anxious minds of Bruins fans.
The Outlook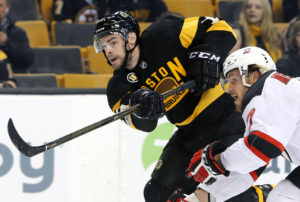 As it stands, the Bruins are still in the playoff picture. The team sits in the third spot in the Atlantic Division, although any hopes of climbing higher took a significant hit after dropping key games to Toronto and Ottawa.
The Maple Leafs are closing in on the Bruins from behind – they currently sit one point behind the B's with two games in hand. If the Leafs can capitalize on the opportunity that Boston has presented them with, then the B's could be booted out of the Atlantic Division playoff picture, and thrown into the pandemonium that is the Eastern Conference wild-card race.
B's Control Their Fate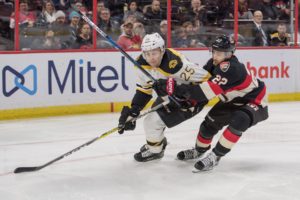 There is good news for this Bruins team. Looking down into the wild-card race, the Bruins have a little bit of breathing room. The two closest bubble teams that are fighting for a spot are the New York Islanders, who sit four points behind the Bruins with two games in hand, and the Tampa Bay Lightning, who are five points back with a single game in hand.
It isn't a lot of breathing room by any means – if the Isles can win both of the games in hand they have on Boston, then they'll be tied as far as points go (the Bruins would win the tiebreaker for regulation and overtime wins – they currently lead the Isles in that category 36-32). But there is some room, which brings up a very important point for the Bruins: their destiny is in their own hands.
That simple statement may seem trivial, but the value of it cannot be understated. Right now, the Bruins can make the playoffs by their own merits. The B's have nine games remaining on the schedule, and if they can string together a win streak (they won't need to win every game), then they can guarantee a spot in the postseason.
They don't need to rely on other teams losing, and as of now, they don't need to worry too much about winning their games before the shootout, since they sit well ahead of the teams below them in that category as well. That's not something that every team can say.
Getting Back on Track
That being said, the B's need to steer the ship back on course before they lose that benefit. If the Bruins keep slumping, then the Leafs, Islanders, and Lightning will make up the ground and erase the advantage that Boston has. If the B's let that happen, well, things may look dreadfully similar to the past two seasons.
This team is well aware of what can happen if a team struggles at this point in the season. However, they're confident that this year's storyline will be different than the previous two years.
"You have to obviously look forward," said Patrice Bergeron, per CBS Boston. "Definitely don't dwell on the past and don't look at the past two years. It's not even something that we should even think about at this point. It's about us … being better and finding ways to win games."
Bruins defenseman Torey Krug echoed a very similar message:
"I haven't thought about [the previous collapses], I haven't talked about it. It's a different feeling this year. It's not going to happen. I know we have a lot of pride in this room and the guys who have been through it … there's no other option except making sure we stay on course and take care and do our jobs."
Bruce Cassidy, who recently took over at the helm of the ship, noted that last year's issues are behind the team.
"Every year writes its own story. There's a lot of guys in that room who weren't here last year, including myself, so we'd like to write our own story. Clearly, the last two games were important games for us and I thought we played very well. We had some breakdowns.

"I don't think I'm going to wake up tomorrow and see us eliminated. So we're going to go back to work on Thursday against Tampa Bay. We're going to keep playing well and keep playing hard."
Cassidy is right. The Bruins won't be eliminated in the coming days. But the time is now to start winning once again before they're forced to fight an uphill battle.