A sixth-round pick in 2016 for the Winnipeg Jets, Russian goaltender Mikhail Berdin decided to cross the pond last autumn to play in the USHL, for the Sioux Falls Stampede. The Hockey Writers talked with the goalie prospect in his native Russian after a practice.
In this exclusive interview, Berdin talked about his move to the USHL, his adaptation to his new life, and his prospects with the Jets.
Early Life
The Hockey Writers: Where were you born? When did you start playing hockey?
Mikhail Berdin: I was born in Ufa. I started playing when I was seven, for Salavat Yulaev Ufa.
THW: Did you always play as a goalie?
MB: No, I did not. I was a forward at the start, but then after a year or so, I don't exactly remember right now, I moved back to goal.
THW: When did you move to Cherepovets?
MB: When I was 14 I moved to Vityaz Podolsk. I played two years for them, then I moved up to Cherepovets.
THW: In Cherepovets, you started playing in the MHL. Was it hard to move from kids hockey to junior hockey?
MB: It wasn't too hard for me. I was ready for that, I was already playing for the national team. We played under a great coach, [Former St. Louis Blues forward] Vitali Prokhorov, who got us ready for more mature hockey. I have been given a chance in the MHL as I was trusted by the coaches, and it turned out that I played my cards well.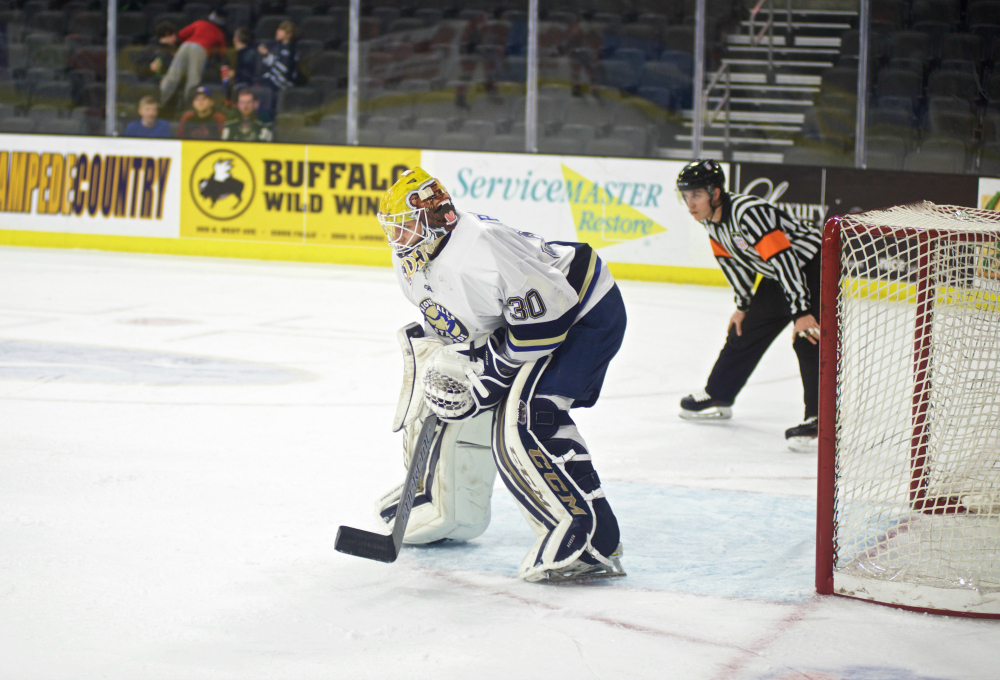 THW: The Team Russia U18 project can be called a success anyway?
MB: Of course, it gave all of us an incredible chance to gain experience. And personally, it gave me a lot in terms of a jump towards pro hockey.
THW: You had a chance not only to play with very good players who are now NHL prospects but also to practice with them. Who scored on you most often?
MB: Well, we had many very talented players on the rosters. But it mostly was [German] Rubtsov who scored more.
Move Overseas
THW: After the season with Team Russia U18 you moved overseas. How did it all happen?
MB: I started the season with Severstal, but I wasn't given a chance to play in the KHL, therefore I decided to continue my career in North America. I have to thank the staff as they allowed me to go.
THW: Was it your initiative?
MB: Yes, of course, it's my life and I need to decide myself.
THW: How did you find your team, the Sioux Fall Stampede of the USHL?
MB: It was Winnipeg's decision. There are very good conditions here, and it's not far from Winnipeg.
THW: How high-level is the USHL as a league?
MB: I think it's a good league. If we were talking about me, then it's a great chance to gain experience. There are many shots, 30-40 shots a game, a goalie has all the conditions needed to improve and develop further.
Co-Goaltender of the Week: @NHLJets prospect Mikhail Berdin records 2nd shutout this month, stopped 78 total shots https://t.co/XjYb0YO2Pd pic.twitter.com/Xbge7VuKOq

— USHL (@USHL) December 20, 2016
THW: Do you think is it much different from the Russian MHL?
MB: Do you mean the level of teams?
THW: Yes.
MB: Frankly speaking, it's hard for me to reply to this question. The hockey is completely different, a whole different style.
THW: Many goalies in interviews mention that, while in North America there are more shots, in Russia shots are harder to face because they are more accurate in lower volumes. What can you say about this?
MB: There may be some truth here, but here [in North America] there are way more shots also due to the different ice surface, I get many dangerous shots from many positions. But to me it's even better because I have to face more shots, get more action, it's much more interesting to me to play on the smaller rinks.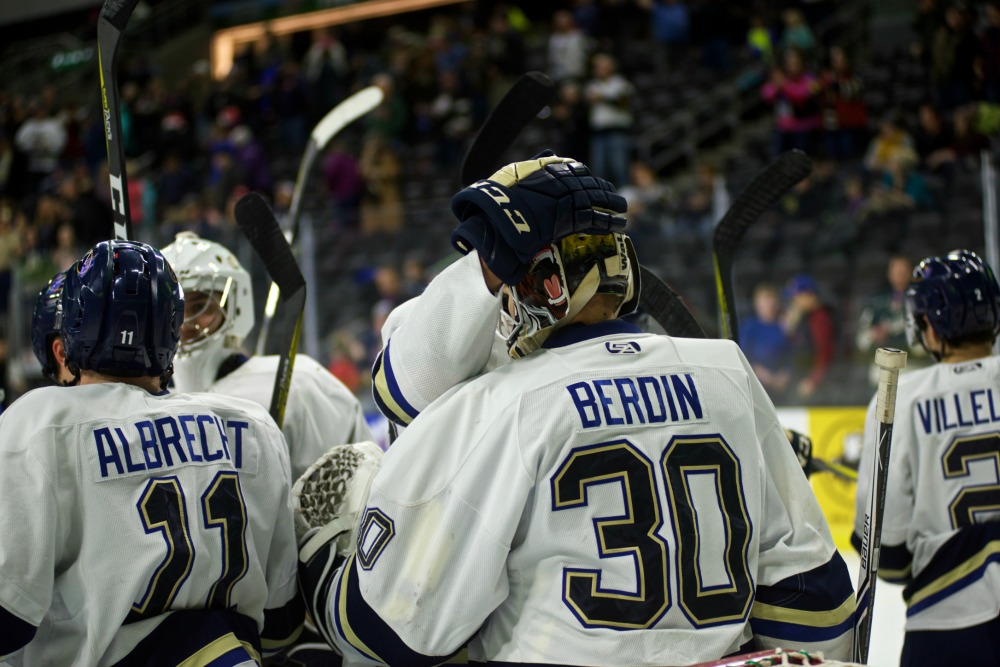 THW: Did you play against other prominent Russian players in the USHL, Andrei Svechnikov and Maxim Zhukov?
MB: We played against Zhukov's Green Bay, but he was the backup goalie that night. When we faced Svechnikov's Muskegon Lumberjacks he wasn't with the team as he was called to the national team for the Challenge Cup. Unfortunately, I've yet to play against them.
THW: Today your KHL rights belong to CSKA Moscow. How do you feel about it?
MB: I don't even think about it. I'm focused on the current season only and I am not paying attention to external factors.
THW: Your team isn't having the best season as the Stampede is currently last in the Western Conference.
MB: I don't know what to say. We lacked some luck, we may also have worked harder, and with these factors, you get this result.
THW: You still have good stats. More wins than losses.
MB: I suffered from an injury in the middle of the season. I missed 15 games and, unfortunately, the team lost 14 of these games. It's hard to catch up.
Mikhail Berdin with some spectacular goaltending of his own #WhosNext pic.twitter.com/Gz0sY99ZZo

— USHL (@USHL) December 18, 2016
Life in the USHL
THW: Do you have other foreign players on your team?
MB: Yes, we have a Finn, a German, and a Ukrainian player.
THW: Probably it was easier for you to get along with Vitaliy Novytskyy.
MB: Yes, of course. When I just got here, I didn't know a single word of English. Vitaliy did help me a lot.
THW: He's played in America for many seasons already.
MB: Five years.
THW: Did he give you any advice in how to play on small rinks?
MB: Well, I already had experience playing on the smaller ice surface, but he helped me anyway, especially teaching how to correctly communicate with defensemen.
THW: Playing in the USHL you probably don't have many chances to be noticed by national team scouts. You weren't called by Valeri Bragin to the Canada-Russia series.
MB: Well, what kind of chances would I have got if I spent the whole season in the KHL without getting any ice time?
THW: Do you think you have a chance for next year's tournament?
MB: Of course I want to be part of the team, but it's up to the coach.
NHL Prospect
THW: Do you follow the Jets?
MB: Yes, I try to watch their games when I can. Also, I usually get a visit from a coach from Winnipeg who tells me all the news.
THW: Are you in talks for the next season?
MB: Right now, my agent is negotiating. I recently talked with the General Manager and the coach and we talked about that.
THW: Did they mention whether they are satisfied with your game?
MB: Yes, they are satisfied with my game and, in general, about my progress for this season.
THW: Many players enjoy playing video games during their free time. Are you among them?
MB: Of course.
THW: Do you play the EA NHL series?
MB: When I have someone to play with, I do.
THW: Do you also play other games?
MB: Yes, I enjoy playing Call of Duty, GTA. I also enjoy playing table tennis, the real one, not on consoles.
THW: It's always been said that goalies are a particular kind of person. Myth or reality?
MB: Hard to say as you can't really take all the guys together. But generally speaking, it's the truth.