The 2017-18 season is just past the quarter-mark and the Windsor Spitfires have shown that rebuilding doesn't have to be painful. While the Spitfires lost several players to graduation following their 2017 Memorial Cup win, they haven't lost much in the standings. Savvy veterans and eager young players have combined to get the Spitfires 12 wins in their first 20 games.
It hasn't been all greatness, though, as rebuilds do come with growing pains. The team has had off nights, both at home and on the road. It's part of the process. What are the bright spots? What areas could use improvement? Let's go through a variety of areas and grade the team based on their play to this point.
It Starts in Net
Let's be honest, it's tough to imagine where this team would be without goaltender Michael DiPietro.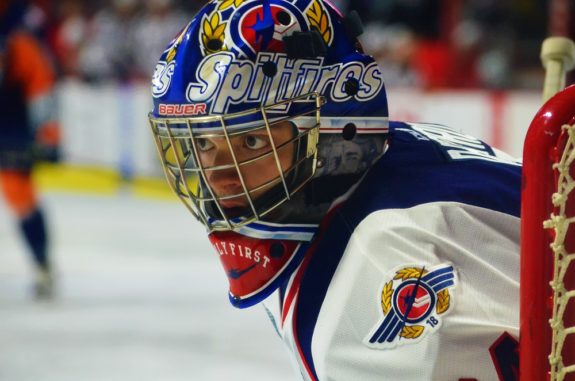 DiPietro came onto the team as a highly-touted prospect, grabbed the starters position and has never looked back. He dominated in his sophomore season and won over critics during the Memorial Cup. This season he has posted a goals-against-average of 2.44 (second in the OHL) and a save percentage of .922 (third in the league). He's also tied for top spot with 12 wins. It's just another day at the office for the Amherstburg native.
Backing up DiPietro is 18-year-old Brock Baier, who came into the season with something to prove. After an outstanding Junior B season in 2016-17, he's looking to show he belongs at the next level. The only issue, he's behind DiPietro.
Baier has seen action in two games, both of which were losses, though he played very well in the loss to Hamilton. The Owen Sound game is one most would rather wipe from memory.
While Baier hasn't had much action, it's not because of his performance. This has become the Michael DiPietro Show, which is understandable, to an extent. When your starter is pulling off those numbers, you play him. Baier will get more action as the season rolls along, though. He deserves a chance to show what he can do.
Regardless of playing time, between Baier and DiPietro, the Spitfires know they're set in net. It's a comforting feeling and one the team takes full advantage of.
Grade: A+
Budding Blueline Shines
Goaltending isn't the only area where the team has been successful. The Spitfires are tied for the third-fewest goals against in the league (57) with the Hamilton Bulldogs. The defence has been a key reason for that.
It's a completely re-hauled defence after a number of graduations and an unfortunate retiring. This has left two veterans – Austin McEneny and Sean Day – to do the bulk of the work. With defenceman Tyler Nother retiring due to injury, Day's return from the New York Rangers was significant. He's been the rock the team needed. The young players look up to him. With five defencemen on the roster either in their first-or-second season, there have been steep learning curves and they've passed with flying colours.
While on some nights there've been rookie mistakes, on other nights we've seen a poised defence that will suffocate the opposition's offence. Two of the top three plus-minus leaders on the team are defencemen, showing the system carried over from last season is healthy and strong.
The Spitfires have a defence-first mentality and, even with a younger roster, it's proven to work. Mistakes will be made but lessons are learned from them. This is a young group that will be crucial to the Spitfires' success over the rest of this season and down the road.
Grade: A-

Related: Windsor Spitfires Top 5 Moments of 2016-17
Finding Consistency Up Front
Say hello to 20-goal man Aaron Luchuk. What hasn't he done for the Spitfires this season? After back-to-back, 27-plus goal seasons, Luchuk has been looking to take charge. Mission accomplished.
With 20 goals and 17 assists in 20 games, he's constantly near the top of the league leaders in production and has been the offensive producer for the Spitfires this season. Over the last handful of games, he has joined Ottawa Senators' prospect Logan Brown as a dynamic one-two punch (Brown has 15 points in eight games since his return).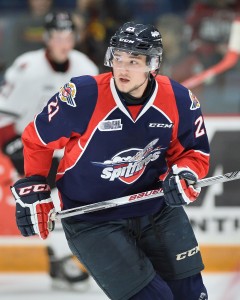 After the top line, though, it's hit-or-miss. Multiple forwards – Jake Smith, Luke Boka and Matthew MacDougall, for example – have done well in the top-six. They're all producing at a clip that provides hope.
When you get to the bottom six, fans become cautious. Some players, like import pick Kirill Kozhevnikov and second-year forward Tyler Angle, are getting the chances and opportunities near the net. It's just been a matter of finishing.
Consistency is another issue. At one point in October, the Spitfires lost 5-1 at home, followed that up with a 6-1 win on the road, were shutout 4-0 on the road and finally won 7-2 the next night.
There's no doubt about the talent up front. We've seen it several times this season but maintaining that level of play hasn't been accomplished. It's something that needs to be addressed as the team moves forward. While it's great that Luchuk and Brown have been producing more than anyone had hoped, the team can't rely on them next season so others have to step up now.
Grade: C+

Related: Q & A With Windsor Spitfires Captain Aaron Luchuk
Special Teams – No Need for Repair
Sometimes quality doesn't need quantity. The Spitfires have had the fewest power play chances in the league, 14 less than the next closest teams. They've made them count, though.
Luchuk has been a power play wizard with 14 points, while Smith isn't far behind with eight. In total, 10 players have at least one point with the man advantage as the team capitalizes at nearly 28-percent. When teams are cautious about giving you the man advantage, it says something. While it's still early, they're taking advantage when the opportunities arise and you can't ask for much more.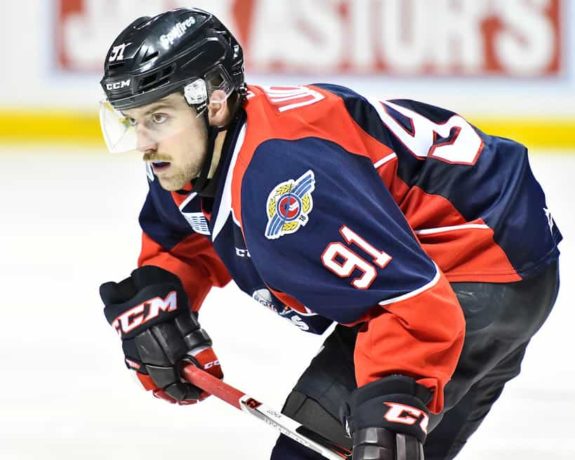 The penalty kill has been just as dominant.
Over the last two seasons, the Spitfires have taken great pride in killing off the opposition's man advantage. In 2016-17, the team managed an 88.5-percent kill rate, tops in the league. This season, they're right in the thick of it at just over 83-percent.
A stingy system was put in place by the coaching staff last season and, despite head coach Rocky Thompson moving to the AHL, nothing has changed. Players like Luchuk, Luke Boka and newcomer William Sirman have thrived while down a man.
The Spitfires don't take a lot of penalties either but when they do there's a good chance they'll be killed off. That's a recipe for success. The team has even had some of their first-year players taking regular shifts on the penalty kill and none of them have looked out of place. If it's not broke, don't fix it.
Grade: B+

The Verdict Is In
Coming into the season, expectations were low. With so many new faces, getting into the playoff picture was considered a stretch. It was the first true rebuild the team had seen in years. However, they are showing that rebuilds don't need to be painful.
The young players are realizing that the system is proven and they have been all ears for new head coach Trevor Letowski. While some players have struggled to get going, others are showing a knack for their role and are flourishing. Consistency is still an issue but that comes with time and experience.
Their game against the Kitchener Rangers on Nov 11 was a perfect example of the season with some inconsistencies but persistence that has paid off. Check out the highlights here:
It's still quite early in the season but there's room for optimism. Will the success last? That's to be determined. For now, they've exceeded expectations and you can't ask for much more in a rebuild.
Overall team grade: B+