Dale Tallon, general manager of the Florida Panthers, has been in the news, yet again. No, it's not another demotion by promotion. And no, ownership didn't dump him at the side of the road to wait for a cab. This time, his newsworthiness is all his own doing.
Like most of the hockey world, I thought the reinstatement of Tallon as GM following a tumultuous 2016-17 in South Florida could only be a good thing for the Panthers. After all, he still had the talented core he assembled, along with solid goaltending and a coach of his choosing.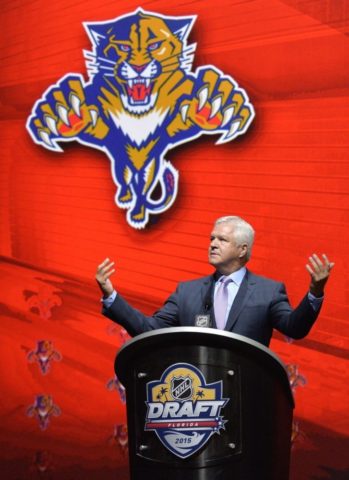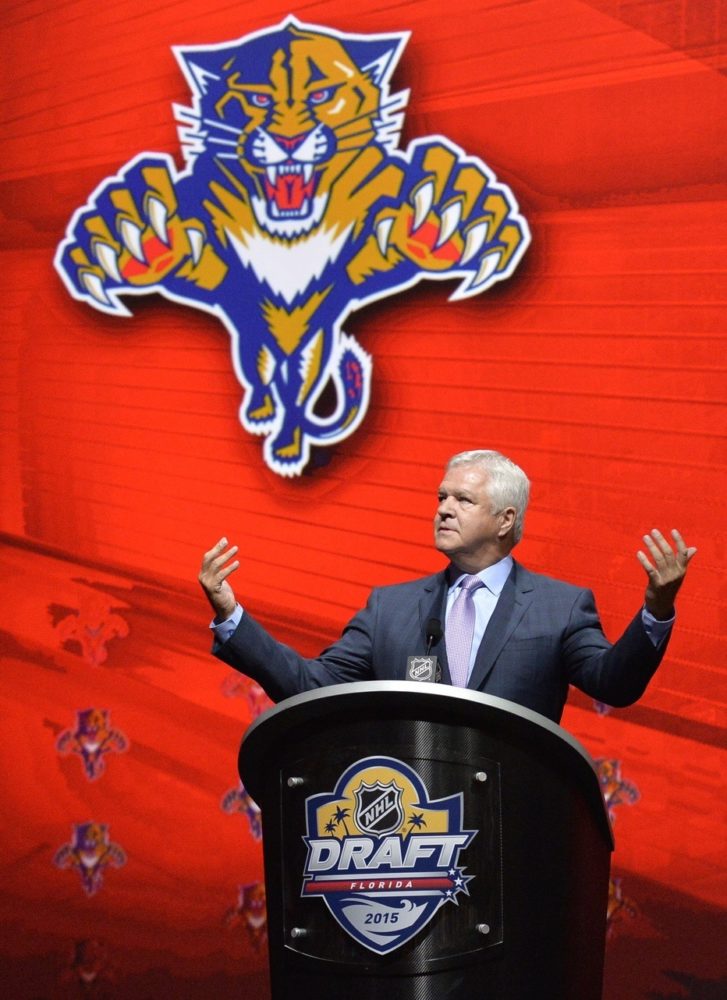 Instead, he strip-mined the roster and is now making excuses for his team's resulting struggles.
Dale Tallon's Indefensible Defense
It's no secret the Panthers' main problem thus far this season has been their poor defensive play. At the heart of these issues is their staggeringly inexperienced defense.
According to the Sun Sentinel, the Panthers' struggles on the back end did not come as a surprise to Tallon, who said, "That was to be expected with five defensemen that haven't played 300 games in the NHL."
Okay, that's fair enough, but whose fault is it the Cats are trotting out such an inexperienced defense corps?
Tallon traded the thoroughly serviceable Jason Demers to the Arizona Coyotes for cents on the dollar (sorry, Jamie McGinn). In exchange for a right-shooting, middle-pairing defenseman who can play up and down the lineup, as well as on both special teams, the Cats got a $3.33 million winger whose career high is 39 points. The Coyotes even got Florida to retain salary on Demers. Insanity!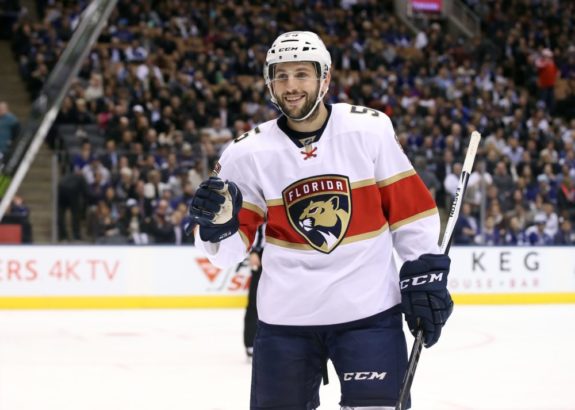 Tallon tried to justify the trade, saying "it was a need for us." Okay, so maybe you think, for some reason, you absolutely need Jamie McGinn. Do you really have to pay that much for what he brings to the table? More importantly, you have to then replace Demers.
Tallon Had Options for Panthers' Defense
The Vegas Golden Knights had 278 defensemen on their roster after the expansion draft, so why didn't Tallon get one of them? Heck, he knew all summer he wanted to move Demers (Demers nixed an earlier trade to the Vancouver Canucks), so why didn't he jump all over Niklas Hjalmarsson (who was, evidently, available for a reasonable price)? Hjalmarsson's a former Blackhawk, too, so acquiring him would fit with Tallon's track record of signing every single player in Blackhawks history to a tour of duty in South Florida.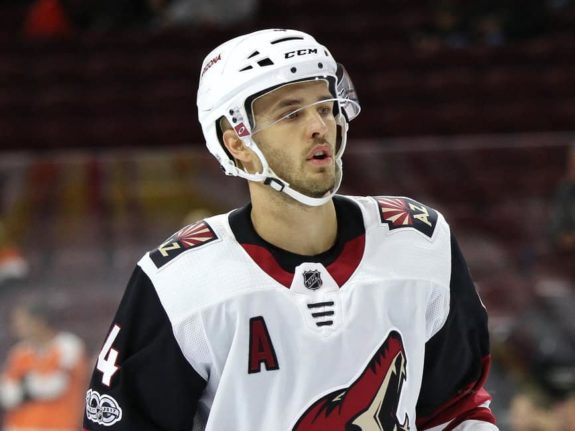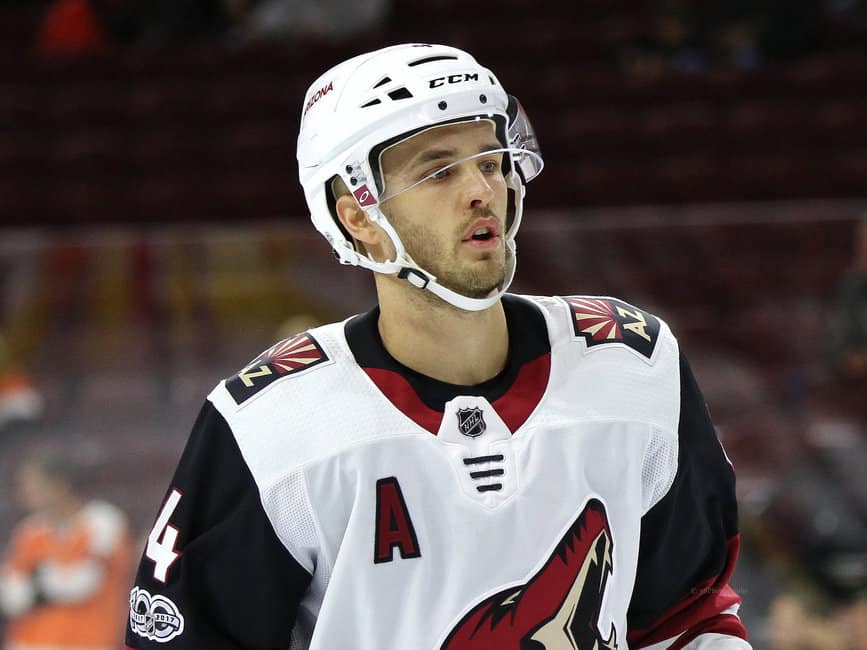 Or, you know, why not just not trade Demers in the first place and get another defenseman to bolster the corps? Goodness knows they could use the help.
Florida Panthers' Scoring Imbalance
Along with their defensive woes, the Cats have a heavily unbalanced forward corps. After the top line of Aleksander Barkov, Evgenii Dadonov and Jonathan Huberdeau, along with second-line centre Vincent Trocheck (who sees first-unit time on the power play), the dropoff in talent and production is quite steep.
Granted, some of this imbalance is due to the nagging injury of centre Jared McCann, who looked very impressive early in the season. That said, Bob McKenzie confirmed what we all suspected might be the case: that the Panthers are actively looking for help up front, specifically on the wing.
Panthers' Trade Talks Not a Surprise
Why is this not a surprise? Well, the Cats jettisoned four scoring wingers this past summer.
Okay, so Jaromir Jagr is, *newsflash*, old and not quite as fleet of foot as he once was. And sure, Reilly Smith is probably a little overpaid. And yes, Jonathan Marchessault was not exactly a defensive stalwart. And Jussi Jokinen…actually, I've got nothing here. No idea why they bought him out; a forward who can play every position and in all situations, with one year remaining on his deal? Madness.
But you get the point. Most of these moves can be justified in some way.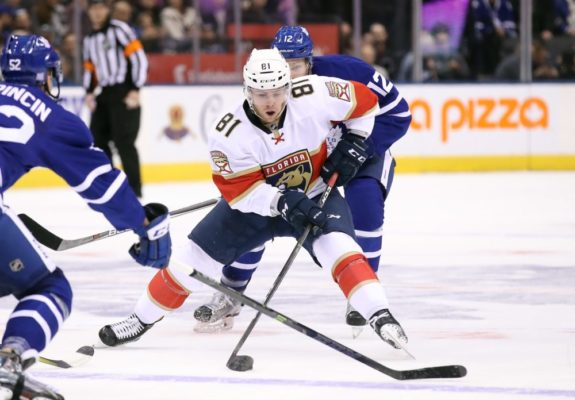 That said, you still need to score. Although most Panthers had a poor showing offensively in 2016-17, did Tallon really expect them to repeat that? After all, Marchessault scored 30 goals on an injury-ravaged team, Jokinen would have been playing for a new contract and Smith would have probably been good for 20 goals. As for Jagr? He would, at the very least, have put bums in seats and drawn some attention to this moribund franchise.
So, to summarise, the Panthers gave away a bunch of scorers, and now they're realising they can't score.
That's like giving away your car and then complaining about having to take the bus.
What Was Dale Tallon's Plan for the Panthers?
Dale Tallon is should be better than this; this is the guy who built much of the Chicago Blackhawks dynasty, after all. He's also the guy with a reasonable draft record, and the guy who took a flyer on Evgenii Dadonov, to outstanding early results.
Tallon has every right to be upset with what went down within Panthers' management last year but, in terms of roster construction, you've gotta play the hand you're dealt. Unless you're going for a complete rebuild (which the Cats are obviously not), it's not wise to just turn over half the team because you didn't like what previous regime did.
For goodness' sake, prior to the McGinn trade, he tried to bring bottom-pairing rearguard Erik Gudbranson, traded last year to the Canucks, back to Florida in exchange for Demers. Getting Gudbranson for Demers instead of McGinn might be even more tragic… Small blessings, I suppose.
Panthers Ownership Handcuffing Tallon?
There was a rumour this past summer that Panthers ownership had bestowed upon the team an edict to cut costs.
Jokinen buyout saves #FlaPanthers $1.2 million in real cash, $2.7M on cap this yr + next. Gets them closer to internal mandate to shed $10M.

— Frank Seravalli (@frank_seravalli) June 30, 2017
Though vehemently denied by the organisation, Tallon's actions as GM do seem to bear it out. Or perhaps ownership threw another temper tantrum (à la the firing of Gerard Gallant) and demanded he release certain players.
But if that's the case – i.e. that Tallon does not have the autonomy to build the team he wants, why wouldn't he just leave? Hockey executives, no matter how incompetent, are rarely out of a job for very long. And Tallon is far from incompetent.
Expect Panthers to Make Moves
Whatever the explanation, Florida simply cannot afford to waste another year, not with that young core and not with that fading fan base.
The time for excuses is over. The time for action is now.
Peter Ferrell covers the Florida Panthers and Toronto Maple Leafs, with a side of jersey and logo (over)analysis, for The Hockey Writers.