The Erie Otters have had some near-inexplicable trouble on the road this season. They are 7-3-1-0 at home, yet have only won a single road game this year—their very first game of the season in Peterborough. Losing nine straight away games is generally attributable to more than merely the advantage of home ice.
Road Struggles
The last time the Otters won a hockey game outside of the Erie Insurance Arena was on Sept. 21 at the Peterborough Memorial Centre. So, what is going so wrong on the road? The typical ambiguous coaching answer to that question goes something along the lines of, "We're still just trying to find our game on the road."
What exactly does that mean, and more importantly, perhaps, why have they found their game at home so easily but they're not bringing it with them on the road? It would seem to me that there is an underlying problem plaguing this Otters team that has caused them to lose a whopping 90% of their away games thus far. One possibility is lack of leadership. The Otters have yet to name a captain this year, and most of the players returning from their previous OHL Championship season are not notorious leaders.
Leadership
In my eyes, this one can be at least partly solved with an easy fix: Slap the "C" on Taylor Raddysh's jersey and call it a day.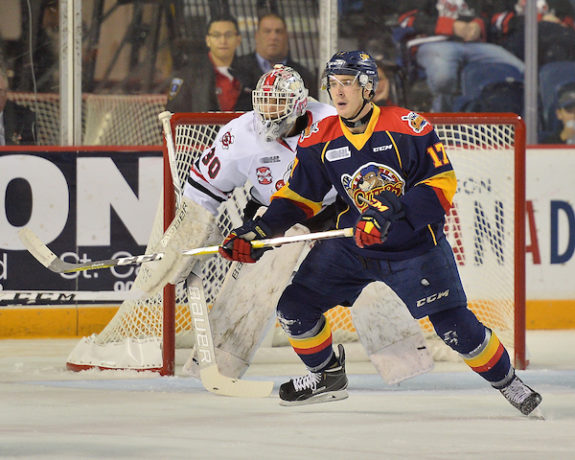 Raddysh recently captained Team OHL in Game 3 of the CIBC Canada Russia Series and is one of the veterans on the Otters that the majority of the team already looks up to. He's been to Tampa Bay's training camp, won Silver with Team Canada in the 2017 U20 World Junior Championships, and is currently top 10 in OHL scoring and top three for assists league-wide.
He is the obvious choice for captain of the Otters, which is why it seems so puzzling from the outside as to why he hasn't already been named. Instead, he is one of multiple alternate captains on the team, further contributing to, or perhaps indicative of, their apparent leadership problem.
What Has Changed?
The difference that everyone can immediately point to between last year and this one is the greatly reduced amount of star power on the Otters' roster. Yes, in recent years the Otters have certainly lost some big names on the ice to the NHL. You may recognize a few: Alex DeBrincat (CHI), Dylan Strome (ARI), Connor McDavid (EDM)… the list goes on.
But the Otters have also lost some key pieces behind the bench, most notably former head coach Kris Knoblauch. The 2016 OHL Coach of the Year has been called the Mike Babcock of the OHL, and now has finally taken his talent to the NHL. This offseason, the Philadelphia Flyers hired Knoblauch on as an assistant coach to Dave Hakstol, recognizing his immense talent and long list of coaching accomplishments.
Knoblauch's coaching style with the Otters was meticulously comprehensive, developing individual player profiles, pouring over stats, and building greatness in Erie. He instilled a winning mentality in players that came to fruition on the ice as well.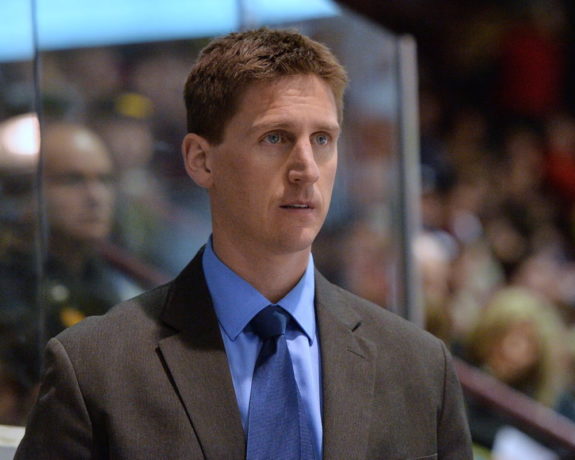 Knoblauch was a premiere developmental coach for younger players which is part of why he fit so well in the OHL, but his well-roundedness provides a plethora of alternative assets with which to excel at coaching professional adults in the NHL now. The Otters' management had their work cut out for them in finding a suitable replacement for Knoblauch's expertise and work ethic.
They opted to bring back Knoblauch's former assistant coach in Erie, Chris Hartsburg, likely with the hope that Hartsburg as a head coach would be a perpetuation of Knoblauch's legacy. However, this does not seem to be the case at all. Chris Hartsburg and Kris Knoblauch have two very different styles of coaching, in fact, I would venture to say that it is almost a complete 180.
New Coaching Not Catching On?
We've seen over 20 games from Hartsburg's Erie Otters; they are 8-10-2-1, sitting in the lower echelons of the league standings. No one had very high expectations for them coming into this season after having lost a considerable amount of scoring power, but they could be much, much better than this.
I've seen glimpses of this team's raw potential manifest itself at various points throughout the season, but they have been grossly inconsistent — see 8-0 Win over Oshawa on Nov. 3, which followed a season-high seven goals allowed in a 7-3 Loss to Kitchener on Nov. 1.
Leadership is more than strictly an on-ice phenomena, it stems largely from coaching as well. The players have to buy into a coaching style to really optimize their game plan and succeed. If there's any drag, or players aren't meshing with a head coach, it will show.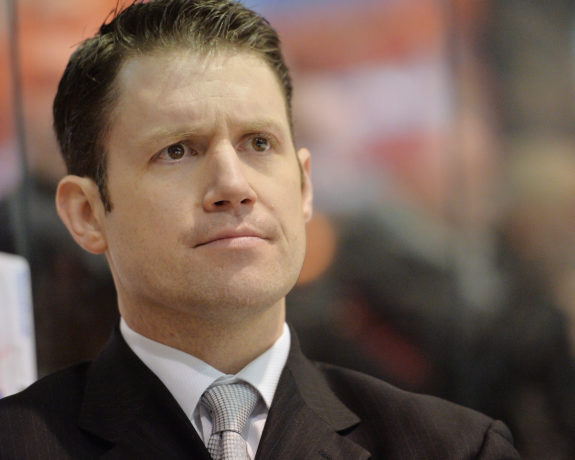 This Otters team seems to perform the best as a unit after an individual player steps into leadership-mode and makes something happen on the ice. The rest are willing and eager to follow suit, as we often see with flashes of breakout high-scoring from the Otters, exhibiting back-to-back goals within minutes or even seconds of each other following a low-scoring period of play. It often seems as though one player has to break through and then the floodgates are opened.
The remaining players from last season's OHL championship team are still just as good as they were last year, and the Otters have some rookies who have stepped up to fill some of the gaps, like Maxim Golod.Currently fifth in the league in rookie points, Golod has climbed from the fourth to the first line in the Otters' most recent game against the Mississauga Steelheads, which they lost by the final score of 5-4.
The Otters still have some very useful pieces available to make for a strong team this season, but they first need to establish a definitive captain and adjust to a very different style of coaching that is certainly taking some getting used to for many veteran players accustomed to Knoblauch's methodology.
Erie/Pittsburgh, PA | Erie Otters; Junior Hockey | Editor-in-Chief of The Grizzled Vet | Formerly: University of Pittsburgh D1 Hockey Journalist