'Ducks Drill Down' is a regular, ~weekly column that recaps the latest goings-on with the Anaheim Ducks.
---
The Anaheim Ducks had a somewhat light week, but thanks to John Gibson, they were able to pick up two consecutive wins as they try to get points in the bank during a stretch of home games that also sees them without numerous critical players in the lineup.
Meanwhile, the club produced some nice nostalgia before Sunday night's contest.
Ducks Honor Kariya & Selanne
After Ducks legends Paul Kariya and Teemu Selanne were officially recognized for their inductions into the Hockey Hall of Fame in Toronto on Monday, Nov. 13, Anaheim did its part to pay tribute to the two franchise pillars.
Prior to Sunday night's contest against the Florida Panthers at Honda Center, the Ducks held a special ceremony to commemorate No. 8 and No. 9. The duo, fittingly enshrined and honored together, shared some nice moments in a conversation moderated by Ducks TV color commentator Brian Hayward.
With respect to aspiring young hockey players, Selanne spoke about the importance of taking the approach of just having fun and not losing sight of that so that the hard work required to succeed will not really seem like work. Kariya discussed how he closely watched idols like Wayne Gretzky and Jari Kurri growing up and tried to learn that way. The pair's strong friendship also shined through in some lighthearted moments, such as when Kariya ceded that Selanne is the better overall athlete, but that he is the better driver.
Seeing Kariya back in the spotlight and in good spirits with the Ducks has been very uplifting, as it appears that any potential resentment there might have been on either side over his departure from the Ducks in 2003 has faded away. It hopefully will not be too long before Kariya's No. 9 goes up next to Selanne's No. 8 in the Honda Center rafters.
Ducks owner Henry Samueli seemed to indicate that that day would ultimately come to fruition, pointing to Selanne's retired number in the rafters and saying, "When you look in the rafters, isn't that number a little lonely?"
Ducks fans would agree, as validated by the crowd's applause in reaction.
Gibson, Ducks Win Two Straight
With respect to the present-day Ducks squad, they have won two in a row and three of four following four consecutive losses. They had a light week after last Sunday's 2-1 loss to the Tampa Bay Lightning, as they didn't play again until Wednesday, where they beat the Boston Bruins 4-2. They then did not suit up again until Sunday against another Eastern Conference foe in the Florida Panthers. They came away victorious in that one as well by a final score of 3-2.
There is really one reason why the Ducks won this pair of home games to push their overall record to 9-7-3: John Gibson. The goaltender has been stellar all season but kicked it up a notch this week, turning aside 40 shots against the Bruins and then 50 (yes, FIFTY) against the Panthers, helping Anaheim avenge an ugly 8-3 loss in Florida back in late October.
It's no secret that the Ducks have hemorrhaged shots against as they fight through a rash of injuries. Gibson has been up to the task, posting a .924 save percentage and compiling a series of highlight-reel stops in the process.
And now, a public service announcement from your Anaheim Ducks:@JohnGibson35 is very, very, very, very good at hockey.

This has been a public service announcement from your Anaheim Ducks. pic.twitter.com/JLD3DVNlA7

— Anaheim Ducks (@AnaheimDucks) November 20, 2017
On the offensive side, Kevin Roy picked up his first NHL goal to open the scoring against Boston Wednesday night. Defenseman Josh Manson scored his first two goals of the season—one in each game—including a gorgeous breakaway tally Sunday night against Florida.
Anaheim's power play converted twice against the Panthers as well, with Rickard Rakell and Brandon Montour lighting the lamp with the man-advantage. Rakell and Montour are now the top two goal scorers for the Ducks this season. Since Rakell led the team with 33 goals last season, that is not a surprise.
Montour, on the other hand, has turned some heads with his offensive production from the blue line. His six goals are tied with two others for the second-highest total among defensemen in the entire NHL. He trails only the St. Louis Blues' Alex Pietrangelo. His spark from the back end has been huge for a team that is looking to muster offense any way it can with the absences of Cam Fowler, Ryan Getzlaf, Ryan Kesler, Patrick Eaves, and Ondrej Kase.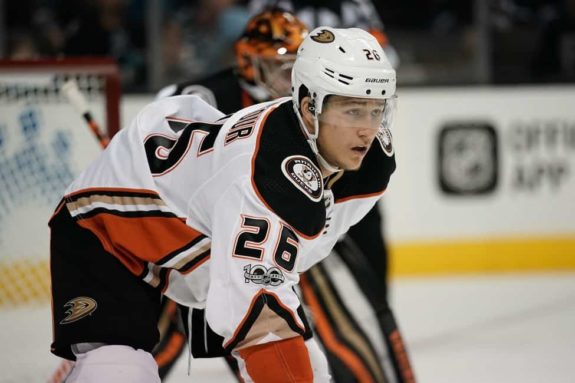 Looking Ahead
On the injury front, there is always news with respect to the Ducks. Forward Logan Shaw was scratched for Sunday night's game against the Panthers, and it was not clear whether there was an injury or illness, or if he was just a healthy scratch. In any event, Mike Liambas was called up from the AHL and promptly got into a scrap with Micheal Haley on his first shift. With respect to Shaw's situation, there should soon be more clarity.
Now for some good news. Hampus Lindholm returned for Sunday's contest after a brief absence resulting from an apparently minor lower-body injury—a malady entirely separate from his shoulder surgery in the offseason. Lindholm's teammate on the blue line, Cam Fowler, is also close to returning from a knee injury that has kept him out of the lineup since he suffered it on Oct. 20 against the Montreal Canadiens.
Fowler participated in his first post-injury practice on Saturday, so his return seems imminent and could perhaps happen sometime this week, which would mean that he will have fully recovered on the shorter end of the four-to-six-week prognosis with which he was beset.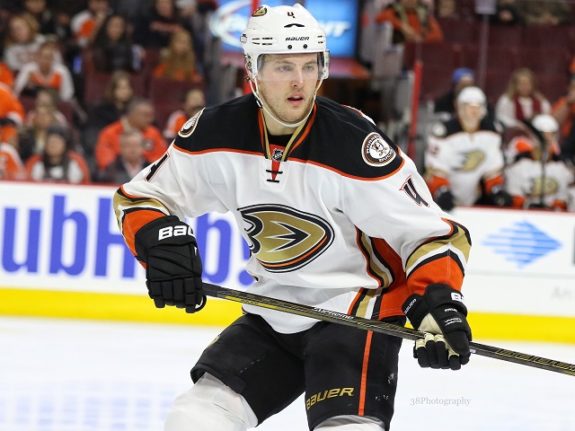 As for what's on tap this week, things will get a little bit busier. The Ducks will head to NorCal to take on the San Jose Sharks Monday night before returning south to host the surprising Vegas Golden Knights for the first time ever. They will then face off against the Winnipeg Jets at home before taking a quick (but not really if there is typical heavy traffic in LA) trip up the freeway to Los Angeles to take on the Kings.