Amidst the dust still settling from the expansion draft and the NHL Entry Draft, the Anaheim Ducks have had several other noteworthy events transpire just recently. Let's catch up on all of them.
Selanne & Kariya to Hockey Hall of Fame
Teemu Selanne and Paul Kariya were the faces of the Anaheim franchise in the in the mid-late 1990s and the early 2000s. On Monday, each player was elected to the Hockey Hall of Fame, along with five other individuals (Dave Andreychuk, Mark Recchi, Danielle Goyette, Jeremy Jacobs, and Clare Drake). It's only fitting that the former (Mighty) Ducks duo enters the Hall together.
Teammates and best friends. It's fitting @TeemuSel8nne and Paul Kariya are both in the 2017 @HockeyHallFame class: https://t.co/hYciJCEJqj pic.twitter.com/ivSDn8HHJX

— Anaheim Ducks (@AnaheimDucks) June 26, 2017
Selanne was a slam-dunk Hall-of-Fame selection. His 76 goals for the Winnipeg Jets in 1992-93 are still a rookie record. The "Finnish Flash" was slightly better than a point-per-game player for his entire career, which even includes his final couple of seasons where his production slowed down. Nevertheless, Selanne was still an effective player right up until his retirement. In 1,451 career NHL games, he amassed 1,457 points, including 684 goals. His point total is the 15th-highest all-time, while his 684 goals are good for 11th all-time.
Selanne spent the majority of his career in Anaheim, appearing in 966 regular-season games for the franchise and tallying 988 points, including 457 goals. His number 8 is the club's only retired number so far in its brief history.
One player who deserves to join Selanne in the rafters is Kariya. The former Ducks captain was exactly a point-per-game player in his 16-year career, posting 989 points (including 402 goals) in 989 games. With the Ducks, Kariya played in 606 games and put up 300 goals and 369 assists (669 points). Sadly, his career could have been even more illustrious if it weren't hindered and cut short by multiple concussions.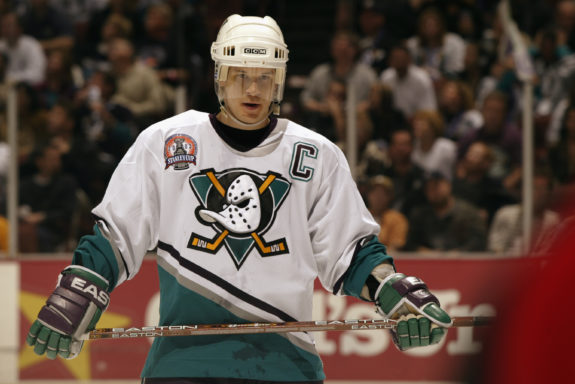 Nevertheless, Kariya and Selanne were a lethal scoring tandem and helped grow the game of hockey in Anaheim. As a Hall-of-Famer and someone who meant so much to the Ducks, Kariya's number 9 should be hanging up in the Honda Center rafters right next to Selanne's number 8. Hopefully, that will be the case in relatively short order. Any hard feelings from when he left the team for the Colorado Avalanche in 2003 should be forgiven and forgotten.
Ducks Re-Sign Eaves & Holzer
In other news, while the Ducks did not have a first-round draft pick Friday night, they did agree to terms on a new contract for the player they acquired for giving up that pick to the Dallas Stars. Winger Patrick Eaves re-signed with the club for three years at an average annual value (AAV) of $3.15 million.
Now 33 years old, Eaves had the best season of his career, netting 32 goals and adding 19 assists for the Stars and Ducks combined. Eleven of those goals came in just 20 games with Anaheim, as he fit in very well as Ryan Getzlaf's right winger.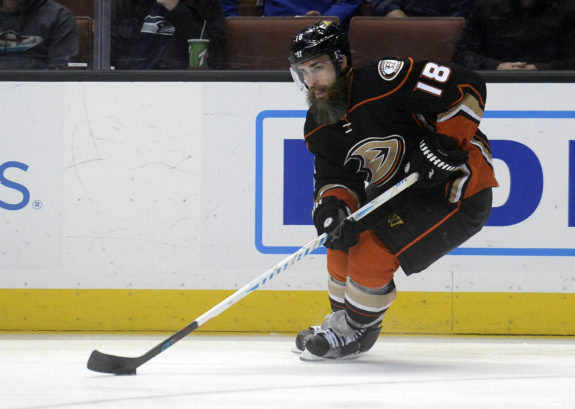 Despite his age, there is reason to be optimistic that the Eaves contract will work out for the Ducks. Not only has he just tapped into the best hockey of his NHL career, but he also has great chemistry with Getzlaf and is a natural fit in Anaheim. He adds to the team's forward depth, so bringing him back on fairly reasonable terms was a good move by general manager Bob Murray, who had increased cap space after the expansion draft deal he swung with the Vegas Golden Knights.
Two days later, the Ducks agreed to terms on a new two-year contract with defenseman Korbinian Holzer at an AAV of $900,000. At this point, with Shea Theodore and Clayton Stoner off to the Golden Knights and Simon Despres having been bought out, Holzer figures to be the club's seventh defenseman behind Hampus Lindholm, Cam Fowler, Sami Vatanen, Josh Manson, Brandon Montour, and Kevin Bieksa. Youngsters like Jacob Larsson could also be in the mix, and with much of the offseason still ahead, there is always the possibility of more roster moves.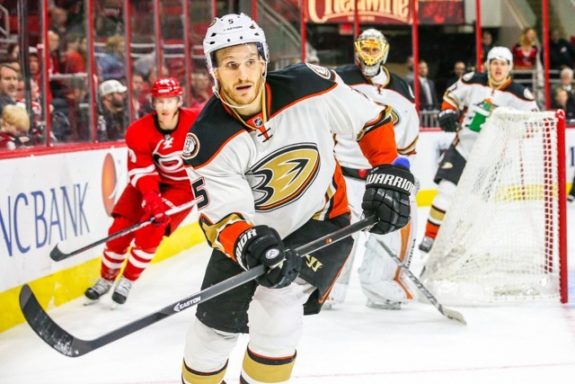 In any event, the 29-year-old Holzer, who only appeared in 32 games for the Ducks last season, will play a familiar role for the team. Despite some shaky play as evidenced by his very poor 40.8 Corsi-for percentage at five-on-five, Holzer is a kn0wn commodity provides some depth and insurance on the back end.
Ducks Qualify Select RFAs
On Monday, the Ducks tendered qualifying offers to pending restricted free agents Nick Sorensen, Kevin Boyle, Jaycob Megna, and Max Gortz. Of note, they did not qualify Ryan Faragher or Emerson Etem, meaning those two players will become unrestricted free agents (UFAs).
For Etem, this could very well be the end of his second stop in Anaheim after the club traded him to the New York Rangers as part of the Carl Hagelin acquisition just two summers ago. The 25-year-old, who was a late first-round pick by the Ducks in 2010, has shown a few flashes but has never consistently delivered on his talent and potential. It will be interesting to see if he is able to latch on elsewhere in the NHL for another shot.
Excluding any potential contracts to these RFAs and pending UFAs Nate Thompson, Jonathan Bernier, and Jhonas Enroth, the Ducks have about $5.5 million in cap space with which to work as the opening of free agency on July 1 draws nearer.
Tom has been with The Hockey Writers for almost four years. After previously covering the LA Kings and the New York Rangers, Tom now covers the Anaheim Ducks.
While in college at Clemson University, the 2016 college football national champions, Tom wrote game summaries and feature articles for the official team website of the Greenville Drive, a Class-A minor-league baseball team and affiliate of the Boston Red Sox. Tom is happy to be able to continue to fulfill his passions for sports and writing with THW.