After not buying out defenseman Kevin Bieksa or even asking him to waive his no-movement clause (NMC), the Anaheim Ducks had put themselves in a suboptimal position prior to the expansion draft for the Vegas Golden Knights.
As the Ducks submitted their list of protected players a few days before the expansion draft, reports surfaced that the club had reached a deal with the Golden Knights to lay off exposed defensemen Sami Vatanen and Josh Manson. The question, of course, was what the Ducks were giving up in this agreement.
As it turned out, promising young blueliner Shea Theodore was the key to the deal.
NEWS: #NHLDucks trade @stheodore17 to the @GoldenKnights; VGK selects Clayton Stoner in #VegasDraft. pic.twitter.com/Tdv61jY8zv

— Anaheim Ducks (@AnaheimDucks) June 22, 2017
The Good News: Depth and Flexibility
Despite parting with Theodore, the expansion draft has not been a complete disaster for the Ducks. They shed expendable defender Clayton Stoner and his $3.25-million average annual value (AAV), as the Knights selected him within the parameters of the agreement. Stoner is a more defensive-oriented and physical blueliner whose style is becoming less and less important in today's league. Injuries and a numbers game on the blue line limited him to just 14 games this past regular season and none in the postseason.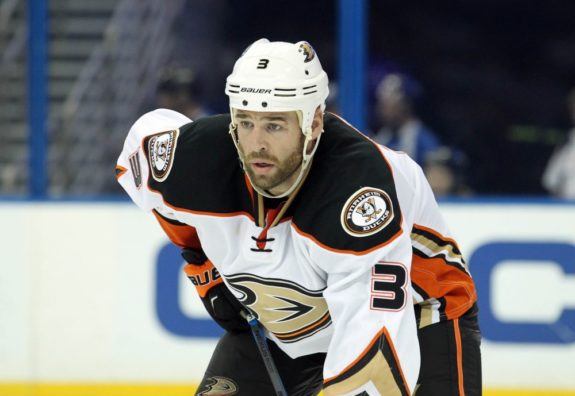 Additionally, the Ducks held on to Vatanen and Manson. Along with Hampus Lindholm, Cam Fowler, and 23-year-old Brandon Montour—who really shined in the postseason—Anaheim still boasts one of the best blue-line groups in the NHL. 
The Ducks were also able to buy out the contract of injury-riddled defenseman Simon Despres. Despres, still just 25, has sadly seen his young career derailed because of concussion issues. With the buyout, the Ducks save the vast majority of his annual cap hit of $3.7 million that had another four seasons left.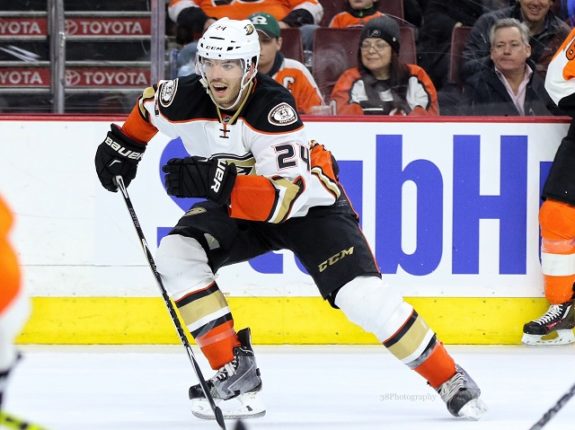 Between that and Vegas selecting Stoner, the Ducks have a lot more salary-cap flexibility as they navigate potential trades and free agency in the offseason. Speaking of trades, their defensive depth—particularly with respect to right-handers—means they can still dangle Vatanen as trade bait to perhaps add more scoring up front.
Fowler, though left-handed, is another possibility for trade consideration. While this is just speculation, the fact that Fowler is in line for a big payday with unrestricted free agency looming a year from now suggests that it might be worth exploring the trade market for him if the Ducks are unwilling to commit major dollars to him long-term. Then again, with the 25-year-old coming off perhaps his best NHL season, the Ducks might also be perfectly happy using some of their newfound cap flexibility to lock up Fowler via an extension before he hits free agency.
The bottom line is that despite losing Theodore, the Ducks have tangible benefits coming out of the expansion draft process—namely depth on the back end and plenty of roster flexibility. Now re-signing Patrick Eaves can only be a stronger possibility. The club can target other free agents as well. There is a plethora of options.
The Bad News: No Theodore
Of course, the other side of the coin is that the Ducks have lost a very talented left-handed defenseman who is only 21 years old. Theodore was a first-round pick by the Ducks back in 2013 and has shown flashes of brilliance in a handful of NHL games. In this past postseason, he tallied eight points (two goals and six assists) in 14 contests. He possesses an offensive touch and puck-moving ability that has never been more valuable in the evolving NHL.
The Ducks could have been looking at an elite group of six defensemen for years to come if they had been able to keep Theodore along with Lindholm, Fowler, Vatanen, Manson, and Montour—three lefties and three righties. Nevertheless, having five excellent defensemen isn't too bad either.
The other downside of the expansion draft process for the Ducks is that had they really wanted to, they could have easily kept Theodore, a potential star offensive defensemen who is barely scratching the surface of how good he can be. As I've written before, a buyout of Bieksa would have opened up another protection slot for Manson. The Ducks then could have traded Vatanen before the expansion draft. Surely there would have been takers for a talented 26-year-old right-shooting defenseman signed for a very reasonable AAV of less than $5 million through the 2019-20 season—even with his shoulder surgery complicating matters slightly.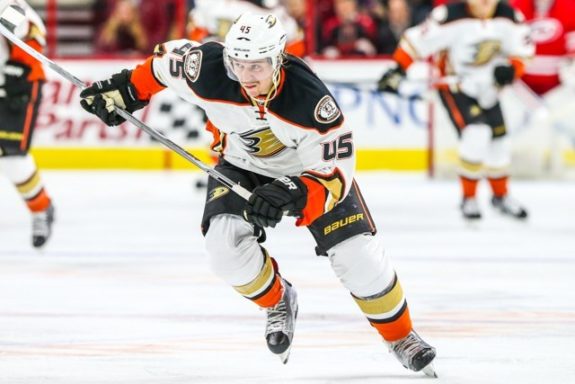 That would have A) been another way to enable the Ducks to use the protection scheme of seven forwards, three defensemen, and one goaltender so they could retain all of their most important forwards; B) gotten them a presumably decent return of assets for their departing defenseman, and C) negated the need to negotiate with Vegas, thus allowing them to keep Theodore.
All things considered, that is clearly an overall better scenario for the Ducks. Sure, Stoner's $3.25 million AAV would have still been on the books, reducing cap flexibility, but only for one more year. Keeping Theodore—evem over Vatanen—would have been more than worth that.
After it became apparent that Bieksa would be on Anaheim's protected list, things could have been a lot worse for the Ducks. There are some positives that came out of the past week or so. But those positives were not optimized.
Tom has been with The Hockey Writers for almost four years. After previously covering the LA Kings and the New York Rangers, Tom now covers the Anaheim Ducks.
While in college at Clemson University, the 2016 college football national champions, Tom wrote game summaries and feature articles for the official team website of the Greenville Drive, a Class-A minor-league baseball team and affiliate of the Boston Red Sox. Tom is happy to be able to continue to fulfill his passions for sports and writing with THW.