The Anaheim Ducks were already in a difficult position with respect to the upcoming expansion draft. The quality and depth of their defense create a double-edged sword, as the Ducks are facing a very realistic scenario where they might not be able to retain all of their top blueliners.
Now, another wrench has been thrown into the situation, as shoulder surgeries for defensemen Hampus Lindholm and Sami Vatanen will sideline both for extended time bleeding into next season.
Injury Added to Insult
Things were somber enough in Anaheim after the club fell in six games to the Nashville Predators in the Western Conference Final. The injuries to Lindholm and Vatanen exacerbate what promised to be a challenging offseason already.
Lindholm, just 23 years of age, and Vatanen, 25, were both battling through torn labrums in the latter part of the regular season. Lindholm managed to suit up for all 17 of the Ducks' playoff contests while Vatanen was forced out of the lineup for five. As that suggests, Vatanen's injury is worse and will take a bigger bite out of his 2017-18 season.
Lindholm is estimated to be out four to five months, meaning there is a good chance he will miss the first few weeks of the regular season. Vatanen is expected to miss more time than that, as general manager Bob Murray confirmed that his injury is "worse."
Lindholm's rehab could be 4-5 months. Sami Vatanen, who also had a shoulder injury, will take even longer for surgery/rehab.

— Anaheim Ducks (@AnaheimDucks) May 25, 2017
Normally, the Ducks would be able to rely on their slew of other talented blueliners—including Cam Fowler, Josh Manson, Shea Theodore, and Brandon Montour—to pick up the slack. This offseason, however, is not normal, as the expansion draft for the Vegas Golden Knights will force the Ducks to plan and maneuver carefully. This injury news, particularly with Vatanen, adds another variable to the complex equation Anaheim is trying to solve.
Potential Impact on Ducks' Plans
A Precarious Position
With the expansion draft quickly approaching, the Ducks are going to have to make some difficult decisions.
Complicating matters further is 35-year-old Kevin Bieksa's no-movement clause (NMC), which forces the Ducks to use an expansion draft protection slot on him. He does only have one year left on his contract that carries a cap hit of $4 million, so the Ducks could opt to buy him out. They could also ask the past-his-prime defenseman to waive his NMC for the expansion draft so that they don't have to use a protection slot on him.
Otherwise, assuming the team opts for the eight skaters/one goalie protection scheme, they will likely only have three slots open for defensemen and four solid exposure-eligible defensemen they'd ideally like to keep.
Lindholm is probably the team's best overall defenseman and still has time to grow and develop. He's also signed through the 2021-22 season at a very team-friendly annual cap hit of $5.2 million, as part of a deal he signed after a holdout that cut into the start of his season.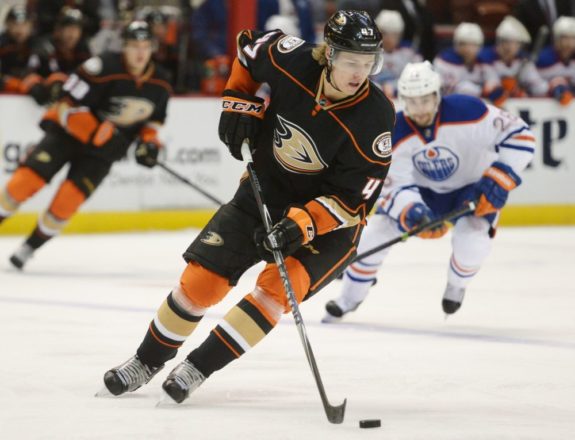 There is a very good chance Lindholm will miss the season's beginning for a second consecutive year, but this time the reason is much different. Regardless, he is a lock to be protected. His strong overall game helps the Ducks stay out of trouble in their own end and force the play in the opponent's defensive zone, as evidenced by his regular-season Corsi-for percentage of 53.56, which was the best among Ducks blueliners this year.
Lindholm has also hit or exceeded the 20-point plateau in each of his four NHL seasons, and the 30-point plateau twice. Still only 23, his offensive game should continue to grow.
After Lindholm, the roadmap for the Ducks becomes a bit more nebulous, as one of their three remaining stalwart defenders might have to go. Other defenders might have to step up to put a band-aid on his absence at the start of the season, but there is a good chance the Ducks will have at least one less option to work with after the expansion draft.
Fowler, 25, had arguably his best NHL season, but his mediocre possession numbers still leave something to be desired. While he would initially seem to be a lock to be protected, he could very well end up being trade bait, as he is a year away from unrestricted free agency and will be in line for a significant raise over his current $4 million average annual value (AAV). The Ducks might have trouble fitting him under the cap at that point.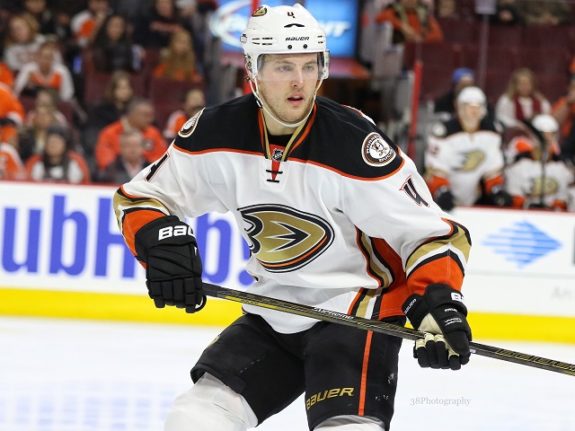 Then again, the Ducks seem to really value Fowler and rely heavily on him, as his average ice time of 24:50 per game led the club this past season. He thus represents a major factor in the dilemma they Anaheim is facing.
Josh Manson, another 25-year-old, is a very solid-looking right-handed defenseman who had good possession metrics (53.42 percent Corsi-for in the 2016-17 regular season) and plays with an edge. The Ducks will have to decide if they want to use a protection slot on him or dangle him as a potential trade piece.
Vatanen and Trade Considerations
Fortunately for the Ducks, Montour and Theodore are exempt from the expansion draft because of insufficient professional experience. So besides Lindholm, Fowler, and Manson, the other quality defender for whom the Ducks will have to do some serious thinking is Vatanen. While he has had some injury problems in addition to his current predicament, and only put up three goals this past season, he is still young and posted nine goals and 12 goals in 2015-16 and 2014-15, respectively. His ability and potential are still very much alive.
Vatanen, signed to a contract worth an AAV of $4.875 million through 2019-20, could be used as a trade chip. Now, however, that might become more difficult because of his long-term injury. Will teams still be willing to pay a significant price to acquire an injured player who might not suit up for them until November or December, and whose future health beyond that point is an uncertainty? The Ducks have potentially lost leverage with respect to getting a maximum return on Vatanen, detracting from their options as they try to make the best of a tough situation.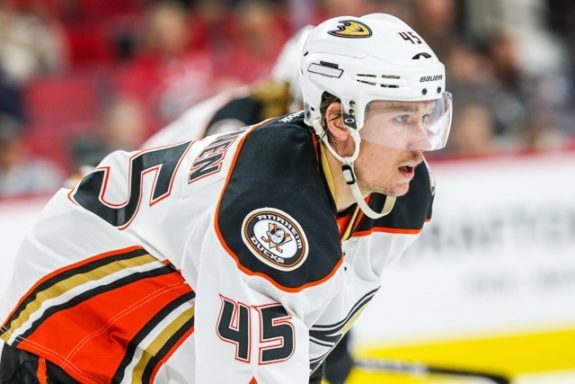 On the other hand, for teams that are starved for quality defensemen, 25-year-old right-handed defenders with above-average offensive abilities are not exactly common. Even with the injury concern, a player like Vatanen is still one for whom some teams should probably be willing to pay and take a bit of a risk.
In any event, this development could make the Ducks lean back toward trading Fowler (or Manson) if they were not already leaning that way.
In almost all potential scenarios, the Ducks will be inclined to make a move ahead of the expansion draft. Even if Bieksa is bought out or waives his NMC, meaning they could protect Lindholm, Fowler, Manson, and Vatanen, they would then likely lose a quality forward like Jakob Silfverberg. The 26-year-old Swedish winger had career highs of 23 goals and 49 points this season before then leading the Ducks in playoff goals with nine.
Anaheim, though, already has to protect (and likely would anyway) veterans Ryan Getzlaf, Corey Perry, and Ryan Kesler, all of whom have NMCs. After that, there would be one more spot left, which would presumably go to rising young star Rickard Rakell. That would leave Silfverberg exposed.
One way or another, the Ducks are going to lose at least one quality player in the coming weeks. They already had some unenviable decisions to make in terms of figuring out who that might be. The injuries to Lindholm and Vatanen—especially Vatanen—only give them more to worry about.
All possession stats are at five-on-five, via Corsica.hockey.
Tom has been with The Hockey Writers for almost four years. After previously covering the LA Kings and the New York Rangers, Tom now covers the Anaheim Ducks.
While in college at Clemson University, the 2016 college football national champions, Tom wrote game summaries and feature articles for the official team website of the Greenville Drive, a Class-A minor-league baseball team and affiliate of the Boston Red Sox. Tom is happy to be able to continue to fulfill his passions for sports and writing with THW.