The majority of Montreal Canadiens fans have been leery/violently outraged since general manager Marc Bergevin traded P.K. Subban for Shea Weber last June. Subban is now going to be playing in his first Stanley Cup Final in his first season with a team other than the Canadiens. This is seen by many as hockey's biggest "I told you so" in recent memory.
He's tied for second on the Predators this postseason in points by a defenceman, only one point behind Ryan Ellis. He's playing arguably his best defensive hockey. He seems to be fitting in quite nicely as a respected teammate as well. All signs point to Subban as the one that got away for Montreal. Or rather, the one Bergevin threw away.
You can practically hear the tallies being furiously scratched into the win column on the Nashville side of the great trade debate with every new Predators playoff victory. This needs to stop. Immediately.
A Different Approach
You can compare these two players to each other all you want. Possession. Points. Power-play percentage. Corsi. Fenwick. Pre-game meals. Suit preference. Who cares? It's like the world's longest offside review, and it's just as inconclusive. The reality is, Subban's performance on any other team means nothing when grading the trade from a Canadiens perspective.
When trading Subban, Bergevin wasn't trying to upgrade something he already had. It's not like he swapped one goal scorer for another because his wasn't scoring. He didn't swap a goalie for another goalie because his wasn't stopping the puck. He traded (in his opinion) a risky, offensive-minded defenceman with questionable decision-making skills, and in return picked up a larger, neutral-minded defenceman, who's slightly more dependable.
Even though they play the same position, they have a completely different approach. For that reason alone it's unfair to compare them. This doesn't even count the fact that they played with completely different players playing completely different systems for completely different coaches.
Seizing the Moment
Subban is fitting right in with the Predators, but he's also surrounded by several other younger, offensively capable defencemen, such as Ellis, Roman Josi and Mattias Ekholm. He doesn't have to take as many chances, and in moments when he's struggling, he can take a backseat and do basic things to get back on track.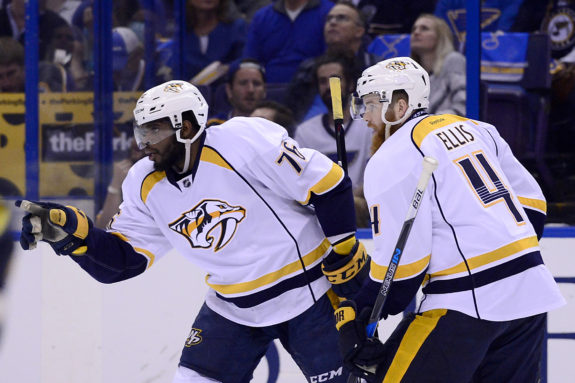 This isn't to say he's got it easy. He's an amazing talent who isn't just getting by down in Nashville. He's a solid presence, logging solid minutes and seizing the critical moments so far in these playoffs.
Again, though, none of this is even relevant to whether, for Montreal specifically, the Subban trade was a success or a failure. Did the St. Louis Blues, for example, lose the Nail Yakupov trade just because the Edmonton Oilers had a triumphant return to the playoffs? No. They lost because Yakupov performed so horribly at times that he was a healthy scratch. If Edmonton had stayed in the basement, would that have made the St. Louis fan base feel any better wasting a roster spot? No.
Nothing Else Matters
It's the same with Montreal. Looking at it not as the Subban trade, but the Weber trade, is the team better today than it was yesterday? Yes or no? Nothing else matters. The answer to that question is obviously going to vary from fan to fan. In my opinion, the team isn't any better or worse. It's just different.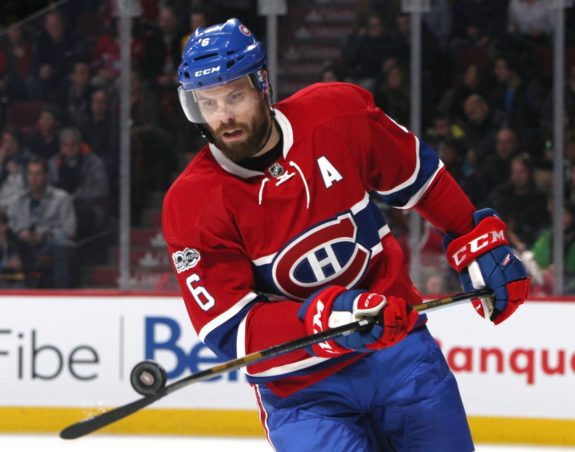 They're now a little bigger. They're now a little deeper on defence. Unfortunately, they still lack scoring and, ironically, they now lack that game-changing element Subban used to bring. I do believe Bergevin lost this trade, but he lost it way back when the season started and he did nothing to follow it up.
The First Cut Is the Deepest
I can see why he made the deal. I can see how it could have been a good first move in an overall master plan to help change the identity of the team. Taking away a marquee, one-of-a-kind, offensive defenceman and replacing him with several slightly above average ones is actually not a bad idea. It's worked for the Pittsburgh Penguins for several years with Kris Letang in and out of the lineup.
It could have been one of the gutsiest, smartest moves of the year. The trouble is there weren't enough offensive or creative additions up front to complement the move. Why it works for Pittsburgh is because they have the offensive depth to consistently take over the attack once the puck is out of the zone. Letang is just an unfair ace in the hole, like Subban should have been in Montreal. Just like Subban is in Nashville, actually.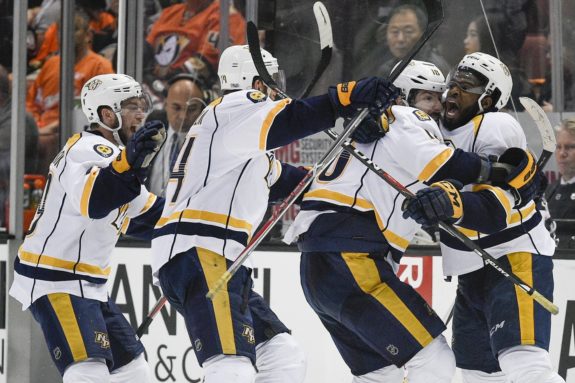 The Grass Isn't Always Greener
Bergevin did add Alexander Radulov as a great success story, and things may have been different had Alex Galchenyuk been a little more consistent, or if Max Pacioretty hadn't disappeared in the playoffs. In general, though, there just wasn't enough of a restructure to make trading away a talent like Subban worthwhile.
Having said that, it's not like every Nashville win is just one more win the Canadiens would have had if they'd retained him. He's done well in a new environment, and I applaud that. If he wins a Stanley Cup, I'll be happy for him. As for grading the trade from the Montreal point of view, it won't make any difference at all.
Josh is a minor hockey development coordinator who's big on player development and player safety. Founder and writer of Tough Call, Josh also contributes to Let's Talk Pens.