Mathieu Perreault playing on the fourth line might not look ideal on paper, but on the ice, it's worked out pretty well for the Winnipeg Jets. After all, they finally have a fourth line that can bury pucks.
For as long as the Jets have been the Jets, the goal has been to run three lines that can score. They've managed it intermittently, but this year looked like it should be the year. At the start of the year, it appeared the Jets were a two-line team again.
Now, with Perreault on the fourth line, he's elevating the bottom six. It hasn't all fallen on his shoulders, as the ostensible third line is doing better as well, but Perreault has brought out the best in Joel Armia and Matt Hendricks.
https://twitter.com/GarretHohl/status/933778337343856641
There's a case to be made, and a good one, for Perreault to come off the fourth line. Over his career in Winnipeg, he has consistently made his linemates better, and Nikolaj Ehlers and Patrik Laine had been lagging behind the Jets' top unit in terms of production for a while.
Even if Perreault comes off the fourth line and jumps into the top six, someone else is going to have to take his place and the bottom six will still have depth. Right now, Bryan Little seems like a likely candidate, but that's another debate.
With Kyle Connor making hay on the top line and Perreault taking Armia and Hendricks along for the ride, the Jets have finally, after what seems like forever trying for it, lived up to their promise of rolling three lines that can score.
Perreault Comes Back Hot
Injuries have been an unfortunate theme of Perreault's career so far, but he's come back strong since missing time at the start of the season. Perreault now sits with seven goals and 14 points in 15 games, six goals and 11 points of which have come since he returned Nov. 16 against Philadelphia.
In the 5-0 dominance of the Ottawa Senators on Dec. 3, Perreault earned a spot on the top line in Connor's absence. He thrived, potting a goal and two assists and generally elevating a line that was already on fire.
Recently, the Jets got another healthy dose of reasons to keep Perreault on the fourth line, however. In the game against Colorado, he was bumped up in the lineup at the expense of a slumping Patrik Laine. Laine was not able to create the same type of offense with fourth-line linemates, and that put a major dent in the Jets' offensive production.
The game before that, Perreault had been in his usual spot between Armia and Hendricks, and the Jets torched Minnesota, 7-2. The night after, again with Perreault in his old spot, the Jets put up seven more against Vegas.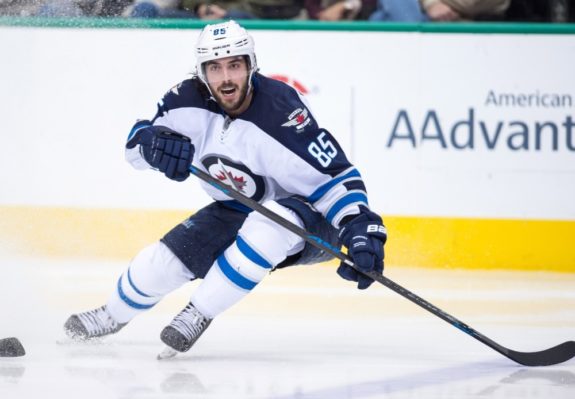 Conventional hockey wisdom has always been to reward players who play well with more ice time, even if that wisdom isn't always followed. Perreault flies in the face of that wisdom, however. He and the Jets are better off with him where he is.
It wasn't that long ago (even if it feels like it) that the Jets were bemoaning their lack of depth scoring. Now, Armia is putting up the best numbers of his career, and even Hendricks is chipping in offensively.
And yes, Perreault was great on the top line against Ottawa. No doubts there. The truth is, however, the first line will score goals without Perreault. Connor has completed that line, as we've touched on before. Laine and Ehlers are picking it up on line two. Neither of those lines needs Perreault as badly as the fourth unit does.
With Perreault on the top group against Ottawa, it's worth noting that the new unit of Armia, Hendricks, and Shawn Matthias didn't put up a single point. In the game against Vegas, Hendricks scored.
It's a small sample size to be sure, but it's consistent with what we already know: Perreault just flat-out makes his linemates better.
https://twitter.com/GarretHohl/status/937043071979593728
Hendricks and Armia need Perreault more than Wheeler and Scheifele do. This is as dominant a stretch as Armia has ever put together. The flashes of brilliance we saw in other years have become less flashy and more sustained with Perreault's help.
There's an undeniable case to elevate Perreault in the lineup. There's no doubt his play has earned that. On this occasion, however, the Jets should go against the grain and against conventional hockey wisdom. Why fix what ain't broken?
After all, the team is in first place in the Western Conference as of this writing. They look like legitimate contenders for the Central Division.
At the risk of sounding self-satisfied, I know a certain pundit who expressed the possibility of that in June. But that's a brag session (read: story) for another day.