So here's a chicken-egg question: did the Winnipeg Jets top line make Kyle Connor, or did Connor complete the top unit?
The title of this piece is likely a giveaway, but Connor has been the missing ingredient on the Jets top line this year. The loss of Mathieu Perreault could've been devastating, but Connor's emergence has meant the top trio hasn't missed a beat.
Connor actually began on the second line in a game against Columbus, but that didn't even last two full periods. His play forced Paul Maurice to elevate him in the lineup, and Connor clicked with his new unit immediately, scoring in the second period of his first game back. He hasn't really slowed down since.
Kyle Connor went from the AHL to one of the best lines in the NHL pretty much overnight and hasn't looked out of place at all #NHLJets

— Andrew Paterson (@hustlerama) November 7, 2017
After the disappointing November 20 matchup against the Nashville Predators, Connor sits with 11 points in 15 games and is quietly working his way into the Calder Trophy race. He's got a long way to go on that front, but he's gaining ground.
Much like Nikolaj Ehlers, who found tremendous success with Mark Scheifele and Blake Wheeler, Connor brings some great speed to that line. He's also proven adept at cycling the puck down low, something Wheeler and Scheifele's bigger bodies make them excellent at.
Perhaps the best thing about Connor's play is that, by and large, he's not scoring pretty goals. The end-to-end rushes of his junior career or the snipes of the AHL would be nice, and they'll come, but right now that would be unsustainable.
Instead, Connor has made his mark playing the game the honest way. Despite his relatively modest size, he's shown no reluctance to drive the net, and many of his goals have come from him banging away on the doorstep.
The best news of all for Jets fans, however, is that if history is any indication, Connor is just getting warmed up. A real hot streak may be coming his way soon.
New Year, New Kyle Connor
In the last two seasons, one with the Manitoba Moose and one with the Michigan Wolverines, Connor has gotten off to a decent start. After Christmas however, he went from decent to devastating in both years.
Last year, Connor bulldozed the AHL in the second half, finishing with 25 goals in 52 games. And we all remember what happened in the second half of his only NCAA season, in which he made what should've been a successful Hobey Baker push.
Now that I'm (almost) done beating that dead horse, we can look to the future. Not that Connor's play of late hasn't been excellent, but his immediate history indicates the best is yet to come for the second-year pro.
That's an exciting thought if you're Jets management. Because as good as Connor has been, as well as he's fit on the top line, we still haven't seen his best. We haven't seen the pretty goals we know he can score, so if those are coming, more's the better.
The confidence, as hard is it may be to believe, still isn't fully there for Connor. He's playing simple but effective hockey, which is fine for a young player in his first full-time NHL duty, but when he starts feeling it, the ultra-skilled winger will bust out.
Because that's what the Jets need, right? More offense. Well, the good news is Connor isn't a one-trick pony. His play on the other side of the puck has been getting better too.
Connor Plays 200 Feet
In his first game back with the Jets after his demotion last year, a win over Nashville, Connor scored a goal but also earned praise from Maurice for his defensive efforts. That seems to have carried over.
Like all young players, Connor is bound to have defensive lapses, but his awareness in his own zone and his willingness to play responsibly there is a good sign. The youngster has used his speed and underrated reach to break up a few would-be scoring plays this year.
Players as fast as Connor often make great defensive specialists, as they can get into shooting lanes and catch players on the backcheck. Couple that with Connor's unheralded ability to strip pucks, and you've got the makings of a two-way forward.
Connor hasn't been flawless this year of course. His defensive awareness, while encouraging, is still a work in progress. At Connor's age, however, that's no sin. He has time to make that progress.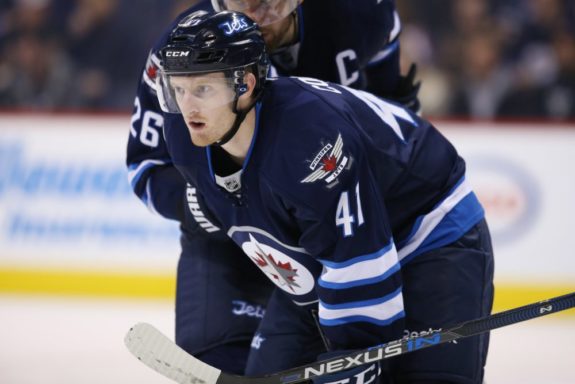 In short, all the things that were concerns about Connor in his draft year that saw him slip to 17th overall (which seems laughable now) are being slowly but surely addressed. He's more defensively aware, putting on muscle, and showing a willingness to play in the trenches, and a surprising penchant for it too.
Connor admitted at the start of the year his attitude wasn't where it needed to be, but a conversation with Wheeler turned that around. The wake-up call seemed to sink in and Connor is evolving into another deadly weapon for Winnipeg. He explained in a tweet:
"After the first 10 games or so, I thought I should be playing more and had a bad attitude," Kyle Connor said. "Wheeler pulled me aside, 'You think you've proved yourself? I've been in the league 9 years and I still have to prove myself every day.' @arcticicehockey@NHLJetsNation
Connor's linemates, Wheeler and Scheifele, have brought out the best in him no doubt, and he's been forced to adapt to their style rather than the other way around, as should be the case for a young player. He's helping bring out the best in them too.
Or at least, the best so far. As we've seen in the past with Connor, the best may still be ahead in the new year, and with the playoff push coming the Jets will need that.