This summer, one of the most interesting trades was between the Montreal Canadiens and the Tampa Bay Lightning that involved Mikhail Sergachev and Jonathan Drouin. In this translated interview, originally appearing on the popular Russian website championat.com, Russian defenseman Mikhail Sergachev talked about his move to Tampa Bay, his first goals in the NHL, and playing with Anton Stralman.
* You can enjoy the original Russian language article by Darya Tuboltseva here *
Starting the Season as a Lightning
Darya Tuboltseva: How do you judge your start of the season?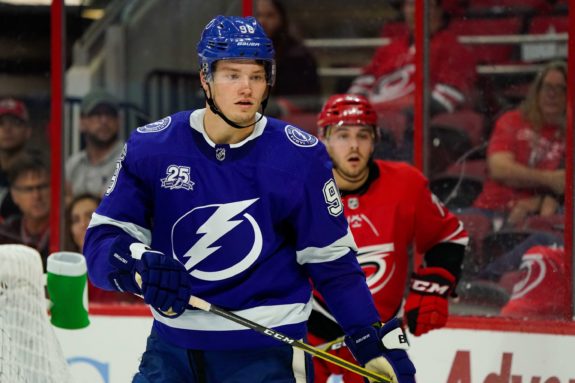 Mikhail Sergachev: When the team plays well you just have positive feelings. All is going well and it shows.
DT: Many say that this year the Lightning have a good chance to win the Stanley Cup.
MS: The season is long, hard, it's hard to imagine what will happen, who will win and who has more chances. I guess that last year no one was thinking that Nashville would go to the Finals. We need to win games and all the rest will follow.
Progressing as a Player
DT: Last year you said that playing in the NHL was very hard for a young player. Now you aren't in your first games anymore, but do you keep on thinking it?
MS: Of course, it's still hard. It's not like any young player can just get to the NHL and start playing well. It also depends on the opposition. There are some teams that are easier to play against, and others are harder, and it looks like you just stay in your defensive zone. Sometimes it's very hard. There are many good players and everyone wants to defeat you. You need to be always ready.
DT: Do you agree if I think that last year, being part of the Montreal Canadiens, you weren't fully ready for the NHL?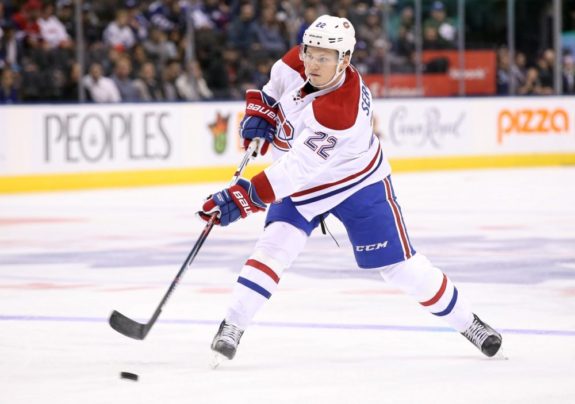 MS: I think that in the pre-season games I wasn't really ready and I didn't understand how I needed to play. De facto I just spent one year in Canadian hockey. I wasn't ready, but I gained a lot of experience, even in those pre-season games. When the season started, I started worrying a lot. "Not bad, I'm playing for Montreal and I'm just 18," I started thinking that way and it influenced my game.
DT: Where did you improve the most in this period?
MS: I became more aggressive and in my second year in Canada I worked very well with the coaches in Windsor. I think that I now play harder along the boards and I stopped resting when we don't have the puck. Now on defense, I play also without the puck. I think I also improved my conditioning.
DT: You were the fourth rookie defenseman to score four goals in ten games. Did you believe that you really did that?
MS: I really didn't think about it. I didn't even hear about this stat. It's great but all of my goals were scored after great passes from my partners. When I scored my first goal, Stamkos screened the goalie very well and I just had to shoot in the open net. When I manage to score, mostly it's because I need to finish a great play by my team.
A forever kind of night.

Proud of you, @sergachev31! ⚡️ #TBLvsCBJ pic.twitter.com/e2ESuTOPqk

— Tampa Bay Lightning (@TBLightning) October 19, 2017
DT: Was the game against Columbus, where you scored two, the best of your career so far?
MS: I think it wasn't my best game. I analyze my game with the coaches, and they say whether I played well or not. There was another game where I played well both on offense and on defense, and the coaches didn't have anything bad to tell me. I think that was my best game. But of course, that game was great, we won and that's the most important thing. I will remember it for a long time, those were my first goals.
Related: What's Behind the Lightning's Early Season Success?
Sergachev and Anton Stralman
DT: Did you find a common language with Anton Stralman fast?
MS: Yes, very fast. I think that any defenseman would find a common language with him, it's easy to play with Anton. He talks a lot while playing, it helps. When you don't know where to send the puck, he always tries to open up. If you don't know what to do with the puck, just give it to Anton (laughs)! He plays great with and without the puck. He's not big, but he's very strong and resilient, that's why he plays 25-30 minutes a night.
DT: What kind of advice does he give to you?
MS: We work together and during the process, he tells me how to correctly do things or how to open up sometimes. He talks correctly, and usually, I talk with the coach and we analyze these things too. I'm progressing and my game is improving, just as the team's game is.
DT: It's been said that Stralman is one of the players you should play with if you want to win the Norris Trophy. Do you think you can do it?
MS: I don't know (laughs). I never thought about it. Of course, being the best defenseman in the league is the biggest personal honor, but I don't have such a goal right now. I am not talking about winning the Norris Trophy yet, first I need to achieve goals like being consistent.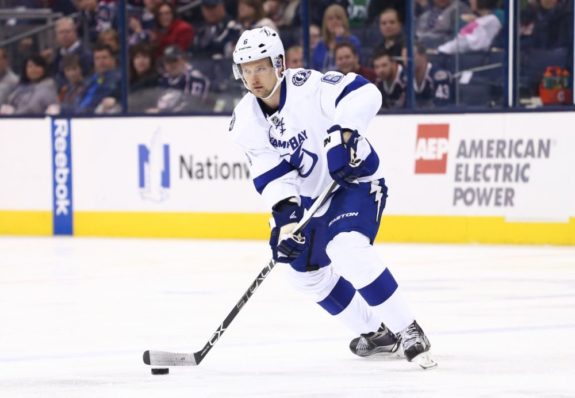 DT: What kind of goals do you have?
MS: I really want to win the Stanley Cup. Every player dreams of that. I don't think about personal prizes.
DT: Do you feel more freedom on the ice in Tampa?
MS: The coaches tell me not to be afraid of making mistakes because if I am scared I'll do a lot of mistakes and I won't learn anything.
DT: In Tampa, you have a lot of Russian players. Do your teammates start to fear you?
MS: Why should they (laughs)?
DT: Russian mafia.
MS: (laughs.) No, we don't have any mafia. We don't always stick together. Everyone is talking in English and we have good ties with the rest of the team. We can have a dinner with any of our teammates, not only with Russians. All are doing well.
DT: In a game against Columbus you gave Kucherov a great assist. Did he thank you after the goal?
MS: Yes, of course, he did. He told me that I gave him a great pass and he wasn't expecting that. But I know that he was (laughs). He is always ready for everything, it's not a case that he scores that many goals. We talked about it after the game, but now I have already forgotten everything.
Shelf on a yawning cage.@86Kucherov makes it a no-doubter for goal No. 14. pic.twitter.com/jzoBrkvgrP

— NHL (@NHL) November 5, 2017
Related: Lightning Strike Hard on West Coast Swing
DT: You are constantly compared with Ivan Provorov. Does this comparison cause competition?
MS: I know Ivan very well. Of course, on one hand, it gives me a boost. I'm very happy for him. Generally speaking, I think that it's an honor to be compared to Ivan Provorov.
DT: What about comparisons to Sergei Gonchar and Sergei Zubov?
MS: Of course it's great, but I don't know how it can be. Gonchar and Zubov are two great players, two among the best in the history of Russian hockey. It's cool, but I think it's early, I haven't done anything yet.
DT: Do you think you can achieve what they did?
MS: I'll never be Gonchar or Zubov. Everyone has his own path. I want to play my career and not repeat other players' path. I simply want to get better with each practice and game.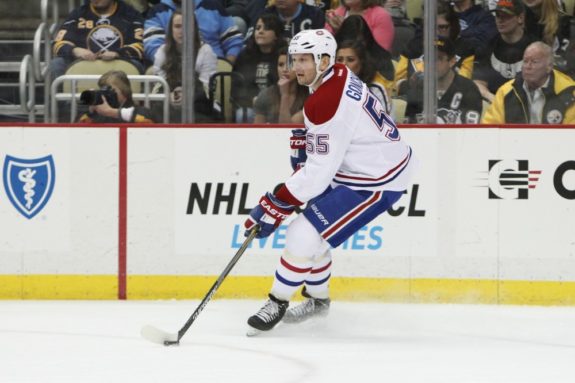 DT: Are you worried about the 40-game threshold according to which the Canadiens will have to send the Lightning a second round pick?
MS: Not at all. It would be strange if that worried me, it's not my job.
DT: Don't you think that the Canadiens are trying to get rid of all the Russians?
MS: No, I think that it was just a matter of the current situation. It was probably a coincidence: Markov wasn't signed back, Emelin was freed up. I was traded because the Canadiens needed a good forward, I doubt it was because they didn't want to have Russians anymore.
DT: You moved to Canada at a young age. Did you ever think about going back to Russia?
MS: No, I don't have such thoughts.
DT: Did Russian teams call you often?
MS: Not once.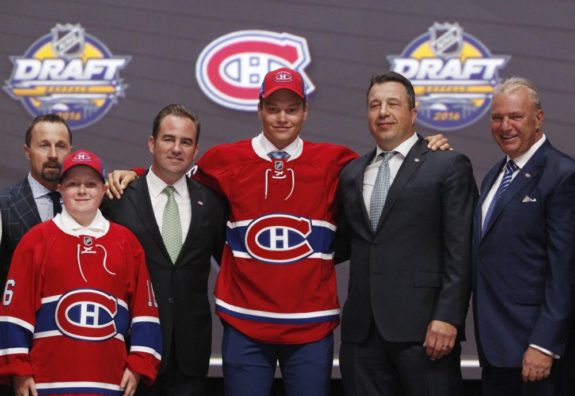 DT: Did your adaptation last long?
MS: Yes, I needed quite some time to adapt to the league and the different ice surface. I needed 15-20 games to feel myself. You need to play a bit different, think faster, shoot more.
DT: Did you know the English language when you moved to Canada?
MS: It was hard at first. I understood English, but adapting was hard anyway. Then I got a teacher. The family and my teammates really helped me a lot. I worked very well with my teacher. He helped me in learning a lot of things and how to give interviews in English; how to talk with different people and so on.
DT: And what about French? After all, you were drafted by Montreal.
MS: No (laughs). I think that I was going to study it if I started playing with the Canadiens full time.