It's been just under a month since my initial Calder Trophy predictions took place. Now, it's time to look at which rookies have continued their success, which ones have cooled down and some new faces entering the talks.
NHL Rookies on the Rise
Mathew Barzal
After starting off his campaign rather sluggishly with no points in five games, Barzal has been exceptional of late. The former 16th overall pick is showing the Islanders brass what made him such a dominant force in the WHL. Since his slow start, Barzal has tallied 19 points in 15 games, establishing himself as the primary point-getter among rookies. His soft hands, explosive speed and incredible vision are what set him apart from the rest. He's been a huge factor in the New York Islanders' (11-7-2) bounce back season.
Alex DeBrincat
Another slow start from an elite talent, DeBrincat had only one goal in his first 12 games. Since my initial predictions, DeBrincat has tallied eight points in eight games, including six goals. While there is a lot of concern about his size (5'7″, 165 lbs), he is showing everyone that being small will not hold him back.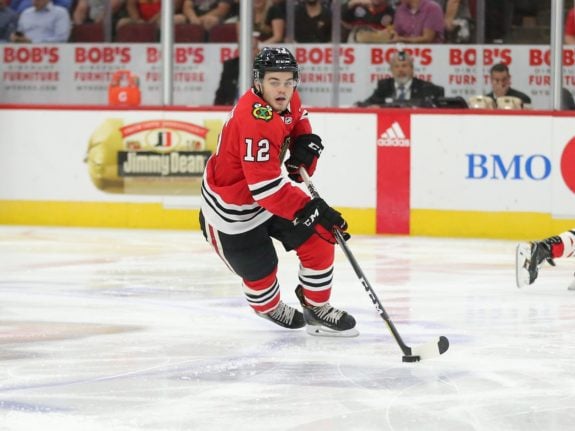 DeBrincat destroyed the OHL during his three seasons, scoring at least 100 points and 50 goals each year. With his phenomenal shooting ability and vision, there is no reason why he would slow down.
Alexander Kerfoot
The former Harvard captain and Hobey Baker finalist is starting to turn up the heat. In his last eight games, he's collected nine points. The Colorado Avalanche are satisfied with the production of young Kerfoot, but his scoring might not continue due to his 33.3% shooting percentage. Is he simply getting lucky? In the end, it doesn't matter as long as the puck is crossing the goal line. Kerfoot has always been known for his elite passing, but he exploded for 16 goals in his final season at Harvard, quadrupling his previous year's total.
Still in the Conversation
Brock Boeser
It's safe to say Boeser has been the best Canucks producer this season, on a point per game pace and with contributions on the power play and at even strength, Boeser is still in the run for the Calder. Since the first update, he's continued his steady production with nine points in eight games, including his first career hat-trick against the Pittsburgh Penguins.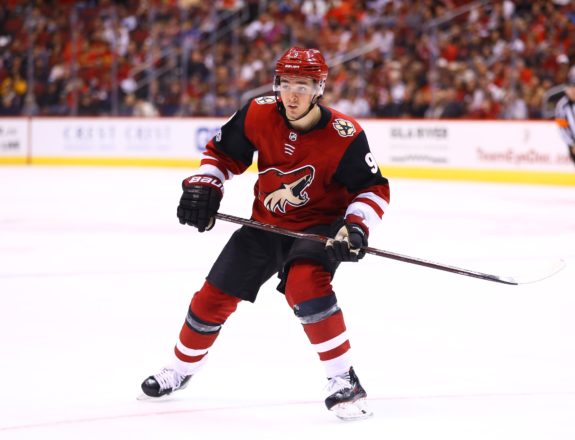 Clayton Keller
You could argue that Keller has slowed down since his thunderous start to the season, but considering he's playing for the worst team in the NHL, six points in his last 11 games is still a decent total. He's second in rookie scoring behind Barzal and will likely continue his stellar output due to his average of 19 minutes of ice time per game. Keller continues to live up to the Patrick Kane comparison and will continue to be an offensive catalyst for the Coyotes for years to come.
Will Butcher
His point totals are diminishing, but his ice time is increasing. Since our first projections, Butcher scored his first career NHL goal and has been averaging more than 16 minutes a game, one minute more than he did at the start of the season. Yes, it's only one minute, but it shows that head coach John Hynes trusts the youngster and that his minutes might increase if he keeps it up.
Mikhail Sergachev
Much like Butcher, Sergachev's offensive abilities have cooled down a little, but he's seeing the ice a lot more. After averaging 13:20 in his first 12 games, he's now seeing 15 minutes a night, another good sign for the Russian puck-mover. During his rookie season, Sergachev has shown he can dominate. He's a fluid skater, sees the ice well and isn't afraid to shoot the puck (first among rookie defensemen).
Charlie McAvoy
McAvoy has been raved about since appearing in the playoffs for the Bruins last year. His 2017-18 campaign started off strong, with eight points in nine games while averaging close to 22 minutes a night. Since October 28th, there hasn't been a game where McAvoy has played less than 20 minutes, which is impressive for a rookie. There were also two games where the Boston U product played nearly 30 minutes. His point totals might not be astounding, but they are great for a rookie defenseman and his ice time only gives us a glimpse of his future as a #1 defenseman in Boston.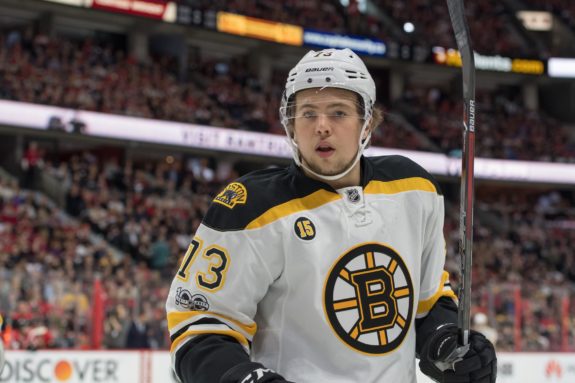 Watchlist: Nico Hischier, Kyle Connor, Samuel Girard & Adrian Kempe.