Two teams in the NHL find themselves in the midst of a potential panic mode. One is the Montreal Canadiens and the other the Edmonton Oilers. The Canadiens have struggled mightily this season, recently losing two back-to-back games against the Arizona Coyotes and the Toronto Maple Leafs and things didn't look good. Some have suggested those two losses are signaling an early exit from a possible playoff spot.
Meanwhile, the Oilers have not remotely lived up to lofty expectations. Considered a team that was favored to make the Western Conference Finals this season and perhaps represent the Western Conference in the Stanley Cup Finals, the Oilers are now 7-11-2, well outside the playoff picture and second-last in their conference. Their power play has struggled, their penalty kill is weak and they can't seem to sustain any momentum, losing key games based on poor performances.
Since both of these teams are failing miserably compared to the expectations placed on them by the fans, the media and themselves, it is to be expected that panic, speculation, and illogical thinking might rule the day.
Panic For Habs Fans
Perhaps people didn't expect the Habs to be as strong a team as the Oilers this year but few people would have envisioned a season that would see the Canadiens go 8-11-2 and players like Max Pacioretty, Jonathan Drouin and others struggle. So too, if you asked almost anyone, few likely would have suggested Carey Price would be out of the lineup, many speculating he was possible trade bait.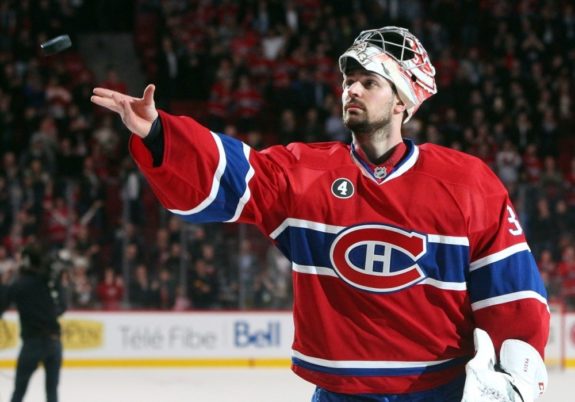 Amazingly, Price's name is on the trade rumor board. Because the Habs haven't been terribly forthcoming with his injury status, many are starting to guess what the silence means. Are people starting to worry that his huge eight-year, $10.5 million contract that kicks in next season might have been a huge mistake? It comes with a full no-movement clause and hefty signing bonuses in the first few seasons.
The Canadiens are also rumored to be looking at moving Max Pacioretty. A veteran forward who has a history of scoring goals in bunches, he'd fetch a hefty return and insiders like Nick Kypreos are suggesting the Habs might be willing to move him for draft picks and prospects.
Related: Rumor Rundown: Golden Knights, Canadiens and Oilers, More
Panic for Oilers Fans
On the other side of the NHL, you have the Oilers who just can't seem to figure out what's going on. With a similar team to last year, they don't have any real injury issues and are missing only Jordan Eberle from last season's top-six forward group. But, the scoring isn't there, the power play is putrid and fans are starting to turn on general manager Peter Chiarelli.
The Oilers are looking for scoring help in a big way and in the back of their minds have started to grow concerned with Cam Talbot's inability to bounce back to form. He had a miraculous 2016-17 season but so far this year has looked shaky and uncertain, letting in weak goals at inopportune times.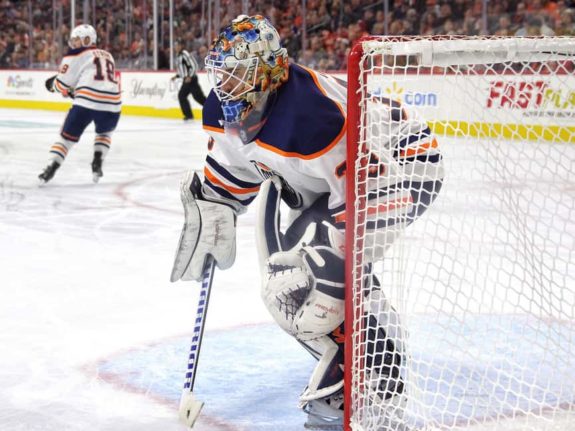 How These Two Teams Got Connected
Just because two teams struggle doesn't necessarily make them automatic trade partners. Yet, people are linking these two particular franchises and in some ways, there is some logic to it. In others, it's way out there in terms of reality.
The latest buzz is that the Edmonton Oilers would be interested in Carey Price if he is, in fact, on the market. Stu Cowan of the Montreal Gazette wrote a piece suggesting news with Price and Montreal just don't add up and that the Oilers are looking for the type of players the Habs might be willing to move. Cowan wrote:
One team that might be interested in Price is the Edmonton Oilers, who have talented centres like Ryan Nugent-Hopkins and Leon Draisaitl and could use help in goal after Cam Talbot allowed six goals on 21 shots in a 6-3 loss to the Stars on Saturday. Edmonton is also close to Price's home in British Columbia.
Cowan hasn't suggested he has insider sources suggesting these two teams are talking but he is trying to piece together an argument that has merit. Is he onto something?
Giving Up on Talbot
First, the Oilers would be giving up on Cam Talbot to make this deal. If you're the Oilers, you can't trade for Price and keep Talbot. Talbot only has one more year after this on his current $4.16 million deal and to take on Price's $10.5 million, Talbot would surely be gone. Are the Oilers willing to throw away a goalie who just last season was a key piece in their success and first appearance in the playoffs in over a decade?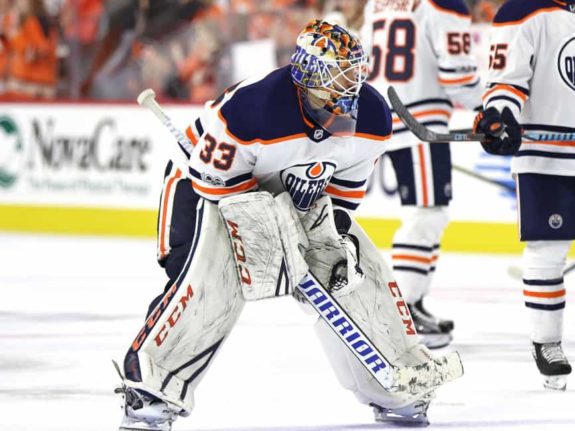 Also, do the Canadiens look at moving out arguably the best goaltender in the NHL for a struggling netminder who has only one more year on his current deal? Obviously, there is no way this is a one-for-one deal. Draft picks or prospects plus Talbot doesn't even get the conversation started despite Price's huge salary concerns.
What Do You Throw In?
Let's suggest the Oilers consider this. With two players now on the roster making over $10.5 million per season (McDavid will make $12.5), how do you manage a team with two players making a combined salary of $23 million? The answer means trading Leon Draisaitl. Draisaitl is being paid well at $8.5 million for the long-term and his salary makes him a natural part of the conversation.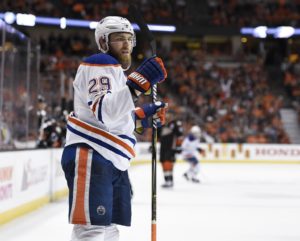 Many would rather speculate that Ryan Nugent-Hopkins, and the season he's having means the Canadiens would consider him as a trade piece but is that really accurate? Yes, Nuge's season suggests trading him now might return the most value but the Canadiens likely don't do a Cam Talbot plus Nugent-Hopkins for Carey Price deal. Salaries equal out pretty closely but both sides could make an argument the trade isn't fair value.
One thing the Oilers don't do is trade Talbot and Draisaitl together unless Pacioretty is coming back as well and that becomes not just a trade, but a blockbuster of gargantuan proportions.
Related: Ryan Nugent-Hopkins Trying to Ignore Trade Rumors
Major Shake-Ups
The reality is, any trade involving these two teams means shaking up both rosters in a massive way. Canadiens fans might be ready for it but many will call for management's head if Price is traded. Meanwhile, the Oilers are only one season removed from making major strides and would removing two pieces like Talbot and Nugent-Hopkins/Draisaitl be an acceptable change in Edmonton?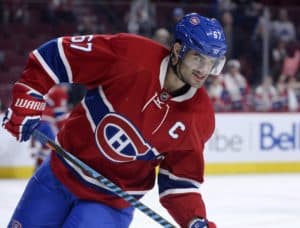 In the opinion of this writer, the idea of a trade between these two teams is fun if you like to speculate on huge blockbuster trades and rumors but that's about it. The reality is, the likelihood of something like this getting done is so far out of the realm of plausible, you'd have to realize a lot of people would lose their jobs if these trades were made. One-for-one trades are rare in today's NHL while two-for-two trades likely rarer. If you combine that with the potential of moving over $30 million in combined salaries, it seems almost impossible.
If anything, the Oilers look at Pacioretty and try to bribe the Canadiens with a combination of picks and prospects. That's about as close as these two teams will come. Things in Montreal would have to get much uglier and much more quickly before the Habs consider moving Price for anything more than a monumental return. This isn't even taking into account the Oilers' salary concerns.