It may have taken longer than both he and the organization wanted but it appears as though Jujhar Khaira has found a home with the Edmonton Oilers. After a rather indifferent start to his 2017-18 campaign, a minor injury and an extended stay in the press box, the 2012 third-round pick has started to show signs of consistency in his game and the results speak for themselves.
Jujhar Khaira looking like a player for #Oilers tonight, setting up both goals for the fourth line. If he could stay healthy and consistent, there is definitely upside to the package he brings. #THW

— Larry Fisher (@LarryFisher_KDC) December 1, 2017
Since getting back into Todd McLellan's starting lineup on November 12 against the Washington Capitals, the 23-year old has picked up seven points in eight games and is making an impact on a nightly basis. Points aside, this is arguably the first time Khaira has looked comfortable in his NHL skin and that belief has led him to finally use his entire skill set to his advantage.
Khaira Looks Comfortable
His combination of size, speed, and touch around the net have been a godsend for this group. The youngster has gone from being a seven to ten minute a night guy who accomplished little, to one who is now averaging 14 minutes of ice and started to see time on both special teams.  The turnaround has certainly been noteworthy but should not be viewed as a complete surprise.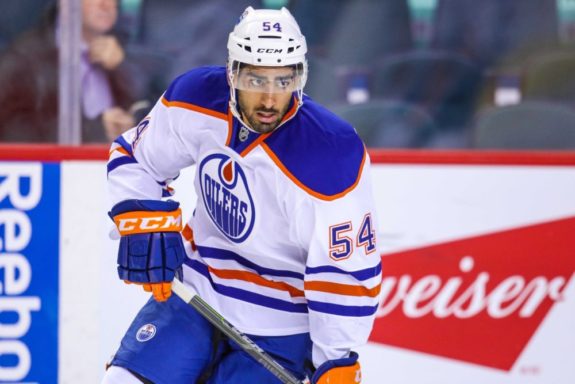 Let's not forget, this was a kid who roughly two years ago appeared poised to claim a bottom-six spot on this club in 2016-17 but his aforementioned indifference cost him that opportunity. The head coach has mentioned on multiple occasions how important Khaira could be to the Oilers lineup but that only takes a player so far. It is up to the individual to seize the moment and prior to this recent stretch, the Surrey native did nothing of the sort and McLellan promptly put him in the press box.
Khaira Has Had Growing Pains
Remember, the ask was not for him to come in and be a point producer in a top-six role. In fact, it is exactly the same today as it was two training camps ago. It took some time but Khaira has started the tools in his so-called toolkit and it is creating a match-up issue for opponents. Though the average NHL fourth line is better in the here and now than ever before, not many include that kind of player.
Here's how we called Jujhar Khaira's 1st goal in #Punjabi. #Rogers @hometownhockey_ will also have a feature on @jujhar94 next weekend as @RonMacLeanHTH & @TaraSlone will be in #Surrey, his hometown #Oilers #Flames #BattleOfAlberta https://t.co/aoIRdhLsNw

— Harnarayan | IceSingh (@IceSinghHNIC) December 3, 2017
Add to that the fact he has helped rejuvenate what was the invisible duo of Mark Letestu and Zack Kassian and said match-up becomes an even bigger advantage for Edmonton. In all honesty, the argument could be made for Khaira to be bumped up to the third line. Quite the turnaround for a guy who some were starting to view as a potential bust roughly four weeks ago but has the skill set this organization desperately needs and at the perfect price tag.
Whether it was having the good fortune of scoring in his first game back against the Capitals and gaining some much-needed confidence or a player simply coming to the realization that a change in approach was necessary in order to become a regular at this level, something has clicked. Now it is up to Jujhar Khaira to prove to the Edmonton Oilers that this is the new norm and not just a nice run of games.
Also available from Rob Soria: 
Connor McDavid: Hockey's Next Great One
Rob Soria is the Author of Connor McDavid: Hockey's Next Great One. He has chronicled the Orange and Blue since creating his Oil Drop blog in 2011 and has also had his writings featured over at HometownHockey.ca and Vavel USA, where he has covered the NHL, MLB and ATP Tour. Rob was born, raised and still resides in Edmonton, Alberta and can be reached via twitter @Oil_Drop.