First of all, relax. This is neither a Leafs nor Habs bashing rant. Having lived in both Montreal and Toronto as a huge hockey fan for more than 20 years each, I have first hand experience in the cheering characteristics of the local teams' fans. Oh boy, what a difference!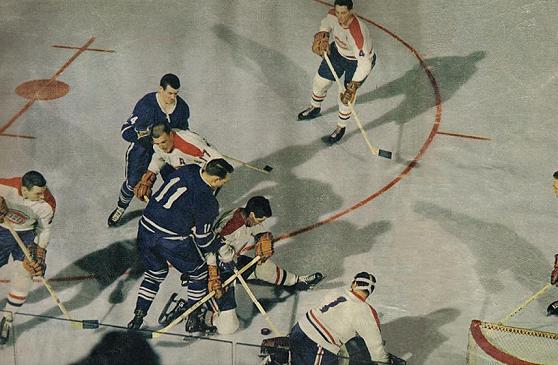 Primarily, but not entirely, the comportment of both Habs fans and Leaf fans today is steeped in hockey history. The Montreal Canadiens and a team from Toronto (not originally the Maple Leafs) are the only two franchises that have played uninterrupted since opening night of the NHL in 1917. One has been immensely more successful than the other over the past 92 years, and this in itself goes a long way in explaining the differences in current fan behavior. Nobody alive today will ever see the Toronto Maple Leafs catch up to the Canadiens in overall historical and documented success. Barring some sort of major catastrophic event, the NHL will never revert to three teams again like there where were when Toronto won its first Stanley Cup.
Historical Success is on Habs Side
Since the Toronto team was purchased and taken over by Conn Smythe in 1927, the re-named Maple Leafs have won the Stanley Cup 11 times. From 1927 to date, the Canadiens have won Lord Stanley's coveted silverware 22 times: exactly twice as often. Enough said if you want to use a quick, historical measure of total hockey success.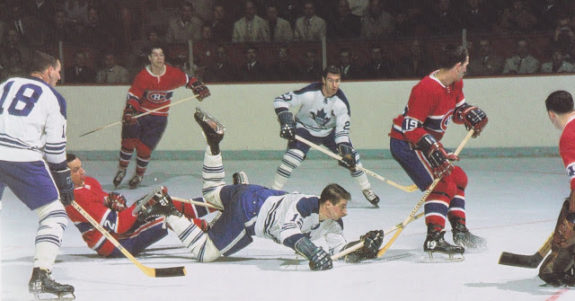 If you go deeper into the statistical analysis using the annually updated "NHL Official Guide and Record Book", it's easy to uncover the underlying reasons for the greater number of cheering opportunities that lucky Habs fans have enjoyed from the start. As of 2009 and in exactly the same number of games played in all-time NHL history (5,874), the Canadiens have scored 19,284 goals. Over the same all-time period, Toronto has scored 18,189 times. Not even close. The Canadiens have won 3,021 regular-season games, the Leafs 2,569, a significant difference. The Canadiens have had better goaltenders, as evidenced by the incomparably higher number of Vezinas in the trophy cabinet. They've had better defensemen, as indicated by the Canadiens' ten Norris trophy wins compared to zero by the Leafs. In fact, they've had more star players in virtually every category.
Cultural Tensions Breed Hockey Passions
Why such a staggering difference? Unlike Toronto, the Canadiens' success story has always been realized against a background of social tension. For much of 92 years, there has always been that undeniable clash of French and English culture that has always had Montreal as its epicenter.  Fortunately, the very most of this time has been spent in a non-violent, harmonious existence. Nevertheless, the descendents of both cultures have needed an outlet, a venue where pent up frustrations and emotions could be released. So they went to a hockey game.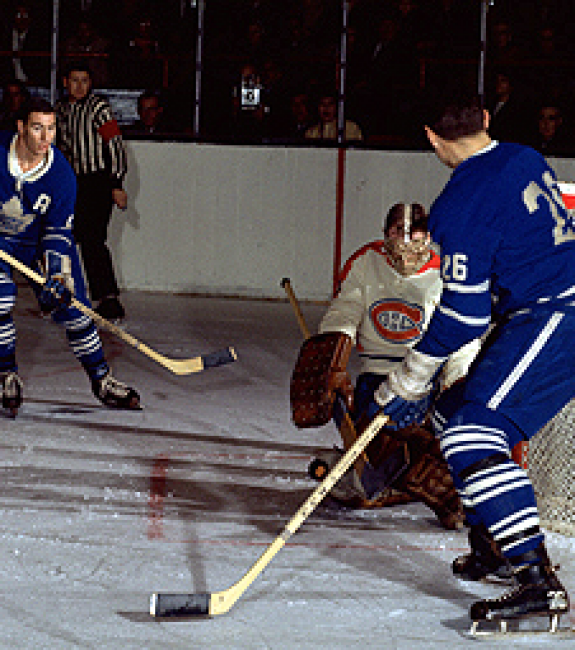 You've probably heard before about how you could cut the buzz or electricity in the air at the old Montreal Forum with a knife. It's true. The atmosphere was like nowhere else and the Canadiens fed off of it. Montreal Canadiens' Managers were always smart and careful. They balanced their teams with healthy representation from both of Canada's founding cultures. For every Maurice Richard, there was a Doug Harvey. For every Guy Lafleur, there was a Howie Morenz. In the dressing room and on the ice, one language was spoken – winning.
All of these historical facts lead us to why there are noticeable differences in the fan bases of both founding clubs right now. Leafs fans feel that Habs fans aren't loyal if they only bring out their Habs gear when the team is winning. This Habs fan trait is evident enough, but a Habs fan is accustomed to a long, storied tradition of winning and supporting a team that is best at everything. Anything less than winning is unacceptable. The morning after a 7-2 loss to Boston, Leafs fans still proudly go out sporting their Leaf caps and justify their lack of shame with the standard "eternal, unwavering loyalty" excuse.
Loyalty Versus Traditional Standards
So yes, Leafs fans are probably more loyal. They make sure there is never an empty seat for a Leafs home game. This is more important in Toronto than it is in Montreal. The occasional empty seat at Montreal's Bell Center is a clear indication to Habs Management that the team is not good enough and not living up to the preset and traditional standards.
Canadiens fans are a little more passionate about their team and everything hockey. Of course, there is good passion and there is bad passion. You're probably more likely to witness another hockey riot in Montreal if tensions boil over, as they did in 1955. Nobody riots in ever-passive Toronto. That's a good thing, except that acceptance of mediocrity is far more prevalent.
One thing is for sure, there are no two more knowledgeable hockey bases than Toronto and Montreal in the world. Some day, the all-time greatness torch may be passed from Montreal to Toronto, but in the first 100 years, Montreal has been better. Thus, the differences in fan expectations, and ultimately behavior. Na Na Na Na. Na Na Na Na. Hey Hey, good-bye.
** originally written in December 2009