The month of November was a painful time for the Vancouver Canucks both figuratively, and primarily literally—a handful of injuries to key players has left the Canucks in a bad place at a key point of the season.
Coming into the 2017-18 season, nobody expected the Canucks to actually be competing for a playoff position, but they proved everyone wrong. Most people expected a bit of a throwaway season where the organization tested out some fresh faces and developed some up-and-comers. Now, with these injuries, the Canucks have room in their lineup for some young players looking to make a reputation for themselves.
The Injured Canucks
Erik Gudbranson
Injured Nov. 27 against the Pittsburgh Penguins, was Erik Gudbranson, the team's toughest customer. He has been tagged with an upper-body injury and is currently listed as week-to-week. The 6-foot-5 monster has had injury problems before so the "week-to-week" label isn't exactly comforting.
The big man hasn't been too productive this season, carrying along zero points, but he is still second on the team in hits and will be missed in front of the net quite drastically.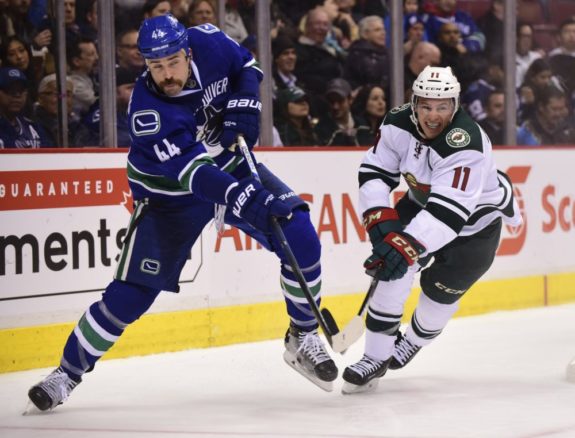 Brandon Sutter
Just two days after Gudbranson's injury, Brandon Sutter was also sidelined in a contest against the New Jersey Devils. Sutter is also considered week-to-week but differs with a lower-body injury and is half-expected to make his return within the next week.
He's been middle-of-the-pack in terms of points but Sutter is the go-to shutdown center for Travis Green's Canucks and he's done quite an impressive job to this point in the season, alongside his former partner in crime, Derek Dorsett.
Derek Dorsett
Derek Dorsett was a major talking point of the NHL for the first couple months of the 2017-18 season, remember? He was lighting up the league and carrying the Canucks in terms of goals—he's still fifth on the squad with seven notches. His impressive play seemed to overshadow the fact that he had bounced back from a devastating injury-surgery combination with his neck.
It was nothing short of a miracle that he came back and it was also nothing short of heroic that he was able to play as well as he did. Unfortunately, his injury caught up to him and forced him to retire from hockey after playing 20 games in the 2017-18 season. Another tough customer, and a huge morale guy, Dorsett will be hugely missed with the Canucks.
#Canucks announce Derek Dorsett will not return to active roster due to health reasons and risks associated with playing. https://t.co/ZOrsAhfHfx

— Vancouver #Canucks (@Canucks) November 30, 2017
Bo Horvat
Last on the injured list, is Bo Horvat, who suffered a fractured foot in the Dec. 5 bout with the Carolina Hurricanes. He is expected to miss no less than six weeks and it couldn't come at a worse time.
With the Canucks already being down the three aforementioned players, Horvat's injury is instrumentally deflating to a team that is currently two points out of a playoff spot behind two good hockey teams in the Calgary Flames and the San Jose Sharks.
Horvat is second on the team in goals (10) and points (20) behind his linemate, Brock Boeser, but he's a two-way guy who is missed in the defensive zone too. The Canucks have dropped their last two without Horvat and his absence has been all too evident.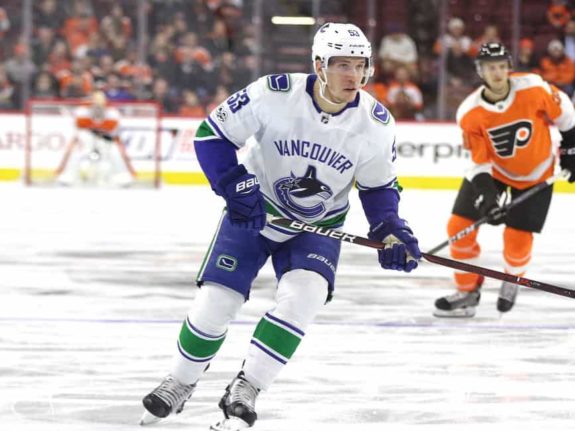 Moving Forward
The next six weeks are going to be a struggle for the Canucks and they'll need to finish above .500 if they'll have any hope of making the playoffs. However, as Sutter and Gudbranson make their returns, the battle will get easier.
On the flip side, the Canucks are able to run other players in the lineup and see if anybody makes an impression. Brendan Gaunce and Michael Chaput are two players who have been with the organization for quite some time and I'm sure are more than happy to try to pounce on these opportunities in the midst of unfortunate injuries.
A physical presence is missing with the Canucks right now and Gaunce and Chaput need to fill the void.
Matt is a longtime fan, player and student of the game of hockey. Broadcast and Online Journalism student at the British Columbia Institute of Technology.