With the 14th Pick in the 2017 NHL Entry Draft the Tampa Bay Lightning Have Selected Callan Foote From the Kelowna Rockets in the WHL.
About Callan Foote
The son of NHL star Adam Foote, Callan Foote looks to follow in his father's footsteps as he gets his career started in Tampa Bay with the Lightning. Though Foote has some NHL lineage, he plays essentially the exact opposite game from the game his father played. Adam Foote played a physical game and was known for his brute force. Callan, on the other hand, is a very skilled defender who could be a top-pairing player one day. With strong instincts and the ability to play in multiple schemes while moving the well in the transition game, Foote fits exactly into what the new mold is for NHL defensemen.
The @TBLightning have found another towering defenseman in Callan Foote. #NHLDraft pic.twitter.com/PMA8UQTWY9

— NHL (@NHL) June 24, 2017
THW Prospect Profile Excerpt:
Seemingly every draft year, there is a player with a familiar last name prominently featured in the NHL Draft rankings – usually the son of a 1990s star. Last year's draft class was highlighted by Matthew Tkachuk, son of Keith, being selected by the Calgary Flames. Perhaps this year's most prominent second generation player is Kelowna Rockets blueliner Cal Foote, son of Adam. While the younger Tkachuk is very similar to his father, the younger Foote is almost the exact opposite of his older counterpart – and that might be why he's so sought after by NHL teams.
Adam Foote was a perfectly acceptable NHL defensemen. He wasn't elite in any respect, but he combined several above-average attributes into a strong career. It's very early, but early reviews of Cal Foote's game suggest he may become even better than his father was at the same position.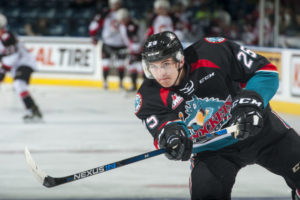 The best description I've heard of Foote is "incredibly smart." The kid has very strong instincts of what to do and where to go on the ice, to the point where it's almost spooky. Because of these instincts, he's incredibly steady and doesn't get caught out of position a lot – which gives his teammates the ability to "cheat" sometimes to create odd-man rushes. He's an effective passer and shooter who anticipates well. He's arguably not elite at any one thing, except perhaps his ability to think the game, but he doesn't have many glaring weaknesses either.
One comparison I've heard for Foote is Dougie Hamilton and it's not a bad one. Foote's a right shot, rangy big defenseman. He doesn't play incredibly physical yet, but he has the frame to potentially bulk up and battle against bigger players. He's been very good as a proverbial man among boys in the Western Hockey League. He's likely ready for bigger challenges.
Full player profile can be found here
How This Affects the Tampa Bay Lightning Plans
The Tampa Bay Lightning are one of the more stacked teams at the forward position in the NHL. With a strong offensive group that features Nikita Kucherov, Steven Stamkos, Tyler Johnson and Ondrej Palat, the Lightning's blueline is now starting to take shape as well. Victor Hedman, arguably one of the best defenders in the entire league, could be joined by Anton Stralman, Mikhail Sergachev and now Foote for years to come.
The Lightning have been looking for good young blueliners for a while and Foote has the potential to be a star in the NHL. With Hedman and Sergachev, however, Foote won't have to become a bonafide top pairing defender to be a good pick for the Lightning. If he becomes even a solid second-pairing player, he'll be a great pickup for the Lightning.