With the Ninth Pick in the 2017 NHL Entry Draft the Detroit Red Wings Have Selected Michael Rasmussen From the Tri-City Americans in the WHL.
About Michael Rasmussen
Another player that was kind of ranked all over the map, the Detroit Red Wings took Michael Rasmussen with the ninth overall pick in the 2017 NHL Draft. He's a big body that uses his physicality to be an offensive force and a defensive presence. While he can play on both sides of the puck, he also has a presence in front of the net that will make him a force to be reckoned with when he does make the jump to the NHL.
A new arena awaits the newest member of the @DetroitRedWings, Michael Rasmussen. #NHLDraft pic.twitter.com/D8NMnk9n0c

— NHL (@NHL) June 24, 2017
With the WHL's Tri-City Americans last season he scored 32 goals and 55 points in just 50 regular season games. His 50 penalty minutes were a result of him playing physically on the edge.
THW Prospect Profile Excerpt:
Michael Rasmussen is a big boy with a long reach and he sure doesn't shy away from using either of those qualities on the ice. In 50 regular season games with the WHL's Tri-City Americans this season he scored 32 goals and 55 points.
His physicality does get him in some trouble sometimes – having racked up 50 penalty minutes this season. That, along with his minus-13 rating, were his downfalls this season, but he should still be a solid first-round pick for one NHL club.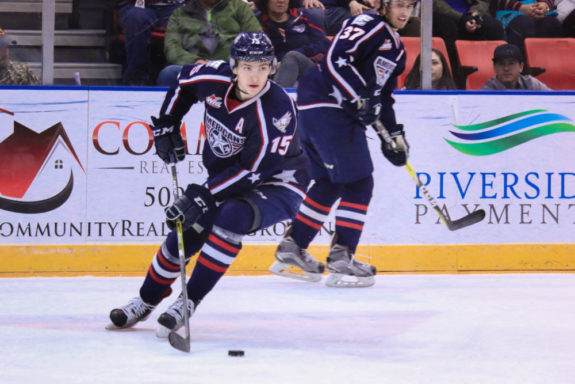 He will have some things to work on as he looks to make the jump to the NHL at some point in the coming seasons, but his 0.86 point-per-game average in two season with the Americans is an example of how effective he can be on the offensive end of the spectrum. He likely has a little ways to go before he'll land on an NHL roster, but don't be surprised if it happens in a few years.
Full player profile can be found here.
How This Affects the Detroit Red Wings' Plans
Rasmussen will fit in nicely with the Red Wings model as the club hasn't had a pick this high in years. A big body at the center position, Rasmussen will lineup behind Anthony Mantha in the Wings prospect pool. Still a few years from making the jump – especially in an organization that loves to over-develop their players – Rasmussen will be a prototypical power forward when he finally makes the NHL.