Ukko-Pekka Luukkonen
2016-17 Team: Under-20 Finland National Team
Date of Birth: March 9th, 1999
Place of Birth: Espoo, Finland
Ht: 6' 6" Wt: 198 lbs.
Position: Goaltender
NHL Draft Eligibility: 2017 first-year eligible
Rankings
THW Alternate Rankings: 50th (March)
Future Considerations: 40th (Spring)
ISS: 32nd (March)
Bob McKenzie: 34th (Mid-season)
Craig Button: 40th (March)
Jeff Marek: 40th (May)
Ukko-Pekka Luukkonen is the top European netminder available in the 2017 NHL Entry Draft. He's the prototypical goaltender for today's NHL as Luukkonen has the height to take up space in the crease and agile enough to cut down the angles on a streaking forward coming into the offensive zone. His long legs protect each post when he drops into the butterfly, which lowers the amount of wrap around goal-scoring attempts. Snipers will have a tough time beating him top shelf because of his exceptional hand/eye coordination that is highlighted by the use of his glove and blocker.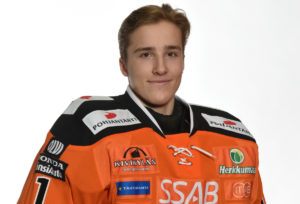 Luukkonen is a byproduct of the leading Finnish youth hockey league program that has sent several players overseas, who went on to achieve success in college, minor league hockey and the NHL. He gained international recognition after leading Finland to a gold medal in the 2016 IIHF Under-18 World Championships.
Luukkonen was the star of the tournament after recording a .917 save percentage that helped Finland capture the top spot. Quite an accomplishment for a goaltender that just turned 17 years old a month earlier. However, he struggled in this year's world championships, which left Finland as a disappointing silver medalist for 2017. His performance was quite unexpected since he was exceptional in Finnish League play with a 1.98 GAA and .920 save percentage for the season.
NHL Draft Projection
Goaltenders are a hot commodity each offseason as organizations feel they aren't a legitimate Stanley Cup contender unless they have a true #1 netminder in their crease. This will put Luukkonen in high demand prior to the entry draft, but teams won't select him in the first round if they aren't 100 percent certain he's a bonafide future All-Star.
Luukkonen's measurables are off the charts, which makes him a logical choice for a team looking to draft a netminder for the future. However, there isn't a league-wide consensus anointing Luukkonen as the best goaltender in this year's draft.
Quotable
"Luukkonen was a key performer for Finland at the 2016 IIHF World Under-18 Championships. He plays an effective butterfly style and does an excellent job of controlling rebounds."-Goran Stubbs, NHL Director of European Scouting
Statistics
Strengths
Very athletic
Smart, technical goaltender
Superb puck-tracking skills
Great lateral quickness
Under Construction (Improvements to Make)
Fatigues too easily
Subpar puck-handling skills
Sloppy in crease
NHL Potential
Is Ukko-Pekka Luukkonen a franchise goaltender? Right now, it's hard to get a definitive answer from scouts, but quality goaltending is still a key to a team's success. However, identifying a diamond in the rough is more of a challenge than ever before. Luukkonen is expected to be selected anywhere from the end of the first round into the second round.
There are plenty of pluses to justify drafting him as Luukkonen has the right mental makeup to handle the pressures of playing in the NHL. He rarely loses focus if an errant goal goes into the net. Finally, he quietly strives to be the best at his position, and continuously works in practice to achieve this goal.
The obvious minuses include his struggles at the world championships and that not every scout is sold on Luukkonen's mechanics inside the net. He will need time to mature and develop into a complete goaltender, so it would be wise for him to spend another season in Finland and continue his growth. It's important for Luukkonen to gain some experience and develop the stamina needed to get through the grind of a demanding NHL schedule.
Risk-Reward Analysis
Risk—3/5, Reward—4/5
Fantasy Hockey Potential
Offense—0/10, Defense—8.5/10
Awards/Achievement
Luukkonen has plenty of playing options for this fall as he signed a three-year contract to continue with the Finland National team. Severstal Cherepovets selected Luukkonen with the 122nd overall pick in the recent KHL Draft.
Interviews/Profile Links
Videos
Thomas Conroy covers the Vegas Golden Knights for The Hockey Writers Network He has been writing about sports since 2007, first as a contributor for Bleacher Report and Football Nation. Recently, Conroy was a co-editor for the Bolts Beat website on Fansided. To read more his work, please him on Twitter @tsconroy