Since Brady Skjei's selection at 28 in 2012, the Rangers haven't picked in the top 40 of an NHL draft. Surprising? Some will say no, of course not, they make trades every year. Others will say yes, the Rangers always have new youth talent on the roster!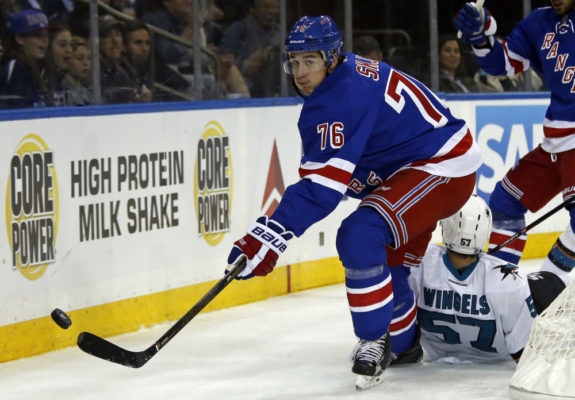 Regardless of how surprising that stat seems, the Rangers prospect pool is beginning to inch back to the amount of talent that every team desires. How are they doing that without first round picks? Thank Jeff Gorton and the Rangers front office.
College Free Agents
The Rangers front office has been using the same strategies for the last half-decade in terms of replenishing prospects. That starts with the college free agent signings that have helped the team. Starting with Kevin Hayes, Hayes has turned into a talented two-way forward who is on an extremely reasonable contract.
Along with Hayes comes Jimmy Vesey who has also shown incredible talent. Hayes and Vesey combined for 33 goals and 43 assists this last season in Hayes' third full season and Vesey's rookie year. That type of production is just going to go up as they progress through their career.
It doesn't just end there, either! The Rangers have signed five other college free agents who have NHL potential, starting with University of Minnesota-Duluth defenseman Neal Pionk and Providence College defenseman John Gilmour. Pionk has an incredible cannon of a shot which makes him extremely intriguing if he does make it to the NHL.
Gilmour is a talented two-way defenseman who gained experience in Hartford last year. Gilmour brings an extremely disciplined style of defending to the table which coaches salivate over. He can also shoot the puck at a good level which elevates his prospective NHL ability.
Add on Bowling Green State University goalie Chris Nell, Penn State defenseman Vince Pedrie, and Minnesota's Vinni Lettieri and there is a lot of added youth talent through free agency to help supplement the years without draft picks. Pedrie and Lettieri both have outside shots at making the pro-team next year, showing flashes of talent at their respective positions that make them attractive.
Drafting Talent In Low Rounds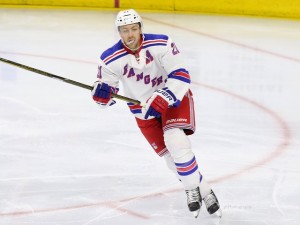 The Rangers have constantly drafted well in the middle rounds of the NHL draft, making full use of the picks they do have. With a lot of homegrown talent, chances are there were going to be some lower-round players on the roster. With Pavel Buchnevich (2013 3rd round), Jesper Fast (2010 6th), Derek Stepan (2008 2nd) and Henrik Lundqvist (2000 7th) all being major parts of the Rangers' roster this year, having talent picked outside of the first round in the draft helps in supplementing traded picks.
Is there a chance the Rangers add more low-round talent to the roster next year? While not guaranteed, there are a few players who could make the roster and perform next year. One name, in particular, is 2013 4th-rounder Ryan Graves. Graves is a very smart young defenseman with a large frame at 6'4″, 227 pounds. He has made strides since his draft year, cementing his style as a physical, safe defenseman.
One player who won't be on the roster this year but is the future of Rangers goaltending is Igor Shestyorkin. Shestyorkin is just coming off a KHL championship on top of his appearance as a first-team KHL All-Star at the ripe age of 21. Shestyorkin catapulted himself to the top of the league's goalie prospects list with Russian counterparts Ilya Samsonov and Ilya Sorokin.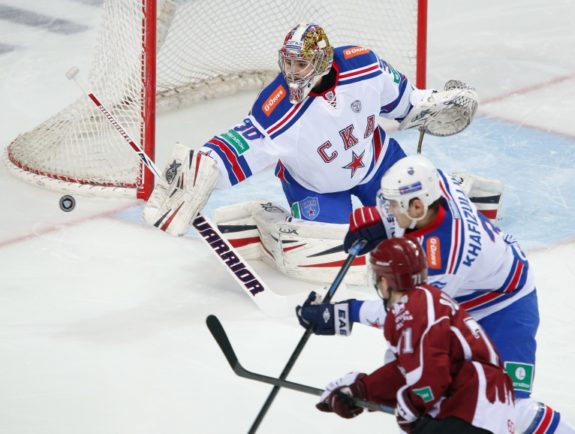 Henrik Lundqvist's not slowing down anytime soon, after a wonderful playoff performance. Regardless of that, having Shestyorkin learning in the KHL and eventually from goalie coach Benoit Allaire will do wonders.
Rangers Youth Just Getting Better
With the bulk of the Rangers roster being young, Alain Vigneault and the coaching staff has to continue to enable them to progress to the fullest of their ability. With Buchnevich, Skjei, Zibanejad, Vesey, Miller, Hayes, Lindberg, Kreider, and Fast all under 26, the Rangers need for drafted talent isn't especially important at this point. As they progress and get better, the Rangers' prospect pool should be filled with talent by the next time they need newcomers.
As expansion closes in on us, having this great stockpile of youth helps a lot. If the Rangers end up losing Michael Grabner or Nick Holden, there is a great amount of youth to work with to help fill the roster well. With expansion set up to hurt the Rangers regardless of what happens, having the depth that they do can only help.
I'm a college student at Robert Morris University. I'll be covering everything Rangers as well as some gaming news as it comes out! Follow me on twitter at THWDonovan!