The annual Entry Draft is one of the most exciting events within the NHL calendar. With oodles of raw talent set to enter the league – that's right, oodles – the Draft provides each and every league franchise the opportunity to significantly improve their roster in a split second.
Of course, it goes without saying that not all will have an immediate impact at hockey's highest level – in fact, only Nolan Patrick and Nico Hischier appear to possess the talent to do so in this year's edition. Outside of these stellar talents, exactly how the event will unfold remains quite uncertain. With a large array of players of differing skill-sets in different stages of their respective developments, the choices to be decided upon in 2017 will certainly be more difficult than ever before.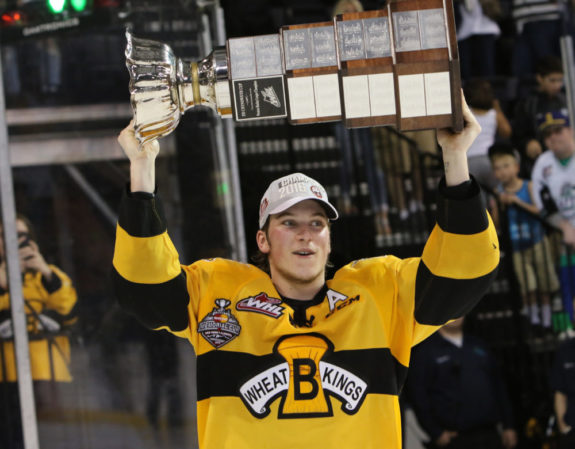 However, while those expected to be selected in the first round are virtually known, there remain a wealth of players who, to date, have been drastically overlooked and under-valued. Of course, first round choices are much more likely to reach the NHL, however, each class contains a number of underrated late-round choices who will, in the future, have an immense impact on their respective teams.
In 2017, the case is no different, as there are more than a handful of prospects who have been widely overlooked and undervalued prior to the Draft. While this piece will look at five of the most promising yet under appreciated prospects, there are undoubtedly much more who could develop into hidden gems.
Jonah Gadjovich (LW)
Date of Birth: Oct. 12, 1998 (Age 18)
Year of Eligibility: 1st
2016-17 Statistics: 60GP: 46G, 28A, 76Pts (Owen Sound Attack – OHL)
Draft Rankings:
NHL Central Scouting: 39th
TSN's Craig Button: 37th
Sportsnet's Jeff Marek: 65th
Only nine OHL players reached the 40-goal plateau in 2016-17 and one of them was Jonah Gadjovich who tallied 46.
Ranking amongst an elite company, Gadjovich established himself as a consistent and lethal goal scorer in his third season with the Owen Sound Attack. However, despite his unique ability to put the puck in the net with authority, Gadjovich is widely projected to be selected in either the second or third round of the Draft.
Given his proven skill set, how could such be the case?
Well, Gadjovich isn't your typical 40-goal scorer, as the majority of his tallies arise from his strong play near the net. Standing 6'2″ and 205 pounds, Gadjovich is a physical specimen who uses his size to not only protect the puck but to battle for it in and around the crease. Highly skilled with his stick and capable of deflecting seemingly any puck, Gadjovich can change the outcome of a game in the blink of an eye.
Further, with ample speed and the capability to catch opposing defenders off guard, Gadjovich can turn quiet plays into legitimate scoring chances with relative ease. What's more is that in addition to his offensive game, Gadjovich is a responsible defender who plays a strong, team-first style of game. Well regarded for his committed two-way style, Gadjovich can do it all at both ends of the ice – making him a truly all-around threat.
If Gadjovich does, in fact, fall in the second or even third round of the Draft, it goes without saying that one NHL organization will be in store for a pleasant surprise. Incredibly close to NHL-ready, Gadjovich has yet to reach his potential and will only continue to improve.
Kevin Hancock (C/LW)
Date of Birth: Mar. 3, 1998 (Age 19)
Year of Eligibility: 2nd
2016-17 Statistics: 68GP: 30G, 55A, 85Pts (Owen Sound Attack – OHL)
Draft Rankings: 
NHL Central Scouting: 91st
TSN's Craig Button: 80th
Sportsnet's Jeff Marek: NR
Originally eligible for the 2016 NHL Draft, Kevin Hancock failed to hear his name called as the event came and passed. As such, the Mississauga, Ontario, native held all the motivation needed to excel once the 2016-17 OHL campaign got underway.
A fifth-round choice by the Owen Sound Attack in the 2014 OHL Priority Selection, Hancock failed to establish himself with the team in his rookie season, yet took significant strides in his first year of NHL Draft eligibility. While his 13 goals and 28 points in 2015-16 were, as mentioned, not enough to warrant an NHL selection, Hancock once again improved dramatically – this time in his second full season with the team.
A 30-goal scorer with the Attack this past season, Hancock also added 55 assists – good for an 85-point total,  57 point increase and the third-highest production on an incredibly successful Owen Sound team.
So, what changed?
Well, Hancock's game has and continues to improve by leaps and bounds. An incredibly intelligent player with an excellent hockey IQ, Hancock has the ability to sense his teammates on the ice before creating scoring chances with crisp, accurate passes. Complimenting Hancock's skill on the ice is his tireless work ethic and drive. Never willing to let up on a play or an opponent, Hancock has become one of the OHL's most relentless forwards – a technique which has, quite clearly, paid dividends.
Projected to be selected late in the 2017 Draft, Hancock will, like his teammate Gadjovich, be a steal for the organization willing to provide the developing forward with an opportunity to further develop. Although his growth and road to the NHL may be a long and winding one, Hancock has proven his ability to not only adapt but also overcome any obstacles in his path – a trait which he will surely carry long into the future.
Nick Henry (RW)
Date of Birth: Jul. 4, 1999 (Age 17)
Year of Eligibility: 1st
2016-17 Statistics: 72GP: 35G, 46A, 81Pts (Regina Pats – WHL)
Draft Rankings: 
NHL Central Scouting: 25th
TSN's Craig Button: 49th
Sportsnet's Jeff Marek: 85th
While Nick Henry has been perceived as a potential first round pick in the 2017 NHL Draft by some, he has also been viewed as a third to fourth round prospect by other scouting organizations – reports which have clouded the overall perception of the Portage la Prairie, Manitoba, native.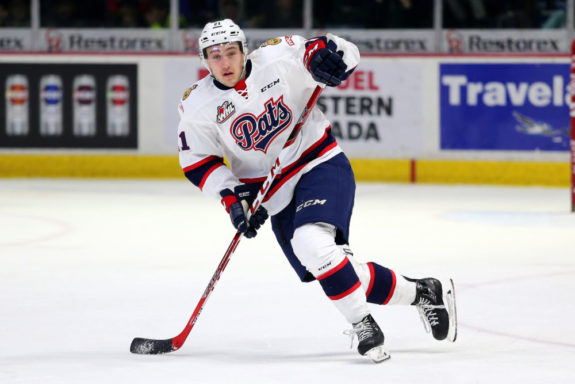 However, questions surrounding Henry are somewhat justified, as he just completed his first season in the WHL – a small sample size for prospective NHL teams. As a rookie with the high-flying Regina Pats, Henry was, in fact, sensational, netting 35 goals and 81 points in 72 games played. In fact, Henry's immense point total ranked second-best in the entire league amongst rookie skaters and was a glaring indication of his offensive lethality.
An incredibly smart and crafty player, Henry established himself as a premier WHL forward over just one year of play. A tireless skater with an unrelenting work ethic, Henry's combination of speed and raw skill combine to make him an all-around threat. Strong on the puck as well as positionally sound, Henry can rip off a quick shot or, instead, dish the puck to a nearby teammate with startling consistency.
Nick Henry's first season with the Regina Pats has entered uncharted territory https://t.co/3kZoQYbg1O

— Regina Leader-Post (@leaderpost) February 9, 2017
As mentioned, exactly where Henry will fall is anything but certain. With only one year of WHL experience under his belt, it will surely be difficult for NHL organizations to project a range in which he could be selected. So, if a given club is interested in his services, they would be wise to act quickly, as Henry could sky-rocket up the Draft board come June 23, 2017.
Ivan Lodnia (RW)
Date of Birth: Aug. 31, 1999 (Age 17)
Year of Eligibility: 1st
2016-17 Statistics: 66GP: 24G, 33A, 57Pts (Erie Otters – OHL)
Draft Rankings: 
NHL Central Scouting: 36th
TSN's Craig Button: 82nd
Sportsnet's Jeff Marek: 49th
Nabbed by the Erie Otters in the first round of the 2015 OHL Priority Selection, Ivan Lodnia is an incredible talent waiting to explode.
A lethal offensive threat and agile skater, Lodnia enjoyed a solid rookie season with the Otters in 2016-17, scoring 24 goals and 57 points in 66 games played. However, Lodnia's success was inhibited by a lack of playing time within an incredibly talented and deep Erie roster. Boasting the likes of Dylan Strome, Alex DeBrincat, Taylor Raddysh, and Anthony Cirelli, ice time was scarce for Lodnia and only decreased as both the regular season and playoffs progressed.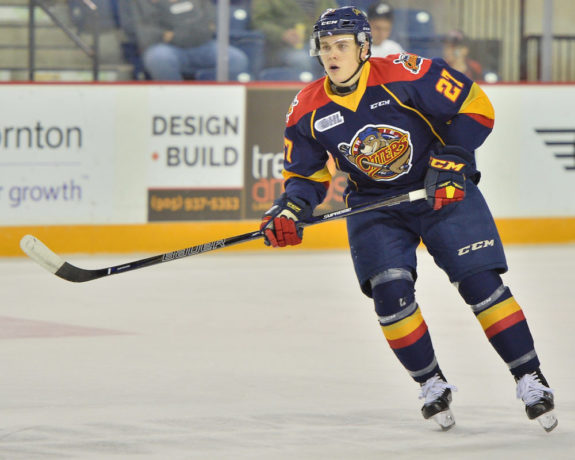 A dynamic and speedy winger with oodles of talent, Lodnia is dangerous whenever he is on the ice and, quite obviously, even more so when in possession of the puck. Gifted with a lightning-quick release and accurate shot, Lodnia can pound the puck on net with relative ease. Further, as a creative and adaptive playmaker, Lodnia can fire passes to teammates with shocking consistency – an ability which makes him an unpredictable threat in the offensive zone.
Despite his clear talent, Lodnia is projected to fall in the second round of the 2017 NHL Draft. Having exhibited the skill of, in my opinion, a first round choice, Lodnia's stock ultimately fell due to his inconsistent ice time. As such, Lodnia will be an overlooked yet immensely valuable prospect come the Draft given his legitimate NHL potential.
Mason Shaw (C)
Date of Birth: Nov. 3, 1998 (Age 18)
Year of Eligibility: 1st
2016-17 Statistics: 71GP: 27G, 67A, 94Pts (Medicine Hat Tigers – WHL)
Draft Rankings: 
NHL Central Scouting: 55th
TSN's Craig Button: 44th
Sportsnet's Jeff Marek: 64th
A native of Wainwright, Alberta, Mason Shaw erupted in his third season with the Medicine Hat Tigers, notching 27 goals and 94 points in 71 games played. Further, the crafty playmaker added 12 assists in 11 playoff games, establishing himself as one of the WHL's premier playmakers.
Drafted by the Tigers in the second round of the 2013 WHL Bantam Draft, Shaw, like others mentioned within this list, has slowly yet surely developed into a legitimate NHL prospect. Despite skating in just 23 games in his rookie season of 2014-15, Shaw began to make a name for himself in his sophomore campaign by scoring 17 goals and 60 points.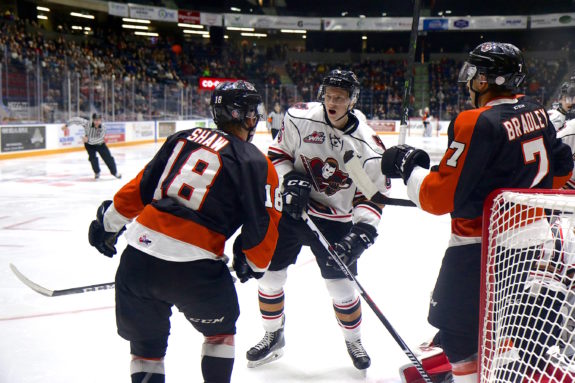 So, when the 2016-17 season began, expectations were heightened for Shaw, who entered the year looking to build on a solid season. Fortunately for both Medicine Hat and Shaw, he did not disappoint, as the playmaker recorded the fifth most assists and seventh most points in the entire WHL.
Although of smaller stature, Shaw plays a smart and calculated style of game. With excellent on-ice vision and awareness, Shaw moves the puck with authority and is not afraid to attempt a difficult pass or drive hard to the dirty areas of the ice. While he can, at times, be overpowered physically, Shaw's intelligence, both with and without the puck, allows him to avoid those of greater stature and, in turn, quietly discover areas of opportunity throughout the ice.
#Habs Matt Bradley broke a 3-game drought with a hat trick! Watch for #2017NHLDraft eligible Mason Shaw (#18) on the dishes, too. pic.twitter.com/ugIwmnJKat

— Mitch Brown (@MitchLBrown) March 11, 2017
Projected to be selected in the second or third round of the Draft, Shaw could fall based on his small stature, yet could very well be chosen much higher than expected given his potent offensive abilities. With the innate ability to produce offensively on a consistent basis, Shaw is an extremely intriguing player and one that, despite being overlooked, could become a highly valuable prospect in the near future.
Brett Slawson is a four-year veteran of The Hockey Writers who covers the Toronto Maple Leafs, NHL prospects, and the OHL's Mississauga Steelheads.
Contact Brett on Twitter @brettslawson92, or by email at brett_slawson@hotmail.com.