As we approach the month of June, we'll start to get a better glimpse of what this Minnesota Wild team will look like for next season. The Wild have several free agents that need to be re-signed and Wild management is looking to improve their team this offseason. Two of the Wild's key free agents that need signing are Nino Niederreiter and Mikael Granlund.
Both players are coming off of career years and are going to demand a fairly significant pay raise. With the Wild's current cap situation, it may be tough for the Wild to sign both players to new deals. Niederreiter's name has come up recently in trade rumors as he's generated a lot of interest, but is he more valuable to this Wild team than Granlund is? Let's take a look.
A Closer Look at Granlund
Mikael Granlund finally took that next step in a Wild uniform this season. He set a career-high in both goals and points, scoring 26 goals and 69 points. He struggled in the playoffs, however, but he was playing with a broken hand. The Finnish forward shot the puck much more than previous seasons and was rewarded with 26 goals.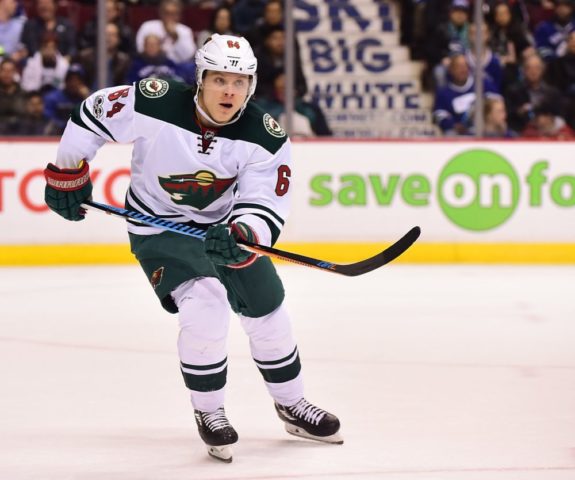 If you dig a bit deeper, you see a couple of red flags. This past season, Granlund's Corsi-for percentage was 49.3 percent. That means that more times than not, Wild players possessed the puck less often when Granlund was on the ice. If it's over 50 percent, then that means players controlled the puck more when that specific player was on the ice.
Over the past three seasons, Granlund's shots-through percentage has fluctuated. In 2014-15, 51.5 percent of his shots made it on net. In 2015-16, 58.8 percent made it on net and this past season, 55.8 percent made it to the net. Granlund played a majority of the season on a line with Mikko Koivu and Jason Zucker. These three were arguably the Wild's best and most consistent line. A lot of that had to do with Granlund. When he was on the ice, his linemate's shooting percentage was 11.5 percent.

A Closer Look at Niederreiter
Niederreiter didn't put up quite the point totals that Granlund did, but was still a dynamic player on the ice. He scored a career-high 25 goals on the season and elevated the game of whoever he played with. In 2014-15, Niederrieter's Corsi-for percentage was 52.5 percent. In 2015-16, it was 54.5 percent and this past year, an astounding 55.4 percent. That means that his teammates controlled the puck 6 percent more than Granlund's did while he was on the ice.
Niederreiter was much more efficient when hitting the net this year. In fact, 63.1 percent of Nino's shots made it on net this year. Over the last three years, his shots-through percentage has been better than Granlund's every year. Niederreiter played a solid200-foott game all year. He produced offensively and was solid defensively as well.
Who Is More Valuable?
Both players are extremely valuable to this franchise, but if they only end up re-signing one, who should it really be? If you look at some other stats, they've both put up 18 points in 34 playoff games in a Wild uniform and both players are incredibly talented, but Niederrieter has Granlund beat in many areas. Nino's 14:49 ice time average is over three minutes less than Granlund's this year and he was able to produce just as much as Granlund did. Granlund averaged being on the ice for 3.4 goals per 60 minutes. Niederreiter was just behind him with 3.3 goals for per 60 minutes.
You can argue a case for both players, but when you look at the facts, Niederreiter has proved to be more valuable. With that being said, will the Wild try to keep both players? Will they only sign Nino with his better success record? Or will they use Niederreiter's value as trade bait to acquire a different player? It'll be interesting to see what happens going forward with these two players.
All possession/advanced stats came from hockey-reference.com.