The fast-approaching NHL Expansion Draft for the Vegas Golden Knights could very well lead to a flurry of trade activity in the final hours beforehand. Several teams are in a bind with the draft's exposure requirements, as they risk losing good players and getting nothing in return.
One of those teams that looks to be feeling the expansion draft squeeze is the Minnesota Wild. Despite a disappointing first-round playoff exit at the hands of the St. Louis Blues, the Wild had a fantastic regular season, amassing 49 wins and 106 points. They have a handful of very good young players and thus a promising future.
They cannot, however, protect all of those players from Vegas. They will have to expose and/or trade some to try to get assets back.
Niederreiter in Play?
One hitherto unexpected name to possibly come up in trade conversations is Nino Niederreiter. Now, according to Sportsnet's Elliotte Friedman, Niederreiter might be on the table if the price is right:
An unusual name started circulating in trade circles the last few days: Minnesota's Nino Niederreiter. The 24-year-old winger had a career-high 25 goals in 2016–17, and, after making a few calls, it sounds like teams are looking at the Wild's expansion/cap situation, wondering if he could be available. Two years away from unrestricted free agency, Niederreiter is arbitration eligible and will get a nice raise from the $2.7 million he just earned.
As Friedman notes, the Wild face not only a sticky spot with respect to the expansion draft, but also an unenviable salary cap position. With both Niederreiter and breakout star Mikael Granlund due raises as restricted free agents coming off strong seasons, the Wild don't have much room to breathe and might be forced to make a move.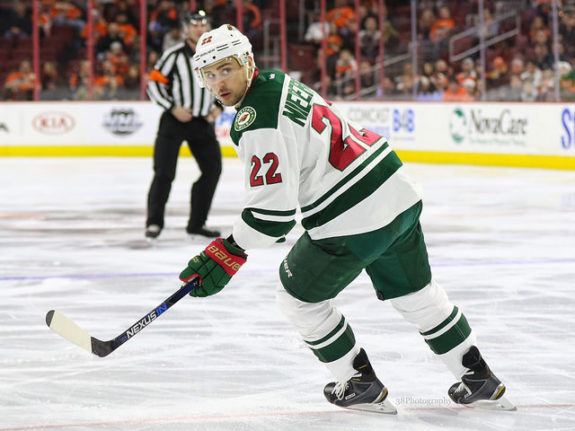 Regarding the expansion draft, the club has several very talented defensemen to protect in addition to a deep crop of forwards. On the blue line, after Ryan Suter and Jared Spurgeon, the Wild still have to consider 22-year-old Matt Dumba, Jonas Brodin (23), and Marco Scandella (27). Up front, they have to protect veterans Zach Parise, Mikko Koivu, and Jason Pominville because of no-movement clauses (NMCs).
While those players are still are still valuable to the Wild, they are veterans taking up a lot of cap space in addition to expansion slots to protect other, younger players. Unless Minnesota trades or has at least one agree to waive his NMC for purposes of the expansion draft, that's three spots taken up right there. Then the team has to consider what to do with Charlie Coyle, Jason Zucker, Eric Staal (who led the team with 28 goals this season), and Erik Haula in addition to Granlund and Niederreiter.
Per Friedman, one NHL executive summed up the Wild's position with respect to dangling Niederreiter: "It may not be their first choice, but if you make it worth their while, it's possible."
Wild GM Chuck Fletcher added more intrigue (albeit vague), saying, "We are actively listening… on everything."
Possible Suitors
If Niederreiter is available, one would surmise that a bevy of teams would be interested, as 24-year-olds who score 25 goals and 57 points and are still improving don't exactly grow on trees.
Purely based on speculation, a couple of teams that could particularly use a player like Niederreiter are the Calgary Flames and the Los Angeles Kings. The Flames could use another scoring forward in addition to Johhny Gaudreau, Sean Monahan, the 3M line (Mikael Backlund, Michael Frolik, and Matthew Tkachuk), and rising youngster Sam Bennett. Adding Niederreiter to the mix would deepen their upfront attack and create a formidable lineup when combined with their strong blue line that's headlined by Mark Giordano, Dougie Hamilton, and T.J. Brodie.
The Kings, meanwhile, are in desperate need of more scoring, as they didn't even eclipse 200 goals for this season. They are stingy defensively but need some more dynamic players up front. Niederreiter certainly wouldn't hurt there.
Another speculative possibility is the Golden Knights—not necessarily through the expansion draft, but perhaps through a trade involving one or more high draft picks. Given Minnesota's cap crunch, if they are going to deal Niederreiter, they will likely be looking for low-cost but valuable assets like draft picks or promising young players on entry-level contracts. 
In any event, it's probably going to take a better package than Cal Clutterbuck and a third-round pick for a team to land Niederreiter. It remains to be seen how seriously the Wild might be considering trading Niederreiter and which teams, if any, might be willing to step up with a strong offer. As the expansion draft nears, the picture should become more clear.