Early NHL Entry Draft projections and prospect rankings had Timothy Liljegren glued to the top leading up to this year. At that time, he appeared as the obvious standout. But while we were busy expecting Liljegren to have his senior level breakthrough, he ended up being sidelined for three months instead.
In retrospect, however, it might have been the best thing that could happen to him.
We are about one month away from the 2017 NHL draft weekend taking place in Chicago. For the Rögle defenseman, the season has ended, and he's back in his hometown, Kristianstad, near the southeastern coast of Sweden.
[Related: THW's 2017 Complete Draft Guide]
"It wasn't quite the season I had hoped for, but I think it will turn out useful for me in the long run," Timothy Liljegren says over the phone. "Mentally, I've just had to push through. I don't think I've ever experienced this kind of setback before. We all have setbacks, but this has been the biggest one in my career. I still think I handled it well and kept calm in spite of what happened."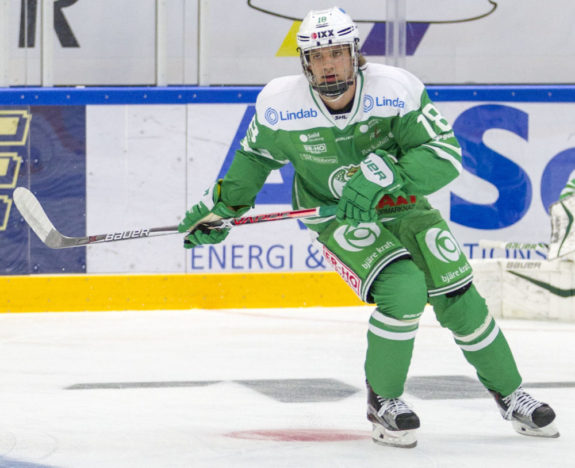 If you aren't familiar with the wrecking-ball that ruined most parts of Liljegren's season, here's a brief summary: In September 2016, he caught a bad case of mononucleosis. Liljegren lost almost nine pounds over the course of just six weeks. He couldn't perform any physical activities, let alone play hockey. While spending the remainder of the season trying to make his way back, he eventually, after lacking ice-time in the Swedish Hockey League, was sent on loan to Timrå in Hockeyallsvenskan (Swedish second league) and Rögle's junior team.
Dropping on Draft Rankings
Due to Liljegren's stalled development, his name has fallen like a stone on most draft rankings. The player himself, however, can't wait to show the world that he is not damaged goods. He's standing on the verge of a professional career in a world where there's little reward for self-pity. And so, like everyone else in his position, he's looking forward to the NHL Entry Draft to turn things around.
"It will be an awesome feeling to be there and to have my family beside me as well," says the young defenseman, who also has an American citizenship since his father's side of the family is from the state of New Jersey.
All I'm thinking now is that the draft will be a fun experience, but it's not until after the draft that you're supposed to be the best.
The Hockey Writers: How much have you thought about the draft during the season?
"I would lie if I said that it hasn't been on my mind. That comes naturally with all the meetings with NHL scouts during the season and all my friends that have reminded me… but still, I feel no pressure. I know I was high on the draft rankings before the season started, but I had to reconsider my expectations after a serious illness like that. All I'm thinking now is that the draft will be a fun experience, but it's not until after the draft that you're supposed to be the best."
THW: You don't know yet which NHL team that will pick you – but is it possible that you will play hockey in North America already next season?
"I have no good answer to that. I'm under contract with Rögle next year as well, but we'll see what happens after the draft."
THW: What's your physical status right now?
"It's good. Hopefully, I will be able to get in even better shape than last summer. I still have some lengths to go before I'm there again. The physical rebuild remains something for me to work on."
Liljegren Compares to No One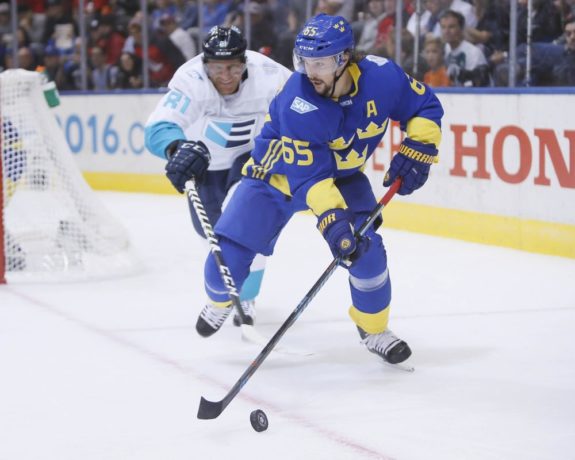 It's not without cause that many people have been impressed by Timothy Liljegren. His offensive repertoire makes him a true modern day defenseman. He can pass the puck, he can shoot, and above all, he can skate; all of which are abilities that he looks to improve on even more. At the same time, he wants to even out his game.
I have the offensive game as my strength, although I don't feel that I'm that bad defensively – even if it can seem like it sometimes.
"The next big step is for me to have more composure," he admits. "I have the offensive game as my strength, although I don't feel that I'm that bad defensively – even if it can seem like it sometimes. I tend to get overambitious, and that's a question of maturity. It's simply about not making plays where the potential upsides aren't worth the high risks. That's the advice I've gotten during the season as well; to start the games with more simple plays and let the more advanced moves come to me instead."
THW: A lot of people compare you with great offensive blueliners such as Drew Doughty and Erik Karlsson. Which players do you find yourself similar to? 
"Of course I look closely on all the Swedish top defensemen. Erik Karlsson, [Victor] Hedman, [John] Klingberg, Oliver Ekman-Larsson, those guys. Yet I don't really want to mimic some other player too much. I want to find my own style and game, even if it's easy to compare offensive defensemen with each other."
THW: Finally, what's your big dream in hockey?
"Every player dreams about playing in the NHL some day and, of course, to lift the Cup. I'm no exception. Other than that, I want to be a contributing factor on my team. And then it would be cool to represent my national team in the Olympics, World Championships, World Cup, and so on. It's basically about reaching success with my team and winning championships."
Freelance sports journalist settled in Malmo, Sweden. Author on the official site of the Swedish Hockey League. Cover Swedish prospects on their road to the NHL, and Swedish players making it in the NHL.