Timothy Liljegren
2016-17 Teams: Rögle BK and Timrå IK (on loan) (#18)
Date of Birth: April 30, 1999
Place of Birth: Kristianstad, Sweden
Ht: 6'0″ Wt: 192 lbs
Shoots: Right
Position: Defenseman
NHL Draft Eligibility: 2017 first-year eligible
Twitter: @Timmeliljegren
Rankings:
THW Alternate: 2nd (January)
Future Considerations: 2nd (Winter)
ISS: 2nd (January)
Bob McKenzie: 3rd (Mid-season)
Craig Button: 3rd (January)
It's fair to say that Timothy Liljegren's 2016-17 season hasn't been ideal. This was supposed to be the year where he would really make an impact on the elite level in Sweden and internationally. Instead, he has suffered from a bad case of mononucleosis which put him out of the first half of the season, and the rest has been a struggle for him to get back on the development chart.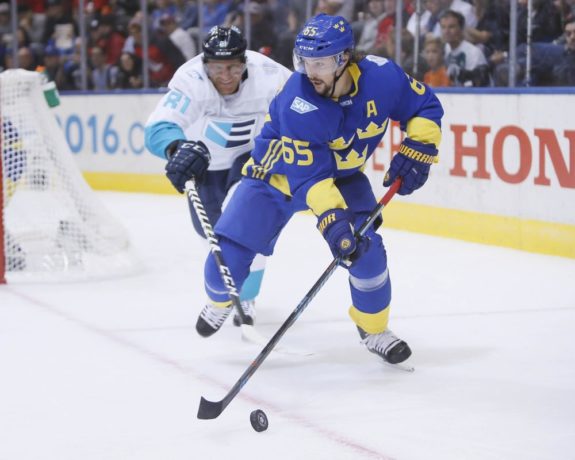 The extraordinary talent and star potential of Liljegren, however, is so vast that not even this season seems to have ruined his reputation. He was a top prospect going into the season, and he still is. What is it about his game that makes few people doubt him? Well, the secret (which is no secret) lies in his offensive qualities. To underline this point, the fact that he is compared to Erik Karlsson and Drew Doughty, two of the NHL's most dominant offensive d-men, probably says it all.
Liljegren is not only gifted with an intelligent hockey mind, making him a playmaking asset for his team everywhere on the ice. He has also acquired a certain toolbox of skills to put his intelligence into practice. His skating as well as his puck handling abilities, and not to forget his shot, are some of the things that make him stand out of the horde. He doesn't necessarily have some additional layers that allow him to do more than his peers. He just does everything better.
On the other hand, there are aspects of Liljegren's game that he needs to improve in order to meet the high expectations that come with being a projected early pick in the NHL draft. Please note that his size isn't one of them – even though he's only six feet tall, I refuse to downgrade him for that cause. However, the way he uses his size can get better. That applies to his defensive game in general.
We can go on and on about Liljegren's impressive production numbers during his years with Rögle's junior team and talk even more about his elite-level potential. But, ultimately, he is yet to prove his worth in a senior league. It will be interesting, to say the least, to follow Liljegren's further development. And also how he will answer to all this attention that comes with being a top prospect in the draft. It will be a mental test for him.
In spite of all the commotion, young Liljegren seems undisturbed and focused. In response to being monitored by 20 scouts in a game in the Swedish Hockey League in November, he said: "Of course it's fun that they come to see me, but I've learned to shut that out."
He also said, upon aiming to impress the NHL organizations: "Hockey is always the best thing I know, but now I have that little extra excitement. It's fun coming to practice every day, trying to get better."
Timothy Liljegren – NHL Draft Projection:
As of now, he still trails Nolan Patrick and Nico Hischier as the top two picks. That being said, the final outcome very much depends on what position the draft teams seek to fill. Because it's pretty safe to say that the first team in the 2017 NHL Entry Draft that goes after a defenseman, goes after Timothy Liljegren.
Quotables:
"Scouts say his offensive game is far more developed than his defensive game. He is an elite skater, both in terms of speed and agility, and adept at running a power play. He is seen as both a puck mover and an offensive point producer. No one is suggesting he's the next Erik Karlsson, not by any means, but scouts say he has some of the same qualities and, therefore, has the potential to be projected as a possible top pairing defenceman in time." – Bob McKenzie, TSN
"Very gifted skater who uses his feet to his advantage defensively and in transition. Smart, poised, anticipates the play, sees where to exploit opponents and can dictate play in all areas. Excellent in the defensive zone because he beats pressure, fends it off and the puck gets moving ahead quickly. Has a command of the game and he finds a way to be a contributor at critical times." – Craig Button, TSN Director of Scouting
"Top blueliner available. Remarkable and tireless skater with outstanding mobility and range. Can QB your power play with confidence. Sees the ice and all of his options really quickly." – Jeff Marek, Sportsnet
Statistics:
Strengths:
Great skater, covers large surfaces on the ice. 

Calm with the puck, and sets up his team for offence.
Dangerous shot, frequently gets it through traffic.
Good in one-on-one situations.
Under Construction (Improvements to Make):
Tends to occasionally get over-ambitious in the defensive zone.
Could develop to be even more productive in terms of points.
Sometimes turns invisible in a game, then struggles to find back.
NHL Potential:
Liljegren projects as a top-pairing defenseman in the NHL. Also, he is the kind of player you could build your first power play formation around.
Risk-Reward Analysis:
Risk – 1/5, Reward – 4/5
Fantasy Hockey Potential:
Offense 9/10, Defense 7.5/10
Awards/Achievements:
Liljegren has earned some international reward when representing Sweden (although his father is American) at junior-level tournaments. In 2015-16, he was named to the U17 WHC All-Star Team, and he finished the same season with the best plus/minus statistics (+18) in the J20 SuperElit (South) league.
He was expected to take part in the 2017 World Junior Championships but failed to make the Swedish roster due to his ongoing recovery from illness.
Freelance sports journalist settled in Malmo, Sweden. Author on the official site of the Swedish Hockey League. Cover Swedish prospects on their road to the NHL, and Swedish players making it in the NHL.