Here we are yet again in Philadelphia.
The weather is getting warmer, May has come around, the Stanley Cup Playoffs are in full swing, and yet another year where the Philadelphia Flyers haven't been in the playoffs.
In fact, the Flyers haven't even made it out of the first round since the 2012 playoffs.
For a team that prided itself on being a perennial contender, that is something that they are not going to be proud of.
That being said, there is a lot that needs to be done to fix the Flyers and a lot that could have been done to prevent the lackluster play over the past few seasons.
Coaching to the Core
A lot of the frustration in Philly in recent seasons has been directed at the players who make up the 'core' of this team. That core is composed of guys such as Jakub Voracek, Claude Giroux, Brayden Schenn, Wayne Simmonds and Sean Couturier. When the Flyers are winning, their production is key, when the Flyers are losing, their production is all but non-existent.
Part of this has to do with the lack of a supporting cast (more on that later) but a lot of it has to do with systems and player utilization. Why were there nights when Giroux and Voracek played 15 minutes a game? Why were the Flyers one of the league's highest scoring teams in the first half of the season and one of the lowest in the second half?
It wasn't just one player, it was the entire team. When something that drastic happens, it's usually the result of a coach's failing system.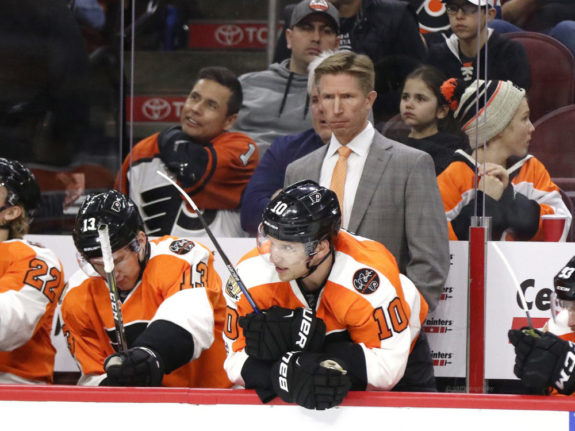 Now, part of this rests on the shoulders of general manager Ron Hextall.
The Flyers have now had two consecutive coaches that have been newcomers to the NHL. The last experienced NHL coach they had, took them to the Stanley Cup Final.
Peter Laviolette only had this core of players (aside from Giroux) for one full season. That season was the last time the Flyers cracked 100 points. Despite ultimately falling to the Devils, the Flyers looked good, they could score goals, and they just needed a small boost on defense.
The Flyers came back the next season with a slow start. That killed them because, in a 48 game season, they didn't have enough time to rebound. At the start of the 2013-14 season, Laviolette was fired just a few games in.
Since then, the Flyers have had two coaches more coaches with minimal NHL experience. That hasn't gone well.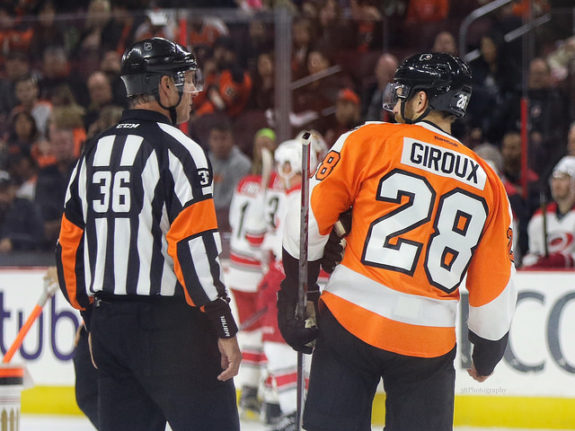 Giroux had another career year under Berube in 2013-14, but other than that, nothing really sticks out. Hakstol coached a team this season that was far and away poised to be in a divisional playoff spot in December and somehow managed to fall well out of the playoff picture by March.
That's a huge issue.
That's not where those problems ended.
There were several points this season when younger guys were scratched or benched because they needed to grow and become more responsible on the ice. That logic is absolutely fine, except when it hinders the team's ability to win.
Look, there was no secret, Shayne Gostisbehere was a bit of a defensive liability last year, but that is standard with nearly every offensive defensemen in the NHL. The amount of offense he created far outweighed the few mistake he did make. Then the coaching staff wanted him to change his game to become more defensive, but why?
After a historic rookie season, the Ghost's offensive numbers took a hit, but his defensive possession metrics actually improved. What did he get for this? He became the scapegoat for a team that was underperforming on offense and in net.
That isn't how to manage young players, and this problem also extended to Travis Konecny.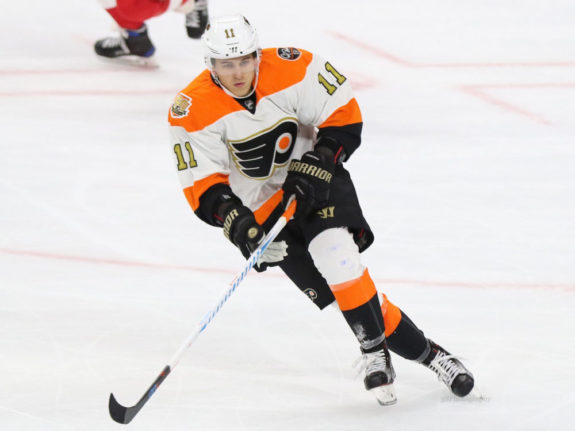 It's one thing to bench a guy to teach him a lesson, it's another thing to bench guys who bring positives to your team night in and night out. Were the Flyers better with Gostisbehere out of the lineup? Absolutely not, the breakout and playmaking dynamic he brings are unmatched, and no third tier defensemen can replace that.
The same can be said for Konecny. The Flyers had several players who were sitting in the single digits in points three-quarters of the way through the season, yet Konecny was scratched because of a few bad penalties. He was scratched for players who were deemed 'defensively responsible'. Great, but this came at a time when the Flyers needed all the offense and speed they can get.
Hextall said it himself. These young guys made the team because they were deemed good enough to play on an NHL roster night in and night out.
Benching either of these two players certainly wasn't putting them in any position to win games.
Think about it. On paper, the Flyers are right on par with teams like the Toronto Maple Leafs, Ottawa Senators, and Boston Bruins. They all made the playoffs and also all had experienced NHL coaches.
The Flyers are missing that, and they have been for the past four seasons. Take the Maple Leafs, for example — a young, inexperienced team that took the Presidents' Trophy winners to six games. That is the effect that great coaching will have on a group of young players. That is what the Flyers desperately need but don't have.
Bad Signings
This might be hard for some fans to understand, but it is an essential part of the game in today's NHL, and that is to sign third and fourth line players to minimal cap hits.
That isn't happening in Philadelphia. In fact, it's the complete opposite.
The Flyers have been over-spending on third and fourth line guys who are marginal defensively and slow to get back into the play. Think about it. Last season the Flyers opted for Dale Weise over Sam Gagner. Seriously, just let that sink in for a second. The Flyers let a Gagner walk, a guy who had speed, hands, and a decent shot, for Weise who has never cracked 30 points in a season.
Well, of course, there's the argument that Gagner never played well here, but there's your loop. Gagner was severely misused by Hakstol, and put into a role he was never familiar with playing. What happened as soon as he left Philadelphia? He had a career year on the third line in Columbus. Can you imagine what would have happened if he was ever given the chance to settle into an offensive role in Philadelphia?
That wasn't the end of that.
Now there's Pierre-Edouard Bellemare.
Don't get me wrong, the guy brings the most heart night in and night out, but in what world does a guy who brought eight points to the table deserve a new contract, let alone pay raise? It's the reason why the Flyers can't compete with better teams.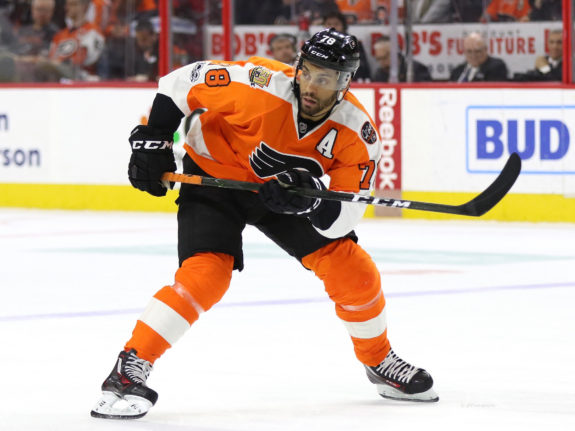 Take the Penguins, for example. As Flyer fans, you may hate to hear this, but Jim Rutherford has this down to a science. The Pens utilize third and fourth liners who might be a little more prone to turning the puck over but have unmatched speed and are a scoring threat when they're on the ice.
Look at it on paper, it's astounding.
Pittsburgh Backend
Wilson (26 P, 78 GP) – Bonino (37 P, 80 GP) – Hornqvvist (44 P, 70 GP)
Kuhnhackl (16 P, 57 GP) – Cullen (31 P, 72 GP) – Rowney (7 P, 27 GP)
Philadelphia Backend
Weise (15 P, 64 GP) – Cousins (16 P, 60 GP) – Read (19 P, 63 GP)
Bellemare (8 P, 82 GP) – VandeVelde (15 P, 81 GP) – Lyubimov (6 P, 47 GP)
As you can see, a team like the Penguins has a legitimate scoring threat when the third and fourth lines are on the ice. Ask yourself, when the Flyers put their third and fourth lines out, do you expect them to score? Probably not.
That's where the fundamental problem is rooted.
All the Eggs in One Basket
This fundamental problem the Flyers have on their backend is what is so dearly hindering their offense. Opposing teams know exactly how to plan around the Flyers.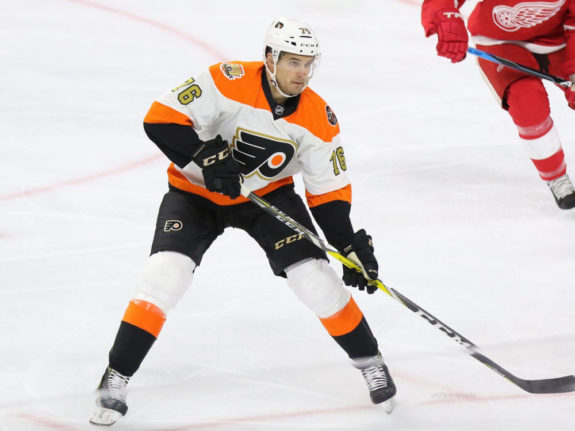 The third and fourth lines are essentially a moot point when it comes to an offensive threat, so all opposing teams need to do is focus their energy and best defensive players on matching up against guys like Giroux and Voracek.
That problem is made even worse by the fact that the Flyers do not have complete scoring lines. For the longest time, Giroux and Voracek were a dynamic duo, and that's it. There was no trio. Micheal Raffl was beside them to rack up points and slam home rebounds, but he wasn't the speedy winger those guys needed.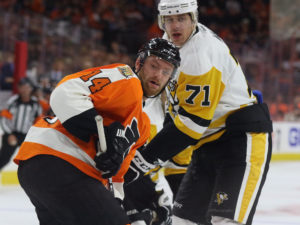 Once again, take a look at a team like the Penguins. They were gifted with Connor Sheary and Jake Guentzel. Both of these players have an abundance of speed, and with Sidney Crosby have aligned to form a great first line. Both of these guys have very low cap hits, meaning the Penguins can spend that money elsewhere to bolster their other lines.
This means opposing teams have to defend against all four lines night in and night out, rather than focusing on just one facet of a team, and that isn't how you are going to win games.
Think about it. When the Flyers went to the Cup Final in 2010, they had three lines that could put the puck in the net and a fourth line that was defensively sound. That isn't happening now.
Instead, as I said, the Flyers gave Bellemare a contract that a scoring fourth liner would envy, let alone one that has some of the worst 5 v 5 stats in hockey.
Why not save that cap space to get Giroux and Voracek another scoring winger?
How to Fix the Problem
Well, for one, the Flyers still have a lot of work ahead of them if they want to be contenders down the road. They have to get out of this repetitive phase of thinking that slower players who have little offensive upside are a better fit than players with some defensive liability, but a huge offensive upside.
NHL games are won and lost with third and fourth lines, not necessarily on the scoresheet, but certainly in the money column. There should be absolutely no reason a team is throwing extra money at players who can be found at the drop of a hat. The Flyers could have easily found five forwards, two of whom they had in their possession, that would have been a better, cheaper option than Weise last season, but they didn't.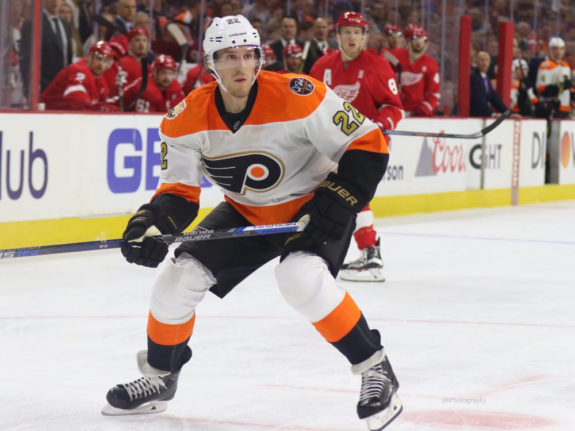 The Flyers could have opted to not sign Bellemare to a higher cap-hit than he had last season. They have plenty of guys in the minors and juniors who could easily have filled that role and probably been a more formidable scoring threat, but they didn't.
This is why the Flyers aren't catching up in today's NHL.
The Flyers still do have a great core of players in place. They have a crop of young defensemen, a playmaker in Giroux, a scorer in Simmonds, a gritty scorer in Schenn, and a wealth of prospects in net. However, that will all go to waste at the drop of a hat if the Flyers keep throwing money at players who don't put up points.
The days where you could sign a player and not have to deal with the consequences of a lack of production are gone. The Flyers lived off of that for so many years and continually got away with it because they essentially had an endless pit of money to pull from.
Now, the NHL is about paying up for your scorers and finding cheap, niche, third and fourth line players who still pose an offensive threat. The Flyers have failed to do that, and it's costing the team wins and costing their best players valuable points.
Until the Flyers can stop handing out bad contracts to disposable players, they aren't going to be able to hang with the best in the conference.