Since being called up from the American Hockey League on Nov. 29, Daniel Carr seems to have finally found his place in the Montreal Canadiens lineup on a full-time basis, something he's been trying to do since 2015.
Fourth-Line Chemistry
On Thursday night against the Calgary Flames, Carr scored to tie the game at one earlier in the first period. It was his second goal of the season, and sixth point in four games after beginning the year in the minors with the Laval Rocket. The 26-year-old left-winger is only three points shy of his career high established two seasons ago in 23 games. Situated on the fourth line alongside Byron Froese and Nicolas Deslauriers, Carr is finding the confidence needed to be a year-round National Hockey League player.
"Our line is doing some good things," said Carr following the 3-2 overtime loss to the Flames. "I think we all have similar identities in our game, so we read well off each other. That helps get us get pucks in. We know where each other is going to put the puck, and that's why we have had such success as a line."
Prior to joining the Canadiens, Carr was tearing up the AHL, scoring 11 goals and 19 points in 20 games. While having always been a productive player in the minors, Carr is playing at a different level this season. His strong play in the AHL warranted him another chance with the Canadiens, and he credits his improved state of mind for his success so far.
"I think it may be just more of a matter of attitude," said Carr. "It's the approach to the game where I'm a little more grateful to play every day."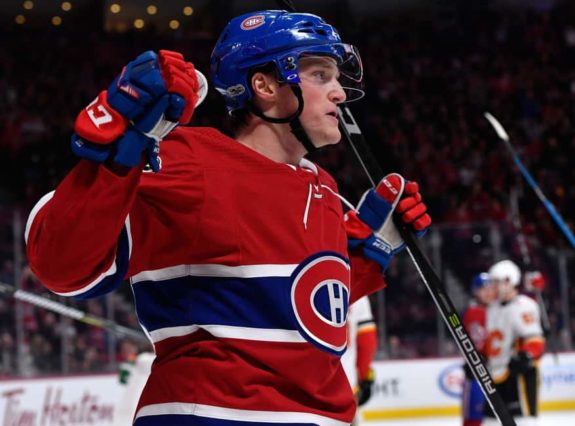 His linemates are grateful to have him, as well. Playing with Carr, both Froese and Deslauriers have seen their Corsi-For percentage at even strength (CF %) increase, from 40 to 48.39 percent, and 33.33 to 50 percent, respectively. Carr's addition to the fourth line allows head coach Claude Julien to employ four forward lines with the capacity to create chances and score goals.
Related: 5 Key Players for a Canadiens Comeback
Combined with an effective two-way centre like Froese, and a strong forechecking Deslauriers, Carr's natural scoring ability can flourish. In addition to his six points, Carr has five shots on goal, including three high-danger scoring chances, with a shooting percentage of 40%. On a team that has struggled to put the puck in the net for the better part of this season, Carr is doing exactly what he needs to do to stay in Montreal.
"It's simple, a player who deserves to be in [the NHL] will be in [the NHL],"said Julien. "What he's doing since he got here is working hard and he gives our fourth-line opportunities to score."
Taking Advantage of NHL Opportunity
As Jonathan Drouin is expected to return to the Canadiens on Saturday following a four-game absence with an injury and illness, Julien will need to adjust his lineup accordingly. Carr, who was recalled to replace Drouin, has proven his value to the team, and taking him out could be a mistake on the coaching staff's part. Splitting up his line could also prove costly for the Canadiens. After shuffling through different lineup options in the first quarter of the season, Julien seems to have finally found his optimal fourth line.
"The way they compete, and the way work together is what's making them a good line," said Julien.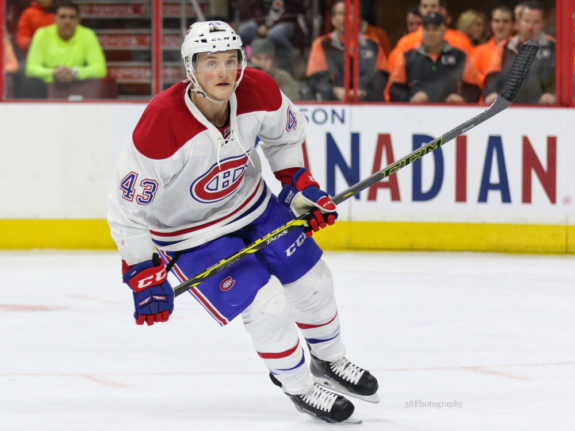 For now, Carr has made the best of his opportunity. The Canadiens have plenty of work ahead of them to earn a spot in the playoffs, and having Carr on the team can only help them moving forward. With unrelenting effort, and a knack for getting the puck towards the net, Carr is deserving of staying, and can play a role in Montreal's future success.
I cover the Montreal Canadiens and Laval Rocket for The Hockey Writers. I am currently a student at the University of Concordia studying journalism in the hopes of one day becoming a full-time sports reporter. I have previously covered the Indianapolis Colts of the National Football League for Pro Football Spot.