The 2017-18 NHL season could very well come to be defined as the year of the rookie.
Not only is the current campaign nearly half over with each and every team heading into 2018 with a renewed sense of purpose, but a handful of terrific rookies have already left a lasting mark on the league despite their sparse experience.
However, it hasn't been those which many would have expected.
Rather than Nico Hischier, Nolan Patrick, or Dylan Strome definitively leading the NHL in rookie scoring, the illustrious distinction has instead evolved into a raging battle between the likes of Mathew Barzal, Brock Boeser, and Clayton Keller.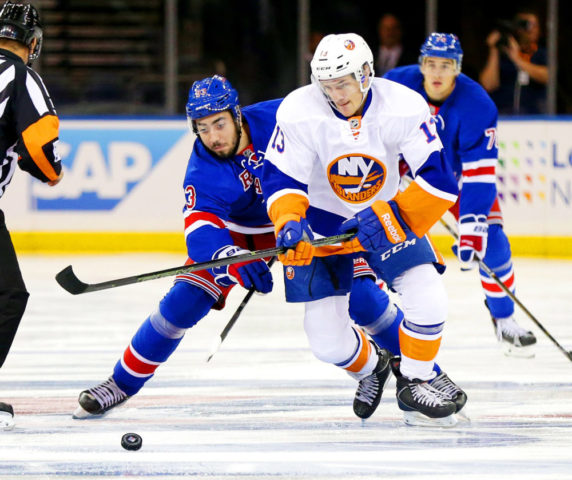 Further, a number of less notable rookies have exploded out of the gate this season, with individuals such as Jesper Bratt, Yanni Gourde, and Danton Heinen defying any and all expectations placed upon them.
However, what is perhaps more frightening than the potency of this year's rookie class is the depth, talent, and competency of the group of prospects eligible for the 2018 NHL Draft. With a wealth of game-changing players gracing every position of the ice, the coming draft – scheduled to be held on Jun. 22-23rd, 2018 – will boast the ability to influence a great amount of change within the league's standings over the coming seasons.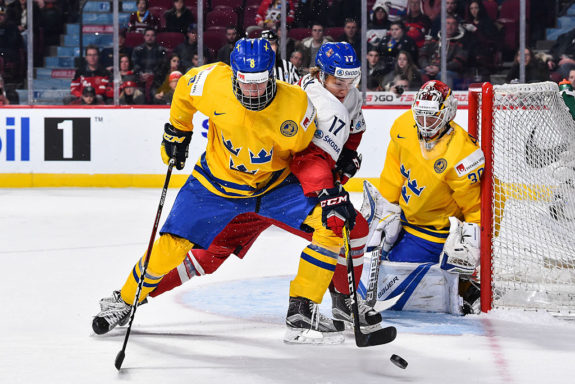 So, before we dive head-first into January's top-31 ranking, let's take a moment to meet a number of the 2018 Draft's top prospects, as well as a trio of players who will have to step up their game in order to remain defined as legitimate, game-changing players.
The Best of the Best
Rasmus Dahlin
Rasmus Dahlin is no stranger to praise.
In fact, compliments and admiration of his game have become so prevalent that the young blueliner has been forced to endure his first year of draft eligibility underneath a mountain of hype and expectation. However, the pressure surrounding Dahlin has not impacted his play whatsoever, as the native of Trollhättan, Sweden has continued to boast an all-around game which has every NHL franchise clamouring for his services.
In March 2017, Rasmus Dahlin (@rasmusdahlin00) made one of the greatest plays in Swedish Ice Hockey history. Now, he's the projected Number 1 pick in the 2018 @NHL draft.

Watch Rasmus Dahlin's story tomorrow night on Wednesday Night Hockey. pic.twitter.com/0ccoS8HtH5

— Sportsnet (@Sportsnet) December 19, 2017
A fantastic skater who possesses both speed and agility, Dahlin is a tremendous two-way defender who enjoys considerable success in all three zones of the ice. Offensively, Dahlin is a fantastic puck-mover who can thread passes to teammates with ease while also setting up tap-in goals. Although he doesn't boast a bomb from the point, his ability to place the puck on net through traffic creates a ton of secondary scoring opportunities for his team.
On the defensive side of the puck, Dahlin is by no means a slouch. An agile skater, Dahlin uses his crisp edges and quick footwork to maintain good gaps and dismantle plays developed by his opposition. Further, Dahlin is no stranger to physical play, as he loves to step up in order to lay devastating body-checks, yet only when he deems it practical to do so.
Andrei Svechnikov
Despite being the consensus second-overall selection ahead of the 2018 NHL Draft, Andrei Svechnikov is by no means a consolation prize.
A pure goal-scorer, Svechnikov is comparable to Evgeni Malkin of the Pittsburgh Penguins in that he is an imposing physical presence who skates exceptionally well, boasts a blistering shot, and has the ability to consistently create offence. Further, as a fluid and explosive skater, Svechnikov's deceptive speed allows him to pick apart opposing defenders en route to the net.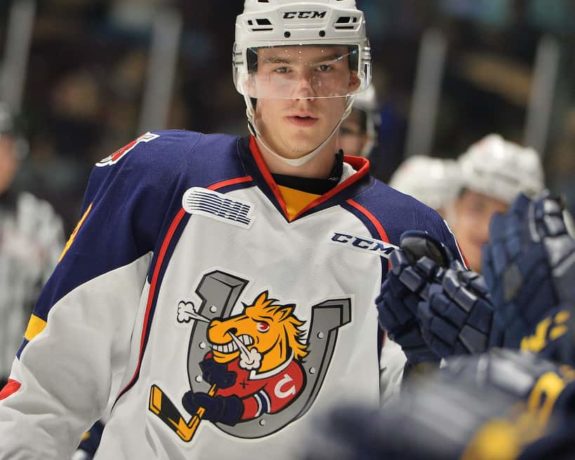 What's more is that Svechnikov is a fantastic puck-handler, as his ability to control the puck in tight spaces allow him to command possession of the puck while seeking out the most lethal scoring opportunities. Perhaps the most frightening aspect of Svechnikov is the fact that he boasts all of these capabilities at just 17 years-of-age.
Filip Zadina
Although Dahlin and Svechnikov will likely be the first players selected in the 2018 NHL Draft, Filip Zadina continues to develop a compelling case for his inclusion as a top-two selection.
A budding star with the Halifax Mooseheads of the Quebec Major Junior Hockey League, Zadina has lit the lamp with authority throughout his first campaign in North America. Leading all draft eligible players in both goals and points prior to his departure for the 2018 World Junior Championship, Zadina's startling consistency and lethality have generated comparisons to Nico Hischier of the New Jersey Devils.
Great pass from Martin Necas sets up Filip Zadina pic.twitter.com/IUGAza5rW5

— Pete Blackburn (@PeteBlackburn) December 28, 2017
A speedster who boasts innate offensive skills, Zadina is an intelligent and calculated player who uses his puck-skills and vision to his advantage. Capable of dishing the puck to a fellow teammate or ripping the puck on net, Zadina can beat you in a number of different ways and stands as a truly versatile threat while on the ice. However, the most impressive aspect of Zadina's game is certainly his shot, as he can release the puck in the blink of an eye with impressive velocity.
Shooting Stars
Akil Thomas
As the 12th overall choice in the 2016 OHL Priority Selection, Akil Thomas exploded out of the gate for the Niagara IceDogs in his rookie campaign. Skating to an incredibly impressive 21-goal season, Thomas' 48 points were the third-most amongst all OHL rookies and represented a strong start to his major junior career.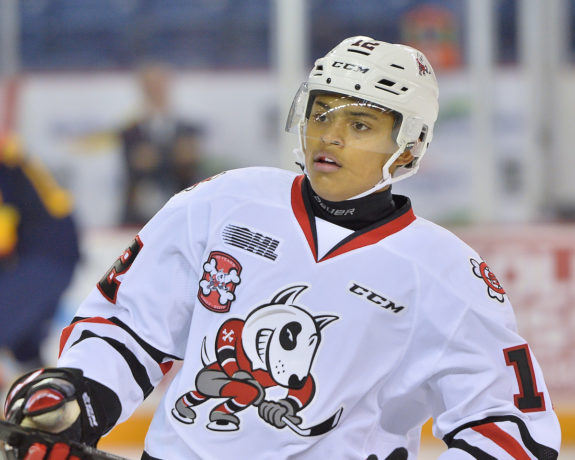 Now in his sophomore season, Thomas is once again producing notable offensive totals. Having garnered nine goals and 36 points through his first half of the 2017-18 campaign, Thomas is well on pace to achieve new career-highs across the board in his first season of draft eligibility. Sturdy on his skates, in possession of a strong shot, and natural offensive instincts, Thomas is a surefire first-round pick of immense potential.
Joe Veleno
When Joe Veleno began his Quebec Major Junior Hockey League career, he immediately accomplished a feat which neither Sidney Crosby or Nathan MacKinnon were capable of. The first player to be awarded exceptional status and, with it, early entry into the QMJHL, Veleno's value as a hockey prospect immediately sky-rocketed.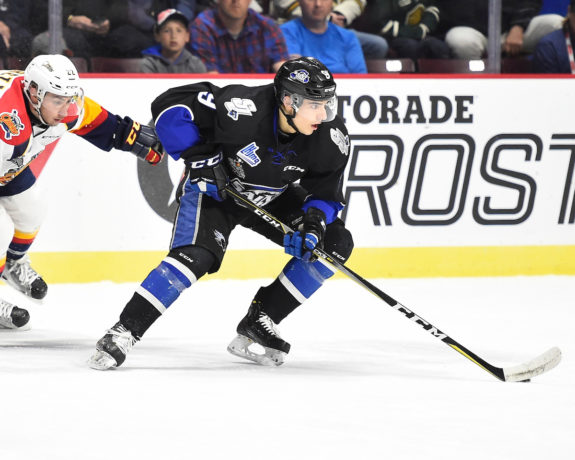 Although whether or not Veleno was deserving of the exemption remains a heated debate, his play on the ice has never been stronger, as the native of Montreal, Quebec has become a consistent and lethal force. A tremendous skater, Veleno's ability to traverse the ice is his greatest quality, as it allows him to generate offence at a startling pace.
Recently traded to the Drummondville Voltigeurs, Veleno's game should be benefited greatly skating alongside a much stronger cast of teammates than he did with the Saint John Sea Dogs.
Ryan McLeod
If the name McLeod sounds familiar, it is because Ryan's brother Michael was made the 12th overall selection in the 2016 NHL Draft. However, despite playing alongside his brother with the Mississauga Steelheads, the younger McLeod has by no means been overshadowed, as his incredible skating and playmaking abilities should make him a top-ten choice in the 2018 NHL Draft.
Much like his older brother, McLeod is incredibly strong on his skates, boasts great speed and agility, and has natural offensive instincts which allow him to create high percentage scoring chances seemingly from thin air. What's more is that McLeod boasts a vastly underrated shot which is devastating in its accuracy and velocity despite his sparse goal totals.
In short, expect McLeod to climb draft rankings as his 2017-18 campaign continues, as his brand skill-set and
The Ranking: January Edition
Well, here it is, my first ranking of the new year. With six months remaining until the draft, expect to see a ton of movement within this list in the coming months, and especially as prospects continue to make their case as elite young players.
Of course, each and every ranking is simply opinion, so feel free to agree or disagree with my ranking in the comments section below.
| | | | |
| --- | --- | --- | --- |
| Rank | Player | Position | Current Team |
| 1 | Rasmus Dahlin | D | Frölunda HC (SHL) |
| 2 | Andrei Svechnikov | RW | Barrie Colts (OHL) |
| 3 | Filip Zadina | LW | Halifax Mooseheads (QMJHL) |
| 4 | Adam Boqvist | D | Brynäs IF J20 |
| 5 | Quinn Hughes | D | University of Michigan (NCAA) |
| 6 | Joe Veleno | C | Drummondville Voltigeurs (QMJHL) |
| 7 | Oliver Wahlstrom | C/RW | U.S. National U18 Team (USDP) |
| 8 | Rasmus Kupari | C | Kärpät (Liiga) |
| 9 | Brady Tkachuk | C/LW | Boston University (NCAA) |
| 10 | Ryan McLeod | C | Mississauga Steelheads (OHL) |
| 11 | Bode Wilde | D | U.S. National U18 Team (USDP) |
| 12 | Jared McIsaac | D | Halifax Mooseheads (QMJHL) |
| 13 | Evan Bouchard | D | London Knights (OHL) |
| 14 | Allan McShane | C | Oshawa Generals (OHL) |
| 15 | Ryan Merkley | D | Guelph Storm (OHL) |
| 16 | Joel Farabee | LW | U.S. National U18 Team (USDP) |
| 17 | Ty Smith | D | Spokane Chiefs (WHL) |
| 18 | Jack McBain | C | Toronto Jr. Canadiens (OJHL) |
| 19 | Jett Woo | D | Moose Jaw Warriors (WHL) |
| 20 | Benoit-Olivier Groulx | C | Halifax Mooseheads (QMJHL) |
| 21 | Noah Dobson | D | Acadie-Bathurst Titan (QMJHL) |
| 22 | Jesperi Kotkaniemi | C | Assät (Liiga) |
| 23 | Akil Thomas | C | Niagara IceDogs (OHL) |
| 24 | Calen Addison | D | Lethbridge Hurricanes (WHL) |
| 25 | Mattias Samuelsson | D | U.S. National U18 Team (USDP) |
| 26 | Isac Lundeström | C/LW | Luleå HF (SHL) |
| 27 | Barrett Hayton | C | Sault Ste. Marie Greyhounds (OHL) |
| 28 | Philipp Kurashev | C/LW | Quebec Remparts (QMJHL) |
| 29 | Jacob Olofsson | C | Timrå IK (Allsvenskan) |
| 30 | Grigori Denisenko | LW | Loko Yaroslavl (MHL) |
| 31 | Serron Noel | LW | Oshawa Generals (OHL) |
Brett Slawson is a four-year veteran of The Hockey Writers who covers the Toronto Maple Leafs, NHL prospects, and the OHL's Mississauga Steelheads.
Contact Brett on Twitter @brettslawson92, or by email at brett_slawson@hotmail.com.