From all of us at THW, Happy New Year! The Arizona Coyotes ended their 2017 in disappointing fashion with a loss to the Anaheim Ducks on Sunday, and will be looking to turn things around in 2018 as the calendar flips to January.
Coyotes Bid 2017 Good Riddance
After an embarrassing 6-2 home loss to the Colorado Avalanche prior to the holiday break, the Coyotes got back to work on Wednesday in Denver against that same Avs squad. Tobias Rieder gave Arizona the lead just 54 seconds into the first period, but it would last all of three minutes and two seconds before Mikko Rantanen scored the equalizer. Alex Goligoski scored for Arizona in the second frame to give them a one-goal lead after 40 minutes, and the Coyotes held on to earn a 3-1 victory thanks to this beautiful play from Lawson Crouse late in the third period.
The 'Yotes returned home following their victory in the Mile High City, and were back in action again on Thursday night against Phoenix native Auston Matthews and the Toronto Maple Leafs. The Leafs jumped all over a tired Coyotes squad in the first period, as they scored three goals in a span of 2:30 to open up a 3-0 lead. Arizona made things interesting with two goals to close out the first frame, but three unanswered Toronto goals in the second period effectively put the game out of reach as the Leafs cruised to a 7-4 victory.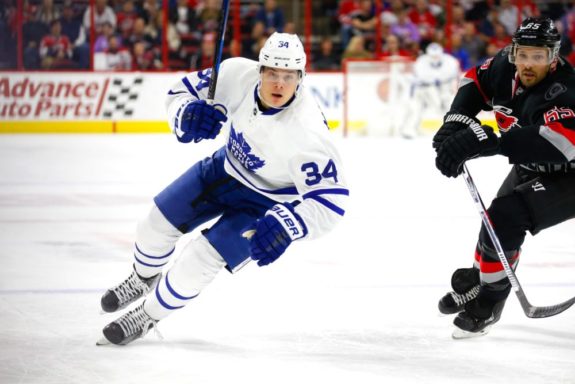 Arizona ended 2017 in Orange County with a matinee matchup against Antoine Vermette and the Anaheim Ducks. Brendan Perlini and Clayton Keller scored power play goals for the Coyotes, but it wasn't enough, as Ducks' defenseman Cam Fowler broke a 2-2 tie with a late goal that was the eventual GWG in a 5-2 Anaheim victory.
Starting the New Year on Home Ice
After wrapping up the 2017 portion of their schedule in Anaheim on Sunday, the Coyotes will return home and will play their first game of 2018 on Thursday night against the Nashville Predators. The Predators, last season's Stanley Cup Final runners-up, are in the midst of another solid season – they're in the hunt for their first-ever division championship and are primed to make another deep playoff run if they can lock up home ice advantage, which they lacked in all four rounds during the 2017 postseason. Puck drop is scheduled for 7:00 P.M. in the Valley of the Sun.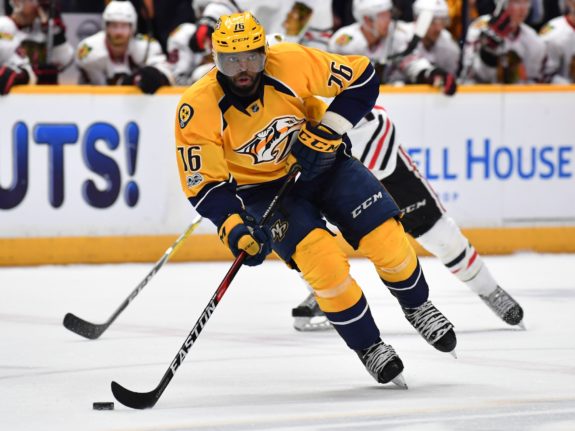 The Coyotes will continue their homestand on Saturday night against Henrik Lundqvist and the New York Rangers. The Blueshirts enter the New Year as one of the league's hottest teams – they're 17-6-3 since Oct. 28 and are rapidly moving up the standings in the Eastern Conference. Those early-season calls for Alain Vigneault's head are now just a distant memory. Puck drop is scheduled for 6:00 P.M. in Glendale.
Hjalmarsson Close to Returning?
After acquiring Niklas Hjalmarsson from the Chicago Blackhawks on June 23, the Coyotes have been without the veteran defenseman for most of this season, as he's struggled to stay on the ice due to numerous injuries and ailments.
Hjalmarsson played the first 12 games before suffering an upper-body injury on Oct. 30 in Philadelphia. He proceeded to miss 10 games before returning on Nov. 20 in Toronto, but lasted just over a week before again going on injured reserve, as he suffered another upper-body injury (or possibly aggravated his previous injury) on Nov. 28 in Edmonton.
Hjalmarsson's absence has arguably been one of the key factors for Arizona's poor play on the defensive end of the ice this season – they've yet to play a game with all of their top six defensemen healthy. Oliver Ekman-Larsson, Luke Schenn, Jason Demers, and Alex Goligoski have played all 41 games, and Jakob Chychrun is now healthy after missing the first 29 contests as he rehabbed from offseason knee surgery.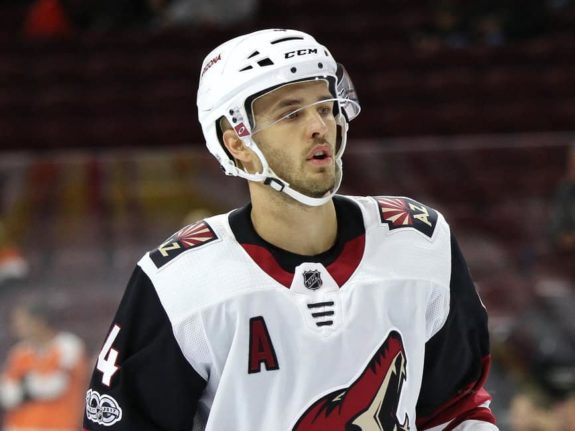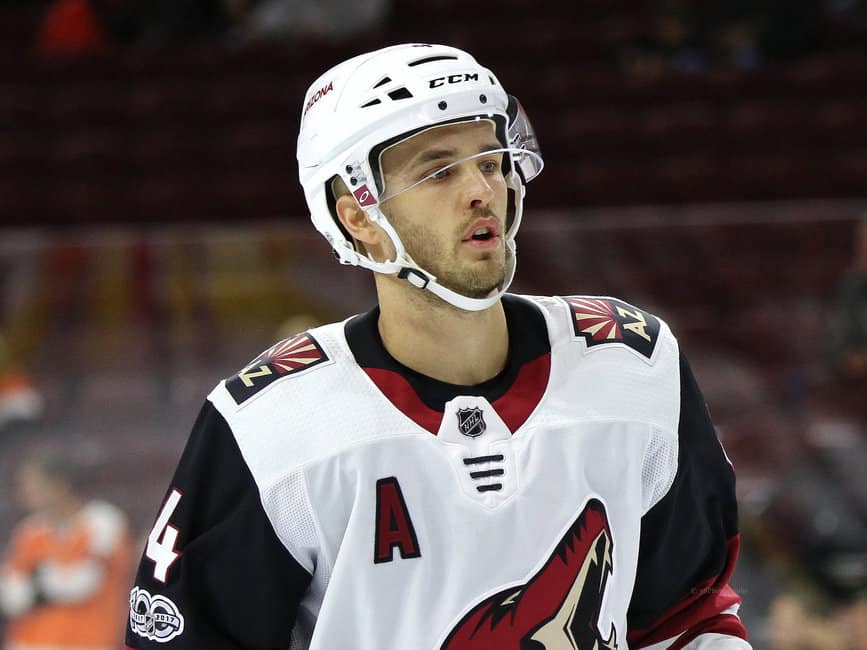 However, Hjalmarsson has been on the ice for just 17 contests and his absence has been felt, as the team has struggled to find a reliable fill-in defenseman. Kevin Connauton, Dakota Mermis, Adam Clendening, Joel Hanley, and Kyle Capobianco have all spent time in Arizona's bottom defense pairing this season, with varying levels of success.
That could change as soon as this week, though, as Hjalmarsson practiced with the team on Saturday and could be close to returning to the lineup. His return would provide a huge boost to the entire blue line, so here's hoping he's able to get back on the ice sooner rather than later.
Coach Tocchet provides an update on Hjalmarsson and Richardson before today's game in Anaheim: pic.twitter.com/2bffsB3jHH

— Arizona Coyotes (@ArizonaCoyotes) December 31, 2017
Duclair on the Move?
As the Coyotes continue to fall further and further behind their competitors in the Western Conference, rumors regarding the team's more valuable trade pieces are likely to begin circulating. In his latest edition of '31 Thoughts', Sportsnet's Elliotte Friedman mentioned the possibility that the 'Yotes could look to move forward Anthony Duclair.
Per Elliotte Friedman, the #Coyotes are looking to give Anthony Duclair a fresh start somewhere else.

— Brennan Klak (@nhlupdate) December 28, 2017
Duclair, who has seven goals and six assists this year, has significantly improved his play after a disappointing 2016-17 campaign. He has already surpassed last season's goal total of five and is just two points away from matching last season's scoring output. However, it doesn't appear as if his improvement is enough to please head coach Rick Tocchet, as Duclair has been a frequent healthy scratch.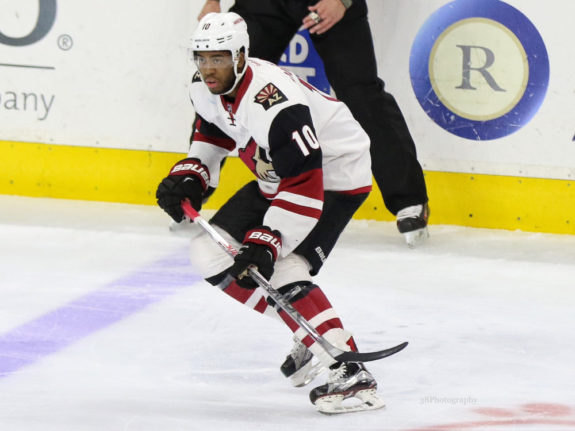 He's played in just 31 of Arizona's 41 games this season and seems to be in Tocchet's doghouse. As a result, it's not surprising to see him mentioned in trade rumors. If the Coyotes don't intend to re-sign Duclair, who is a pending restricted free agent, they'll likely elect to move him before potentially losing him to an offer sheet over the summer.
Pacific Division Roundup
Forget the Pacific Division – the Vegas Golden Knights just keep rolling and now find themselves in first place in the Western Conference at the end of 2017. Raise your hand if you saw that coming. Now, put your hand back down, you filthy liar.
Here's how Arizona's other division rivals fared last week:
Anaheim Ducks (18-14-8, 44 points)
Last week: 2-1-0 (4-1 L vs VGK, 2-1 W vs CGY, 5-2 W vs AZ)
Analysis: Don't look now, but the Ducks are starting to heat up. They're 4-1-0 in their last five games and will enter 2018 with a ton of momentum. They'll go on a lengthy five-game road trip to start January, but will have their bye week during that span. Anaheim will be a team to keep an eye on in the season's second half.
Player of the week: Rickard Rakell – 4 goals, assist
This week: Tue at VAN, Thu at EDM, Sat at CGY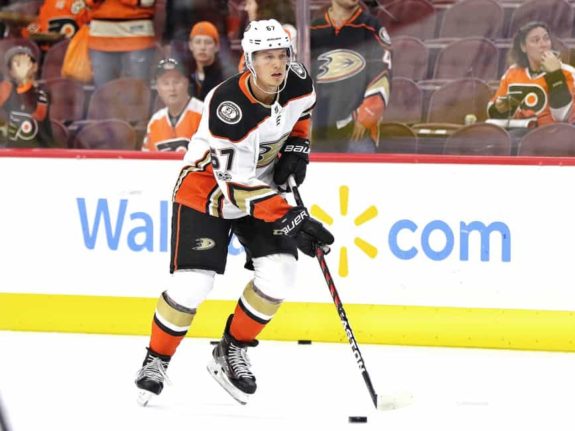 Calgary Flames (19-16-4, 42 points)
Last week: 1-1-1 (3-2 SOL at SJ, 2-1 L at ANA, 4-3 OTW vs CHI)
Analysis: Despite an inconsistent December, the Flames enter 2018 just two points out of a playoff spot. They've been getting good goaltending from Mike Smith, but they need to generate more goals on the offensive end, as their goal total of 108 is better than only the Canucks, Sharks, and Coyotes in the Western Conference.
Player of the week: Mike Smith – 1-1-0 record, 73 saves on 78 shots (.936 SV%)
This week: Thu vs LA, Sat vs ANA
Edmonton Oilers (17-19-3, 37 points)
Last week: 0-2-1 (4-3 L at WPG, 4-3 OTL vs CHI, 5-0 L vs WPG)
Analysis: After winning four straight games to climb back into playoff contention, the Oilers went winless in three games last week to drop back down into a tie for 13th place in the 15-team Western Conference. Will they get things turned around in 2018, or will this become a lost season in Edmonton?
Player of the week: Jesse Puljujarvi – 2 goals, assist, +1
This week: Tue vs LA, Thu vs ANA, Sat at DAL, Sun at CHI
Los Angeles Kings (23-11-5, 51 points)
Last week: 1-0-1 (3-2 OTL vs VGK, 4-3 W at VAN)
Analysis: The Kings became the latest victims of the unstoppable Vegas Golden Knights on Thursday, but they bounced back with a victory over a struggling Vancouver Canucks squad on Saturday to finish 2017 on a high note. They'll begin the 2018 portion of their schedule in frigid Edmonton on Tuesday.
Player of the week: Drew Doughty – 2 goals, assist, +2
This week: Tue at EDM, Thu at CGY, Sat vs NSH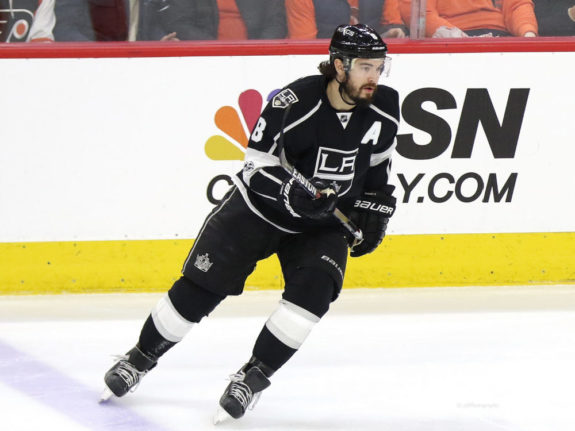 San Jose Sharks (20-12-4, 44 points)
Last week: 1-1-0 (3-2 SOW vs CGY, 6-0 L at DAL)
Analysis: The Sharks completed the sweep of a three-game homestand with a shootout victory over the Calgary Flames on Thursday, but they were blown out 6-0 in Dallas on Sunday in the first game of a five-game roadie. Can they get things straightened out while playing four games in six nights in four different Canadian cities this week?
Player of the week: Joe Pavelski – Goal, shootout goal
This week: Tue at MTL, Thu at TOR, Fri at OTT, Sun at WPG
Vancouver Canucks (16-18-5, 37 points)
Last week: 1-1-0 (5-2 W vs CHI, 4-3 L vs LA)
Analysis: The Canucks have been ravaged by injuries in recent weeks, but 33-year-old Thomas Vanek is doing his best to keep the team afloat. He has five goals, five assists, and a plus-six rating in his last five games and had a five-point night against the Chicago Blackhawks on Thursday.
Player of the week: Thomas Vanek – 2 goals, 3 assists, +4
This week: Tue vs ANA, Sat at TOR, Sun at MTL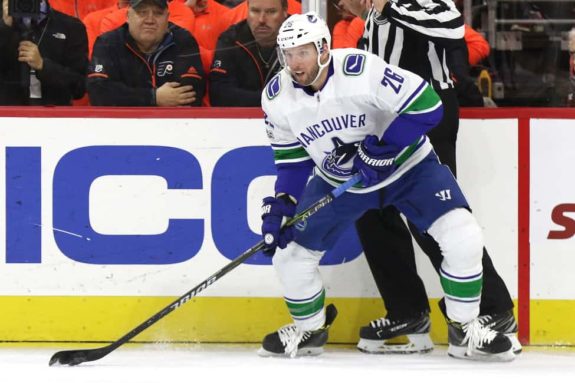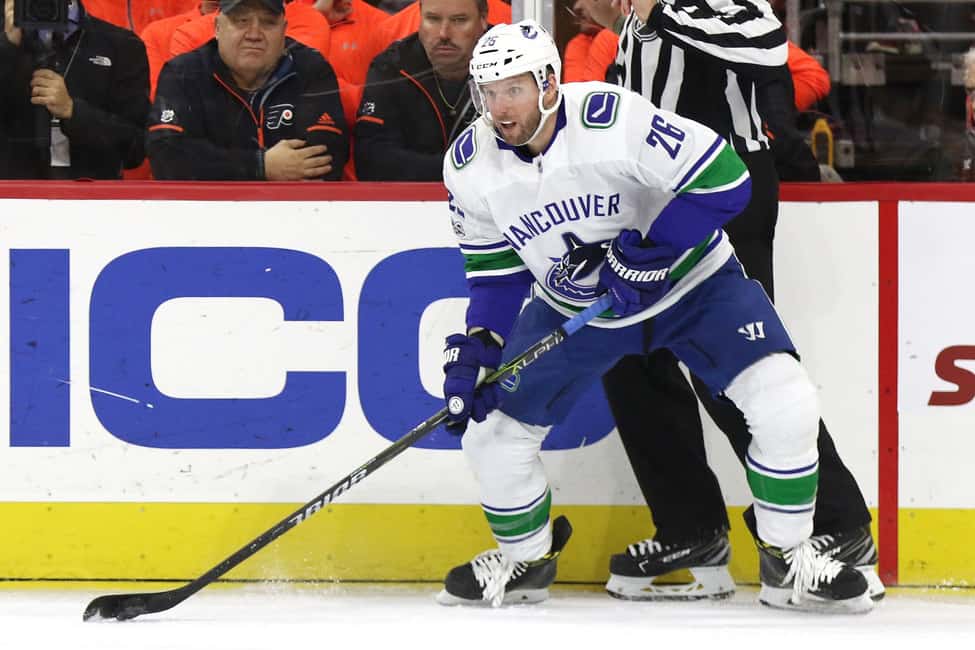 Vegas Golden Knights (26-9-2, 54 points)
Last week: 3-0-0 (4-1 W at ANA, 3-2 OTW at LAK, 6-3 W vs TOR)
Analysis: There's just no stopping the Golden Knights – they ended 2017 on a 12-game point streak (11-0-1) and are, as of this writing, riding a seven-game winning streak. They're getting contributions from everyone on the roster and are getting outstanding goaltending from Marc-Andre Fleury and Malcolm Subban. It's official – there's a Stanley Cup contender in Las Vegas, Nevada.
Player of the week: William Karlsson – 4 goals, assist, +4
This week: Tue vs NSH, Thu at STL, Fri at CHI, Sun vs NYR
After a 9-27-5 first half, can the Coyotes improve in the second half and start playing respectable, competitive hockey?
A lifelong Phoenix resident, Louis has been following hockey since 2010, has covered the Arizona Coyotes since 2015, and has been playing hockey since 2020. So far, Louis has visited eight NHL cities, and one of his personal goals is to eventually make it to all 31 NHL arenas. For any questions or concerns, contact the writer via Twitter @LouisPannone.