For many, expansion teams in professional sports should suck. They should be destined for a multi-year sentence of futile failure. It's sort of like an unwritten rule that speaks to the initiation of new franchises. As a result, fans are treated to disappointing results night after night and are left with little reason for optimism. Players grow frustrated, drowning in despair while management attempts to quell the widespread panic spreading through a new fan base.
The process of building a winner from scratch, which was precisely the task George McPhee faced when he became the Golden Knight's first official employee as General Manager, was assuredly meant to last longer than a single training camp. Attempting to create a masterpiece using inferior resources, in this case, sloppy seconds, should amount to a Luxor-sized failure, no?
Accidentally on Purpose
Gather a group of professional, mostly proven NHL hockey players in a room. Tell them they will suck –straight up. Tell them any hopes of a successful season are nothing more than self-authored tales of fiction. Now give them a head coach in Gerard Gallant who himself has been an afterthought most of his career (and boasts a significant chip on his shoulder following his last NHL job – the Florida Panthers fired Gallant while on a road trip, literally forcing him to find his own way home.
The image of the Panthers firing Gerard Gallant and leaving him behind on the road is going to linger over that franchise for a while. pic.twitter.com/U7z6aJlLtF

— Gord Miller (@GMillerTSN) November 28, 2016
Through the sum of their parts, the Golden Knights had bones to pick and points to prove. And so they marched onwards, with the goal of writing the feel-good sports story of the year.
While their present position atop the Western Conference has left many scratching their heads in bewilderment, nobody inside the organization is treating this as beginner's luck. The proof is in the Vegas pudding. The Knights, playing exciting and inspired hockey on a nightly basis, are as Cup-ready as any team in the league…and they are playing with house money when you rewind back to all the preseason chatter about their inevitable on-ice ineptitude. Fast forward, and, as the late great Chris 'Biggie Smalls' Wallace would have said: Sky's the limit.
Less Is More
Gerard Gallant has never been a big talker. He's a firm believer in the 'less is more' mindset. In one of his first interviews after being named Vegas' first head coach, Gallant spoke about his approach to coaching and how he planned to handle all the uncertainty surrounding his new team.
"I'm not a big talker. I'll probably tell the guys, 'Listen, let's come in here, let's work hard and let's have fun. Make sure you're ready to earn your spot on the team. It's a brand-new franchise and we want to get better every day.' It won't be a long speech."
Pretty straightforward direction from Gallant, who admits his time as an assistant for Canada's 2017 IIHF World Championship team helped better prepare him for the task at hand in Vegas. His approach has caused many to label him a player's coach.
"After that experience of three weeks there with Team Canada and seeing how our team came together and the chemistry and the lines and all that, you don't worry as much…for me, it's about getting your chemistry, getting your leadership, and they'll get their chemistry in their lines and their [defense] partners."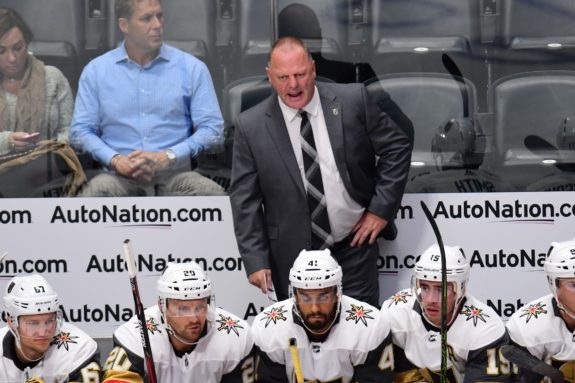 Now certainly, players' coaches sound great in theory, yet many still manage to lose their respective locker-rooms despite their laid-back personas. Sure, all coaches have a shelf life in professional sports and Gallant is no different. However, Gallant has found a way to push the right buttons. Continuously finding new ways to motivate and encourage players is what separates good coaches from great ones. After all, these are professional athletes who shouldn't need daily reminders or pick me up pep talks to do their jobs.
What Will 2018 Bring for the Golden Knights?
Can Vegas keep up this pace? It's the question everybody is asking, even as the Golden Knights pile up the wins — with two games remaining in December, the Knights have only dropped two games all month long. Fortified by a player leadership group that includes the likes of Marc-Andre Fleury and James Neal (two Sidney Crosby disciples), this team has the potential to pull off a Leicester City-sized miracle. Regardless of where your hockey allegiances may reside, it's hard not to root for this team given the circumstances. They've captured the hearts of a city, known more for just about everything other than hockey, and, for the moment, have turned it entirely upside down. Gambling often results in unfavourable outcomes, but the Golden Knights are a rare case of the contrary.
And we as hockey fans are all better off because of it. Let's enjoy the ride, shall we?