Take a deep breath. The Buffalo Sabres are just one day away from selecting the franchise-altering defenseman that they have so desperately needed. Soon, Rasmus Dahlin will officially be a member of the blue-and-gold, injecting a much-needed boost of elite talent on the blue line.
The Sabres currently hold seven picks in tomorrow's draft. Even though their plans for the first overall selection has been known for well over a month now, it remains to be seen what Jason Botterill will elect to do with the remaining six.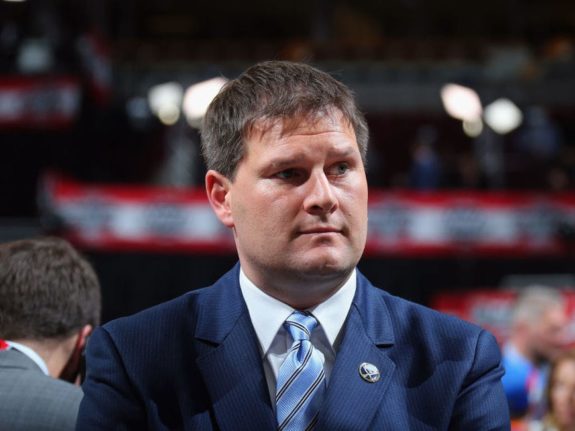 With that in mind, let's take a look at the organization's current prospect pool and where each player ranks within their position group. These prospects are ranked not only by their NHL-readiness but by their overall potential as well.
Forward Prospects
First, it's worth mentioning that you won't see Casey Mittelstadt on this list. It's well known that he's a shoe-in to secure an NHL roster spot next season, so his status as a "prospect" is debatable. Players like Justin Bailey and Nick Baptiste will also be missing from the list. If the Sabres elect to retain the soon-to-be restricted free-agents, they will qualify more as depth players given their respective ages.
C.J. Smith, and Sean Malone, two more 23-year-olds in the system, project to play in Buffalo full-time next year, so for consistency sake, they have been excluded as well. That's not to say that any of these players couldn't still develop, but it seems like a stretch to consider them as prospects, especially when you consider the fact that they were drafted five years ago.
1. Victor Olofsson
At this point, it would be somewhat surprising to see Olofsson start the season in the minor leagues given the lack of talent on the wing in Buffalo. As the SHL's leading goal-scorer last season, he will provide an immediate boost to an offense that looked much better on paper in 2017-18 than they did on the ice.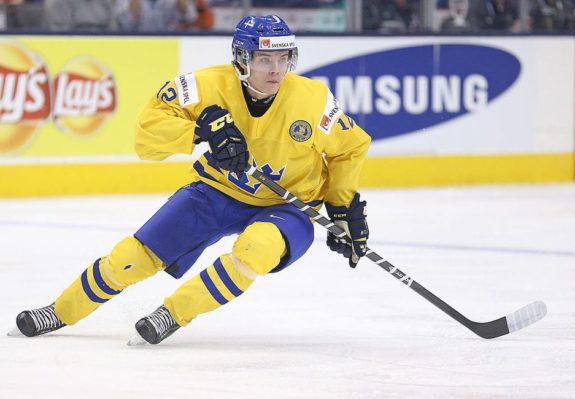 Of course, given Botterill's policy of developing players through the system, it is possible that the 22-year-old could spend time in the AHL. Patience is a virtue, but the franchise is in dire need of a natural sniper to play alongside either Jack Eichel or Casey Mittelstadt long-term.
After notching 27 goals for Frolunda HC, the former seventh-round pick is shaping up to be one of the steals of the 2014 NHL Draft. If he can continue his elite goal-scoring prowess in North America, he will become a key member of the Sabres' new core.
2. Alexander Nylander
As the most polarizing prospect on the list, fans have started to sour on Nylander after two consecutive sub-par seasons with the Rochester Amerks. While his performance in the AHL has left a lot to be desired, at just 20 years of age, it's still too early to consider him a bust. Still, he needs to have a big year or else he could be approaching that territory.
Part of the reason for Nylander's struggles in 2017-18 was due to a lower-body injury he sustained during the team's annual Prospects Challenge last summer. Another concerning note was Amerks' head coach, Chris Taylor's comments on his lack of effort during the season. The front office will need to pay close attention to the Swedish youngster's motivation and overall work-ethic moving forward.
It will be interesting to see just how much playing time he gets with the big club in 2018-19. In seven contests with the Sabres over the last two seasons, the former seventh-overall pick has registered two points.
3. Rasmus Asplund
Asplund's inclusion at this point makes it three Swedes in a row at the top of the Sabres' pipeline. Last year, he set career bests with Farjestads BK, posting eight goals and 20 assists in 50 games. The 2017-18 season marked his fourth full year playing in Sweden's premier professional league.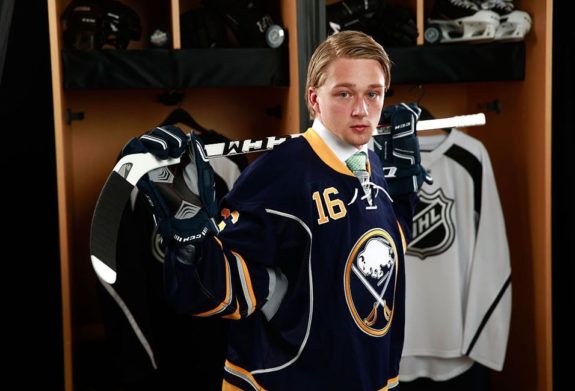 One of the most noteable things about him is how he was acquired. On day two of the 2016 draft, the Sabres moved up to the third pick of the second round as part of a deal that sent Mark Pysyk to the Florida Panthers and brought Dmitry Kulikov to Buffalo. As it stands, the Panthers got the better of that deal though — if Asplund can keep developing, the tables will turn.
The 20-year-old is the perfect combination of two-way ability and physical presence. If his development continues on its current trajectory, he will be an excellent third-line centerman and penalty-kill specialist at the NHL level. He will likely spend all of next season honing his craft with the Amerks.
4. Cliff Pu
Funny name aside, Pu has quickly become a fan favorite, catching the eye of roster prognosticators in Western New York. At the Prospect Challenge last year, his outstanding skating and play-making ability helped him stand out as a 19-year-old surrounded by elder-statesmen like Bailey and Baptiste.
In a year where he split time between London and Kingston of the OHL, Pu continued to produce points, registering 84 in 65 games. Like Asplund, he too will spend most, if not all of his time in Rochester next season. At 6-foot-2, 193-pounds, he should have no problem adjusting to playing against grown men in the AHL.
Though he will likely take a little longer than the aforementioned Swedish forwards to nab a consistent role in the big league, his ceiling is incredibly high. In terms of work-ethic, there is nobody more impressive in the Sabres' system. Pu should help continue the cultural turnaround that Botterill hopes to establish throughout the organization.
5. Marcus Davidsson
Since being drafted by the Sabres 37th overall in 2017, Davidsson has shown fantastic improvement, making the full-time leap to the SHL in 2016-17. Last year, he made an exceptional leap in scoring production, notching 21 points in 39 games, a 12 point improvement from his rookie campaign.
The Swedish (seeing a trend here?) centerman showed very well in front of the Sabres brass during the World Junior Championship in Buffalo this past winter. In an organization that wants to build a roster centered around speed and transition, Davidsson certainly fits the bill.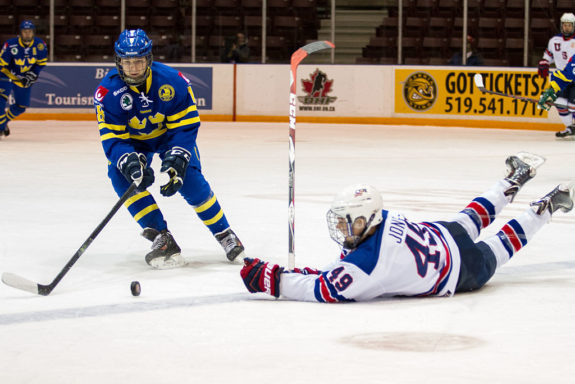 He'll need another season or two across the pond before he is ready to make the leap to North America. He has a long way to go, but his ceiling is undeniably high.
6. Linus Weissbach
Weissbach is another former seventh-round pick who could wind up being a major steal for the Sabres. After spending the last few years in the Swedish junior leagues and the USHL, the 20-year-old got his first taste of collegiate hockey last season and he did not disappoint.
In his first season with the Wisconsin Badgers, the shifty winger posted an impressive 26 points in 34 games, earning a spot on the NCAA All-Rookie Team. Botterill loves himself some collegiate hockey players, but he must remain relatively careful in this case. If Weissbach can improve even further next season, he may want to consider getting him inked to an entry-level contract.
Too many times, late-round prospects who exceed expectations in the NCAA opt to become unrestricted free agents after they graduate. It comes with the territory given how the rules are currently set up, but if the Sabres show a sign of good faith in him early on, they can avoid that scenario completely.
Related: Sabres Top 4 Prospects 2018
Defensive Prospects
Before we get to the prospects, let's all just take another moment and revel in the fact that the Sabres are about ot draft Rasmus Dahlin. His inclusion on the roster will go such a long way in helping turn things around at One Seymour Knox Plaza.
With that out of the way, we turn our attention to the players who are officially in the system as of today. At a glance, the organization is relatively weak on the blue line. Sure there are a handful of lottery tickets (see what I did there?), but none of them are virtual guarantees to ever become NHL regulars.
For years, Brendan Guhle has been the franchise's top defensive prospect and now that he will play full-time in the NHL, he has been excluded from the rankings.
1. Will Borgen
2017-18 was an excellent season for Borgen's development. The 21-year-old made national news when it was announced that he had been named to the Team USA roster for the Olympic Games in PyeongChang (though he never dressed).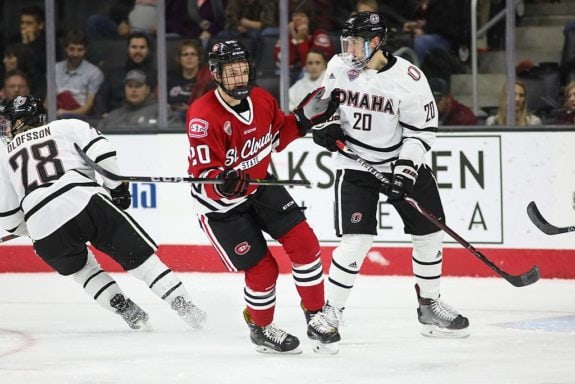 As one of the few true defensive defensemen in the Sabres' system, he will play a key role in Rochester next season as Guhle and Casey Nelson settle into full-time roles in Buffalo.
Last year, Borgen was recognized as the best defensive defenseman in the NCAA as a member of the St. Cloud State Huskies. After his collegiate season came to a close, he joined the Amerks as they continued their Calder Cup Playoff push. If injuries start to pile up on the blue line in Buffalo, don't be surprised if he gets a call up.
2. Lawrence Pilut
An argument can be made that Pilut deserves to take the top defensive slot here, but since he has yet to play on North American ice, he takes the number two spot, for now. Soon after winning the Salming Trophy as the most outstanding defenseman in the SHL, the 22-year-old signed a two-year entry-level deal with the Sabres.
Sabres sign Swedish D-man of the year Pilut to 2-year deal https://t.co/jZBKa0LtNc pic.twitter.com/JC2N4YtbbH

— theScore NHL (@theScoreNHL) May 15, 2018
With a bit of a logjam at the NHL level, it has yet to be determined whether or not Pilut will start the year in Buffalo. Though he may be best suited to spend a season in the AHL to adjust, it would be a little surprising if his deal with the Sabres didn't have some sort of NHL contingency in it.
Based on his time in Sweden, he certainly appears to be the type of player that Phil Housley could use to help implement his system. With 38 points in 52 games for HV 71, the puck-moving play-maker led all SHL defensemen in points last year.
3. Jacob Bryson
If you don't know about Bryson yet, it's time to start watching him play. The Sabres' 2017 fourth-round pick had a phenomenal season in the NCAA last year for the Providence Friars.
While serving as an alternate captain in only his sophomore season, he posted 25 points in 40 games, earning him a place on the Hockey East All-Star team. At just 20 years old, he has continued to grow as a reliable, two-way defenseman in the collegiate system. One of the only real concerns about him pertains to his size. At just 5-foot-9, 179-pounds, he may struggle to adjust at the NHL level.
Similar to Weissbach, if Bryson can keep improving, Botterill will need to make sure that he signs him to an entry-level deal before his senior season comes to a conclusion.
4.Casey Fitzgerald
This spot was a bit of a toss-up between Fitzgerald and 2017 third-round pick, Oskari Laaksonen. Since the Boston College product is a bit further along in his development, he gets the nod.
COLLEGE CATCH-UP | Junior Casey Fitzgerald, a NTDP alum from 2013-15, is spending his junior campaign as a captain for @BCHockey. Read: https://t.co/o2W4LMZOjo pic.twitter.com/2q84t5yFXz

— USA Hockey's NTDP (@USAHockeyNTDP) January 15, 2018
As the Eagles' captain in his junior season, Fitzgerald did regress a bit from a statistical standpoint, but he continued to display exceptional decision-making in his own end and elite transitional ability. Even with all of his physical gifts, his most impressive trait is his work ethic. Fitzgerald will never be accused of taking a shift off, and even though he is on the small side, you would never know it by watching him play.
He'll spend one more season in the NCAA and next summer. The Sabres will have to decide whether or not they want to retain his rights or allow him to become a free agent.
Related: Sabres Recent Draft History – 2018 Edition
Goaltender Prospects
Here is one position that Botterill must address at every level within the organization. Not only will he need to find another netminder to pair with Linus Ullmark next year, but he must also pursue a starter in Rochester. With only two bonafide "prospects" in the entire organization, don't be surprised if he selects one (or more) this weekend.
1. Ukko-Pekka Luukkonen
The coolest name in hockey is also the Sabres top goaltending prospect. Leading up to last year's draft, Luukkonen was the consensus top European goalie, which is why Botterill decided to select him with the 54th overall pick in the second round.
Despite an absolutely brutal showing as Team Finland's starting netminder at the World Junior Championship, the Sabres signed the 19-year-old to his entry-level contract last week.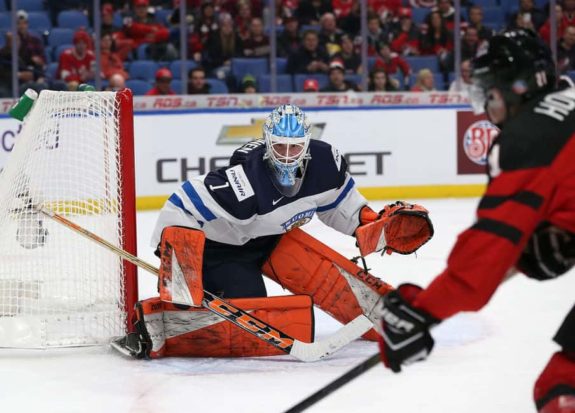 Though he will need to spend at least another season in Liiga, he could very well end up in Rochester for the 2019-20 season. After spending the last two years in Mestis (the Finnish minor-league) fans will be interested to see how well he plays against an increased level of competition. Historically, goalies take longer to develop than any other position, but Luukkonen's ceiling is sky-high. He might be ready for NHL action sooner than you think.
2. Jonas Johansson
Johansson takes this spot because, well, there's frankly nobody else to choose from. Sure, Adam Wilcox is still relatively young at 25 years old, but he can hardly be considered a prospect, which leaves us with the 22-year-old Johansson (who is the seventh Swede on this list, for those keeping score at home).
The 6-foot-5 netminder spent most of last season with the Cyclones, posting a .909 save percentage in 27 games. Toward the end of the 2017-18 campaign, with Ullmark on recall in Buffalo, Johansson was called into action for the Amerks, though his performance through seven games left a lot to be desired.
It remains to be seen whether or not Johansson gets a crack at the starting job in Rochester next season, but he will serve as a backup at the very least.