There has been a heavy turnover of the St. Louis Blues' roster in the past month, including the departure of several key veterans. The team has parted ways with many of their most experienced players. Will the 2018-19 Blues miss these veterans or will they soldier on with new leadership?
Familiar Faces Gone
Over the course of the last year, the Blues have parted ways with four of their eight most experienced players (by games played in the NHL). Foremost among these is Kyle Brodziak, the gritty center who moved up to the second line after the team traded Paul Stastny. Brodziak, who has played 847 games in the NHL, recorded 33 points last year, his highest total since the 2011-12 season with the Minnesota Wild, and won 52.7% of his face-offs. He returned to his hometown team, the Edmonton Oilers on a two-year deal.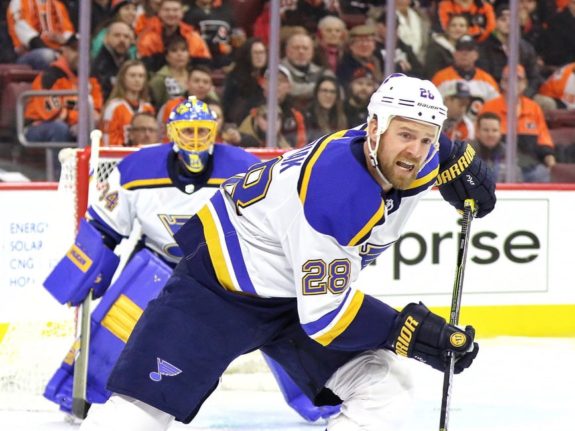 Trailing Brodziak slightly in career games played was Stastny, who finished the season with 824 after being traded to the Winnipeg Jets at the deadline. Stastny, who was in the final year of a four-year contract with his own hometown team, the Blues, never scored fewer than forty points or won fewer than 55% of his face-offs. With the departures of Stastny and Brodziak, St. Louis lost its two best face-off men and two of its four most experienced players.
The 2018-19 Blues will also be without Scottie Upshall. The 6th overall pick in 2002, Upshall never quite lived up to the potential of his draft position but he has made a career out of being a valuable lower line contributor, something he was for the Blues. Brought in on a professional tryout contract before the 2015-16 season, he played three seasons in St. Louis and collected 51 points. Upshall brought value to the team with his experience, playing a responsible fourth line role, and with his presence in the locker room. But injuries shortened his season and at 34, with other additions to the roster, it seems unlikely that he'll be wearing the blue note next season.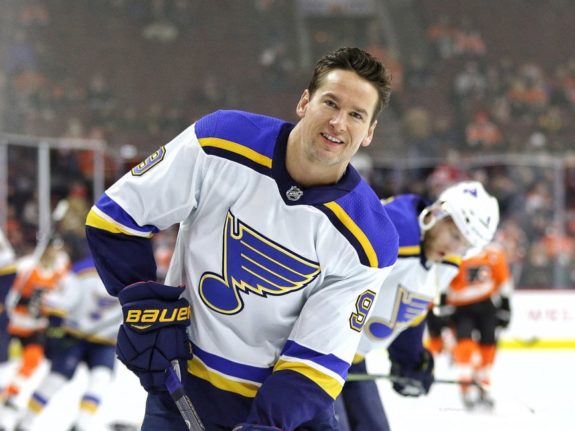 Finally, the Blues let go of Patrik Berglund who had played each of his 694 games in a Blues sweater, ranked sixth in team history in games played. Though Berglund has given the Blues many memorable moments in his career, including scoring the team's first goal in the Winter Classic, fans started to question his work ethic and it was time for a change of scenery. Nevertheless, Berglund knew what it meant to be a Blue more than any other active player.
Defensemen up in the Air
Two of the Blues' more experienced defensemen are also question marks for the upcoming season. Jay Bouwmeester, once the NHL's iron man and team leader in games played, is recovering from a hip injury that hampered him most of last year. After undergoing surgery in March, the original timetable for his return was four to six months but since Bouwmeester will be 35 by the start of next season, a contract year, it remains to be seen how quickly he can recover and what sort of impact he will have.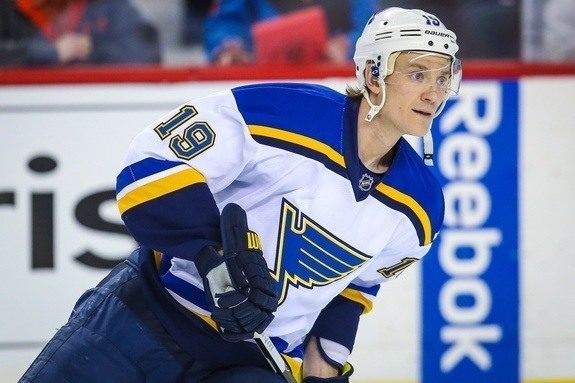 Another experienced defender with injury concerns is Carl Gunnarsson. He's played 556 games, putting him twelfth on the team, and he's also in a contract year. Late last season he suffered a torn ACL in his left knee and underwent surgery. Gunnarsson is expected to be ready to go for training camp but he will need to test and strengthen his knee to be a regular contributor.
The question marks surrounding Bouwmeester and Gunnarsson are significant. Without these two, the team's depth on defense is fairly thin. If either or both of Bouwmeester and Gunnarsson miss significant time next season, the team will be forced to focus on younger less experienced players like Jordan Schmaltz, Jake Walman, and Mitch Reinke.
Experienced New Arrivals
While the Blues have lost some of their most experienced players, they've also added several veterans. David Perron returns to the Blues for the third time. Perron has played 722 games in his career, 422 with the Blues. While he will bring his skills as a two way forward who can create goals (coming off a career year with the Vegas Golden Knights), he will likely also need to assume a leadership role as the core of the team turns over, particularly given his history in St. Louis.
Tyler Bozak joined Perron as one of the team's free agent additions. He has played each of his 594 games with the Toronto Maple Leafs but is starting a new journey in St. Louis and he has set big goals. Bozak isn't a point-scoring machine but he is responsible in all areas of the ice and wins face-offs too. If his Cup dreams are to become reality, he will need to help galvanize the team.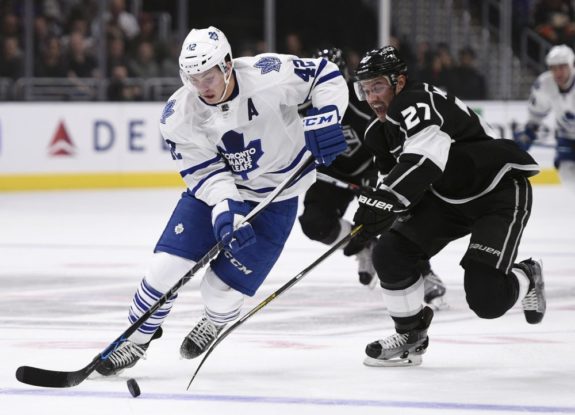 Joining Bozak and Perron are Ryan O'Reilly and Patrick Maroon. O'Reilly was the headline addition of the offseason, as part of the trade that sent five pieces to the Buffalo Sabres to get him. At 27, has already played in 651 NHL games, making him now the fifth most experienced player on the team. Like Bozak, he wins face-offs and plays responsible defense but with more offensive upside. Given his contract and the price paid to get him, O'Reilly will be expected to be a centerpiece of the Blues' roster for years,
Patrick Maroon is the feel-good story of the Blues' offseason, as the 30-year-old is able to return to his hometown and reunite with his son. Though he has considerably less NHL experience than most players his age (Maroon was something of a late bloomer and has only played 375 NHL games), he can step into a leadership role because of his relationship to the community. He can help his new teammates adjust to life in St. Louis and he will be fueled by the unique desire to win that comes with playing for your hometown team.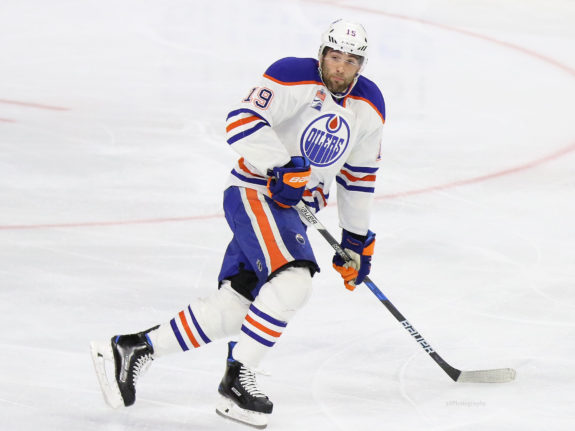 With the additions of Perron, Bozak, O'Reilly, and Maroon (not to mention Chad Johnson, who brings more experience as a backup goaltender (173 games) than his predecessor Carter Hutton (138)), the Blues have brought in considerable experience to supplement a roster that had lost four of its most veteran players.
What Will Blues Leadership Look Like
Despite the changes, one thing remains in place: the Blues have retained all three of their official leaders from last year including captain Alex Pietrangelo and alternates Vladimir Tarasenko and Alex Steen. But there is more to the leadership of a team than the players who wear letters. Teams need leaders across the squad to be successful.
Some of the players that left after last season were doubtlessly leaders. Stastny's experience and importance to the team made him a de facto role model. Both Brodziak and Upshall were well respected veterans and played important roles in leading the lower lines. Patrik Berglund had been with the team for so long that everyone expected him to be a leader.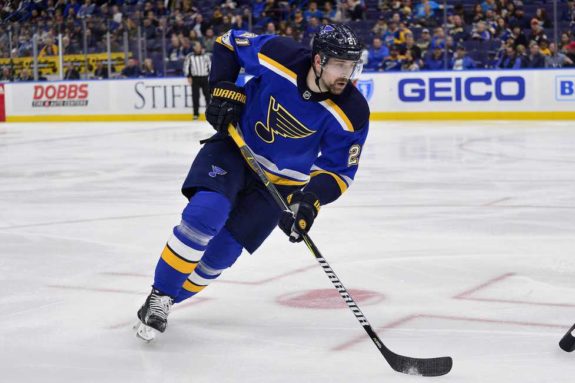 But there were significant problems with the Blues' leadership last year and one wonders if GM Doug Armstrong's changes were geared toward addressing those issues. Stastny was likeable but quiet and while he may have led by example, he was not likely to be the player who demanded change in the locker room. Berglund was experienced but there were questions about his effort and commitment to the team. Brodziak and Upshall were in limited roles making their ability to impact the team finite.
The commitment of the new group of players is more evident. Both O'Reilly and Bozak have already made clear their desire to win a Stanley Cup with the Blues. Perron and Maroon have expressed their excitement to return to St. Louis to play hockey. Nothing animates a team more than players who are happy to play there. With four new players who are desperate to win and several players leaving who may not have been as passionate, the Blues look to be in better hands in 2018-19.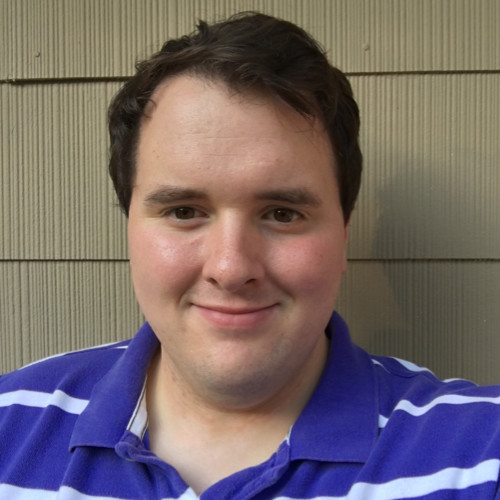 Stephen Ground is a veteran of over three years at THW, focusing on the St. Louis Blues, NHL goaltending, and the annual World Junior Championship. He is the co-host of the Two Guys One Cup Podcast, a hockey podcast focused on the Blues.