| | | | |
| --- | --- | --- | --- |
| Born: | January 17, 1929 | Draft: | Undrafted |
| Hometown: | Notre-Dame-du-Mont-Carmel, Quebec | Position: | G |
| Known For: | Goalie Mask Pioneer | Catches: | Left |
| National Team: | N/A | | |
Joseph Jacques Omer Plante (January 17, 1929 – February 27, 1986) was a Canadian professional ice hockey goaltender. During a career lasting from 1947 to 1975, he was considered to be one of the most important innovators in hockey. He played for the Montreal Canadiens from 1953 to 1963; during his tenure, the team won the Stanley Cup six times, including five consecutive wins. In 2017 Plante was named one of the "100 Greatest NHL Players" in history.
Plante retired in 1965 but was persuaded to return to the National Hockey League to play for the expansion St. Louis Blues in 1968. He was later traded to the Toronto Maple Leafs in 1970 and to the Boston Bruins in 1973. He joined the World Hockey Association as coach and general manager for the Quebec Nordiques in 1973–74. He then played goal for the Edmonton Oilers in 1974–75, ending his professional career with that team.
Plante was the first NHL goaltender to wear a goaltender mask in regulation play on a regular basis. He developed and tested many versions of the mask (including the forerunner of today's mask/helmet combination) with the assistance of other experts. Plante was the first NHL goaltender to regularly play the puck outside his crease in support of his team's defensemen, and he often instructed his teammates from behind the play. Plante was inducted into the Hockey Hall of Fame in 1978, was chosen as the goaltender of the Canadiens' "dream team" in 1985, and was inducted into the Quebec Sports Pantheon in 1994. The Montreal Canadiens retired Plante's jersey, #1, the following year. Plante ranks seventh among NHL goalies for all-time career wins with 437.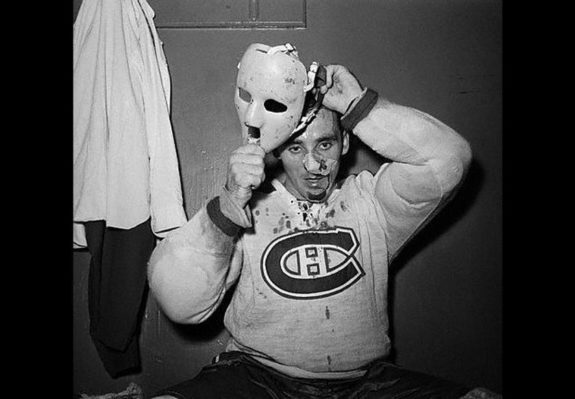 Jacques Plante Statistics
Trade Tracker
Date
Traded From
Traded With
Traded To
Traded For
June 4, 1963
Phil Goyette
Don Marshall
Dave Balon
Leon Rochefort
Len Ronson
Gump Worsley
May 18, 1970
–
Cash Considerations
May 3, 1973
Third-Round Pick
(Doug Gibson)
First-Round Pick
(IanTurnbull)
Eddie Johnston
Deeper Dive
Achievements
Vezina Trophy — 1956, 1957, 1958, 1959, 1960, 1962, 1969
Hart Memorial Trophy — 1962
NHL All-Star Game — 1956, 1957, 1958, 1959, 1960, 1962, 1969, 1970
NHL First Team All-Star — 1956, 1959, 1962
NHL Second Team All-Star — 1957, 1958, 1960, 1971
Stanley Cup Champion — 1953, 1956, 1957, 1958, 1959, 1960
Inducted into Hockey Hall of Fame — 1978
Inducted into Canada Sports Hall of Fame — 1981
Inducted into Quebec Sports Pantheon — 1994
No. 1 Jersey Retired by Canadiens — 1995
Inducted into World Hockey Association Hall of Fame — 2010
Sources