Born:
September 28, 1962
Draft:
1981 Oilers, 8th Overall
Hometown:
Spruce Grove, Alberta
Position:
Goaltender
Known For:
First Black Player in
Hockey Hall of Fame
Shoots/Catches:
Right
National Team:
Canada
Grant Scott Fuhr (born September 28, 1962) is a Canadian former ice hockey goaltender in the National Hockey League and former goaltending coach for the Arizona Coyotes. In 2003, he was inducted into the Hockey Hall of Fame. He is best remembered for a decade of stellar play for the Edmonton Oilers in the 1980s. He won a total of five Stanley Cups and was a six time All-Star. In 2017 Fuhr was named one of the '100 Greatest NHL Players' in history. He set a number of firsts for black hockey players in the NHL, including being the first to win the Stanley Cup and being the first inducted into the Hockey Hall of Fame.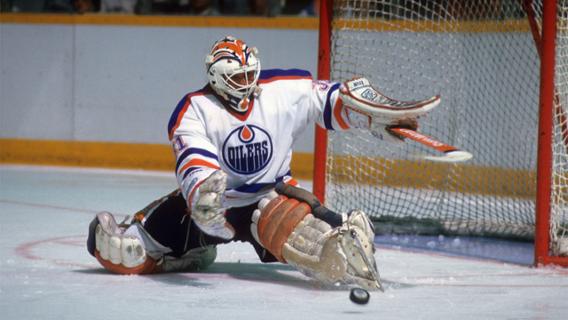 Grant Fuhr Statistics
Trade Tracker
Deeper Dive
Achievements
NHL Record for Longest Unbeaten Streak by Rookie Goaltender (23 games in 1981-82)
NHL Record for Assists by a Goaltender in a Season (14 in 1983-84)
NHL Record for Most Games Played by a Goaltender in a Season (79 in 1995-96)
Canada Cup Gold Medal — 1984, 1987
IIHF World Championships Silver Medal — 1989
NHL First Team All-Star — 1988
NHL Second Team All-Star — 1982
NHL All-Star Game — 1982, 1984, 1985, 1986, 1988, 1989
Vezina Trophy — 1988
William M. Jennings Trophy — 1994
Stanley Cup Champion — 1984, 1985, 1987, 1988, 1990
No. 31 Jersey Retired by Oilers — 2003
Inducted Into Hockey Hall of Fame — 2003
Inducted Into Alberta Sports Hall of Fame — 2004
Sources