| | | | |
| --- | --- | --- | --- |
| Born: | January 21, 1981 | Draft: | 2000 Thrashers, 2nd Overall |
| Hometown: | Freiburg, Germany | Position: | LW/RW |
| Known For: | Calder Trophy Winner | Shoots: | Left |
| National Team: | Canada / Germany | Current Status: | Retired |
Daniel "Dany" James Heatley (born January 21, 1981) is a German-born Canadian former professional ice hockey winger. Originally drafted by the Atlanta Thrashers second overall in the 2000 NHL Entry Draft, he won the Calder Memorial Trophy as the National Hockey League (NHL) rookie of the year in 2002. However, after being responsible for a car crash in September 2003 that killed teammate and close friend Dan Snyder, he requested a trade away from Atlanta and was subsequently dealt to the Ottawa Senators.
One of the Senators' perennial leading scorers during his tenure with Ottawa, Heatley set franchise records for single-season goals (50) in 2005–06, and points (105) in 2006–07, a season in which he also scored 50 goals. He played on the left wing with linemates Jason Spezza and Daniel Alfredsson. The line was consistently among the highest-scoring in the NHL after its formation in 2005–06, with the trio combining for a total of 296 points that season.
Heatley represented Team Canada in six World Championships, two Olympics and one World Cup of Hockey, as well as two World Junior Championships. In 2008, he surpassed Marcel Dionne as Canada's all-time leader in goals and Steve Yzerman as the all-time leader in points for the World Championships.
Heatley later played for the San Jose Sharks, Minnesota Wild and the Anaheim Ducks of the NHL, and last played with the Thomas Sabo Ice Tigers of the Deutsche Eishockey Liga in 2015–16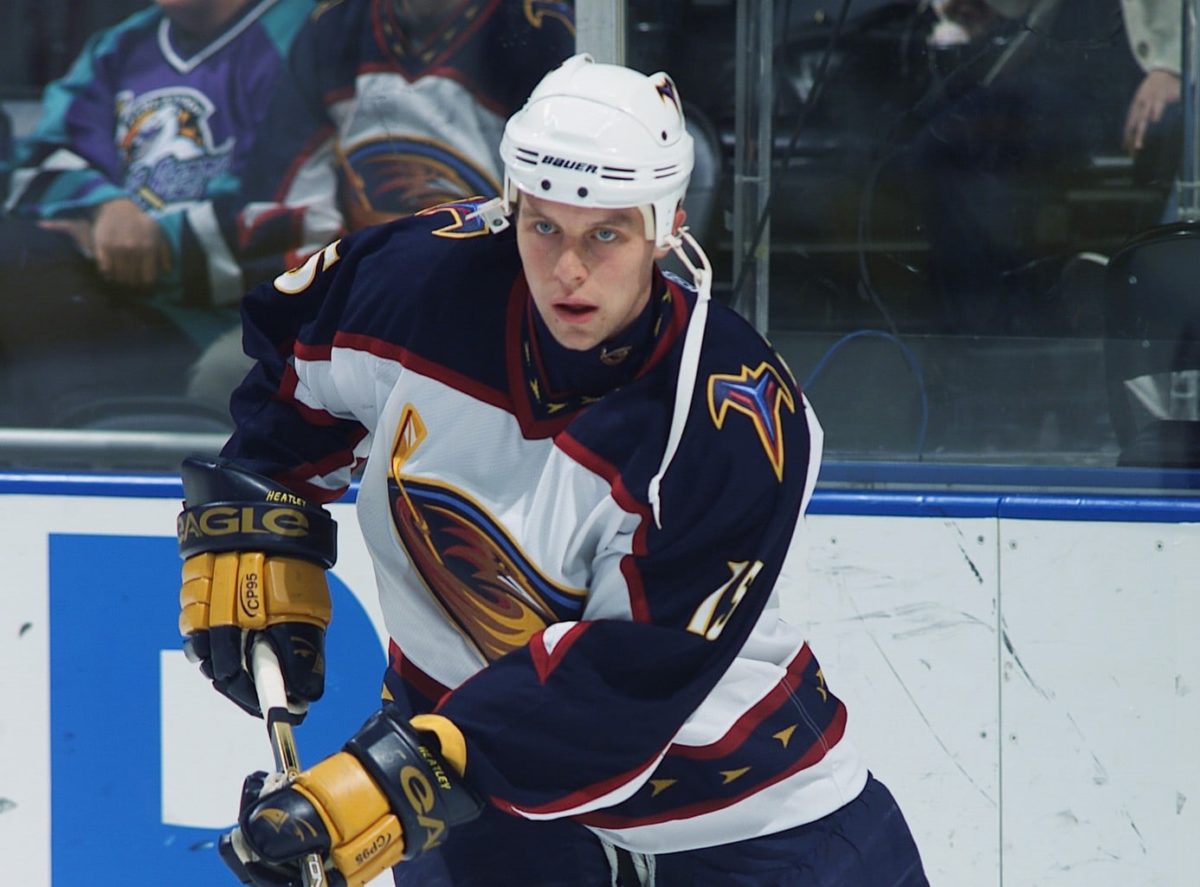 Dany Heatley Statistics
Deeper Dive
Achievements
AMHL Most Points (91) — 1997-98
Air Canada Cup Most Valuable Player — 1997-98
AJHL (South) All-Rookie Team — 1998-99
AJHL (South) All-Star Team — 1998-99
AJHL Champion — 1998-99
AJHL Playoff MVP — 1998-99
AJHL Rookie of the Year — 1998-99
RBC CJHL Player Of The Year — 1998-99
NCAA (WCHA) All-Rookie Team — 1999-00
NCAA (WCHA) First All-Star Team — 1999-00
NCAA (WCHA) Rookie of the Year — 1999-00
NCAA (West) Second All-American Team — 1999-00
U20 WJC Bronze Medal — 1999-00
NCAA (WCHA) Second All-Star Team — 2000-01
NCAA (West) First All-American Team — 2000-01
NCAA Top Collegiate Player (Hobey Baker Award) Finalist — 2000-01
U20 WJC Bronze Medal — 2000-01
NHL All-Rookie Team — 2001-02
NHL Rookie of the Month (December) — 2001-02
NHL Rookie of the Year (Calder Trophy) — 2001-02
NHL YoungStars Roster — 2001-02
NHL All-Star Game MVP — 2002-03
World Championship All-Star Team — 2002-03
World Championship Gold Medal — 2002-03
World Championship All-Star Team — 2003-04
World Championship Best Forward — 2003-04
World Championship Gold Medal — 2003-04
World Championship Most Goals (8) — 2003-04
World Championship Most Points (11) — 2003-04
World Championship Most Valuable Player — 2003-04
World Championship Top 3 Player on Team — 2003-04
World Championship Silver Medal — 2004-05
World Cup Gold Medal — 2004-05
NHL Second All-Star Team — 2005-06
NHL All-Star Game — 2006-07
NHL First All-Star Team — 2006-07
NHL Most Game Winning Goals (10) — 2006-07
NHL Playoffs Most Assists (15) — 2006-07
NHL Playoffs Most Points (22) — 2006-07
World Championship All-Star Team — 2007-08
World Championship Best Forward — 2007-08
World Championship Most Goals (12) — 2007-08
World Championship Most Points (20) — 2007-08
World Championship Most Valuable Player — 2007-08
World Championship Silver Medal — 2007-08
World Championship Top 3 Player on Team — 2007-08
NHL All-Star Game — 2008-09
World Championship Silver Medal — 2008-09
World Championship Top 3 Player on Team — 2008-09
NHL Most Game Winning Goals (9) — 2009-10
Olympic Gold Medal — 2009-10
Alternate Captain (Thrashers) — 2002-03
Alternate Captain (Senators) — 2008-09
Alternate Captain (Wild) — 2011-12; 2013-14
Sources