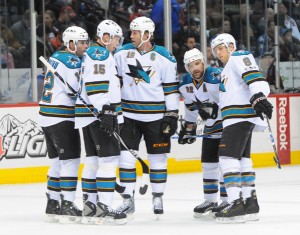 Joe Thornton has taken a lot of heat from playoff failures in the past, both in San Jose and Boston. His inability to score (he failed to record a single point in seven games in a 2004 first-round loss to Montreal) and poor overall play has him labeled as one of the worst playoff performers in the league by some. But this year and last have indicated he does have the ability to raise his game. His two highest playoff point totals have come the past two seasons and this year marks only the second time in his career his point per game average is higher in the playoffs than the regular season. He has been physical, strong on faceoffs and has scored some big goals including the overtime, series-winning goal against Los Angeles.
It's time to stop blaming Big Joe for San Jose failing to reach the Stanley Cup final, but what's an underachieving team without a scapegoat?
Dany Heatley has a $7.5 million cap hit, making him the eighth highest paid forward. He is a two-time 50-goal and 100-point scorer, already has over 300 career goals in nine seasons, went to the Stanley Cup final in 2007, won the Calder Trophy and was named to the all-rookie team in 2002, was a second-team all-star in 2006 and first-team all-star in 2007.
And yet, he does not have the reputation of a winner or clutch player. He has only five goals in 31 playoff games for San Jose and has been largely invisible in these playoffs. He is unwilling to go into the gritty areas to score and has never shown he can step up when it really matters. His real-time stats aren't terrible (27 hits, 11 blocks, eight take-aways) but none of them stand out either. With one goal since the first round, and none in seven games, Dany Heatley has disappeared as the games have become more meaningful, a trend he has followed since his first foray into the playoffs.
After being traded to Ottawa from Atlanta at the end of the lockout, Heatley had two goals and 10 points  and was a plus-3 in a five-game, first round win over Tampa Bay. Then, after a goal and two points in Game 1 of Round 2, he failed to record a single point and was a minus-2 in the last four games as the Senators lost to Buffalo in five games. He had only one goal and was a minus-3 in the five game loss and was never really a factor.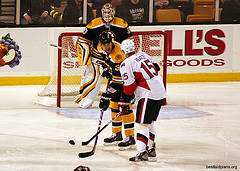 The next season, Ottawa went all the way to the Cup final and Heatley, along with linemates Jason Spezza and Daniel Alfredsson, was a big reason the Senators won the Eastern Conference in just 15 games. He managed six goals, 21 points and  plus-7 and had a nine game point streak (4 goals, 15 points, plus-7) as Ottawa ran right through Pittsburgh, New Jersey and Buffalo. The Sens would then take on the tough Anaheim Ducks and Heatley disappeared off the map. He had only one goal in the final and played to a minus-3 in five games. Daniel Alfredsson had taken a lot of heat for playoff failures over his career, but he managed four goals and five points in the loss and shook his reputation as someone who doesn't show up in the playoffs.
The next year the whole team fell apart as they were swept by Pittsburgh, but Heatley still followed up a regular season in which he recorded 41 goals and 82 points in 71 games by posting just one assist and was a team-worst minus-5. Then last year, his first in San Jose, he recorded four assists and a minus-1 in five games in a first round win over Colorado and two goals, seven points against Detroit in the second round. He finished the series a minus-2, but was only a minus in one game, when Detroit dominated Game 4 7-1 in an elimination game. In the Western Conference final he was once again held without a goal, registered just two assists and was a minus-4. Once again, when the games were at their most important, he failed to create much in the way of scoring and when that is what he's getting payed for.
Aside from disappearing in the playoffs, he has also shown himself to be selfish; he has demanded trades out of two cities. His trade out of Atlanta was understandable as most people would want to get away from a bad memory, but getting himself out of Canada's capital was for pure selfish reasons. He felt he wasn't being used properly after being assigned to the second power play unit even though the team started winning at the end of the season. He also refused an initial trade to Edmonton, though he is not a lone soldier on that front.
In just five playoff appearances, Heatley has been to the conference final three times. He has been so close to being on the best team in the league, but has failed to lead his team when it has mattered most. In 14 games in the final series of those years, he has combined for one goal (0.07 goals per game), four points (0.286 points per game) and a minus-7. For his entire career, in the final series of a playoff run he has played 23 games, recording two goals (0.087 goals per game), seven points (0.304 points per game) and a minus-14. It also goes beyond putting up numbers as he is generally invisible, not even creating chances or playing a complete game in all three zones. He was outworked to a loose puck late in Game 5 by Daniel Sedin, denying him even getting a scoring chance that could have given the Sharks an insurance goal. Vancouver ended up tying the game with 13 seconds remaining and winning the series in overtime.
He doesn't make his money playing physical or killing penalties, he gets his paycheck to score goals and create offense, something he has yet to show he can do at a crucial time. As Joe Thornton has showed, it's never too late to develop into a playoff player. There is still plenty of time for Heatley to show he has what it takes to be a big-game performer, but he has yet to show the determination and sacrifice that comes with being that type of player. He showed that in Game 5, but is was too little too late and the Sharks are now out of the playoffs.