Originally written when Mr. Béliveau passed away in Dec. 2014.
The hockey world, and all of Canada, mourns the loss of Jean Béliveau, a man of miraculous talent and total modesty, who played the game better than almost anyone ever has, and who carried himself– on and off the ice– with the grace and humility befitting a hockey player.
We join the hockey world in mourning, and express our most sincere condolences to the Béliveau family.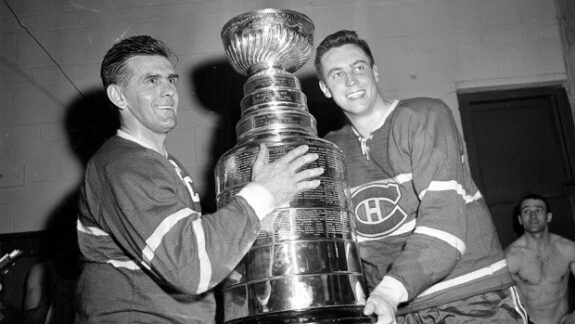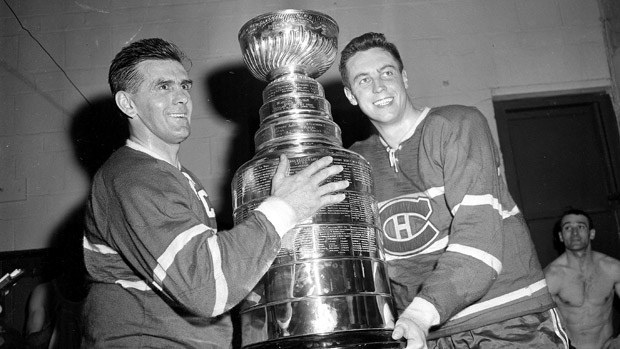 If ever there was an exception to the saying that no one player is bigger than the game of hockey, that player would be Jean Béliveau. And no player would have disputed this assertion more than Jean Béliveau. In a franchise of giants, Béliveau is a colossus. He is to Les Canadiens what Babe Ruth is to the Yankees–if Ruth had led an impeccable life and been regarded as a paragon of all those virtues Canadians hold dear.
The Laval Ice Cream Man
Born Aug. 31, 1931, in Trois Rivieres, Quebec, the future Montreal captain dominated the Quebec Senior Hockey League (QSHL), playing in 117 games with the Quebec Aces and tallying 97 goals and 78 assists. He led the league in goals and points during his two full seasons with the Aces all while working as the Laval Ice Cream Man. He was a highly prized prospect in the NHL but he fought off early attempts to sign him, preferring to mature both as a man and a player in Quebec. Finally, the Canadiens took a most extraordinary step to obtain his rights: they bought the entire QSHL outright.
Perhaps never before or since has a young player been so prized by a team that in order to secure his rights they simply buy the league.
[Watch GM Frank Selke sign Béliveau to the richest contract in NHL history at the time]
Jean Béliveau Joining the Canadiens
Béliveau still needed some urging before he would play for Montreal, and he got it from his childhood hero, the great Maurice "Rocket" Richard, who convinced him to sign.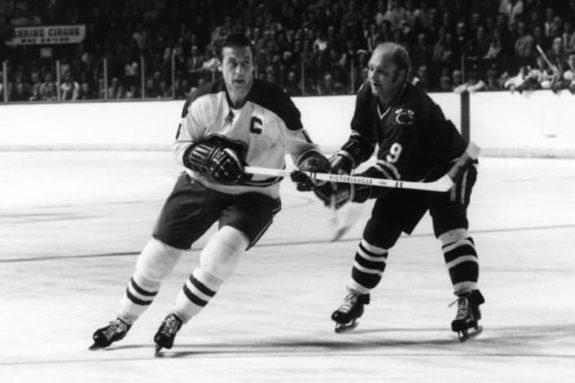 The 1954-55 season would be Béliveau's first complete season in the NHL. As noted by Whitney Tower writing for Sports Illustrated in 1956:
"During his first year with Les Canadiens Béliveau acquired the nickname Gentleman Jean when it was discovered around the league that the new rookie had a distinct aversion to mixing it up."
His response was survivorship at its finest: between 1954-55 and 1955-56 his penalty minutes jumped from 58 to 143, including a tilt or two against some of the toughest guys in the league, such as perennial Rangers goon Lou Fontinato. The decision to get tough hardly hurt his point production, as Béliveau went from 37-36-73 to 47-41-88, earning the only Art Ross Trophy of his career.
"Jean Béliveau would love to play the game anonymously. He appreciates respect and admiration but it embarrasses him because at heart, he thinks he's just an ordinary fellow who happens to be able to play hockey." — Senator Hartland de Molson
Jean quickly developed into one of the top centers in the league. Standing 6-foot-3 and weighing in at 205 pounds during his playing days, he was one of the earliest of the big, skilled centermen, presaging the likes of Mario Lemieux and Vincent LeCavalier.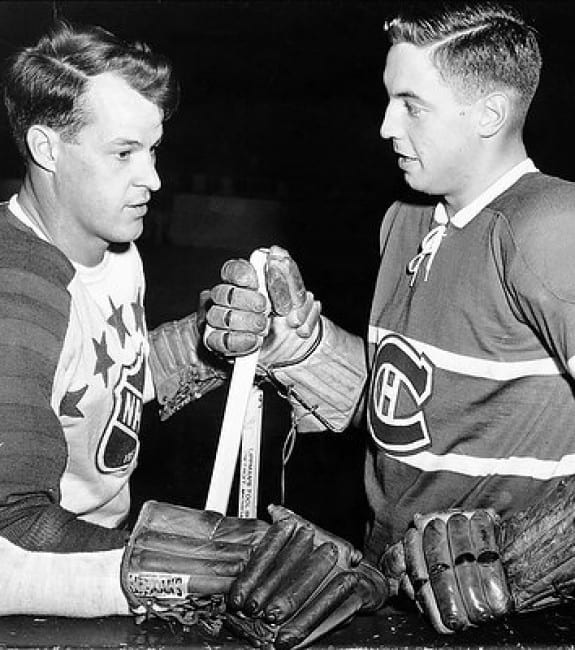 During his long career arc, he played alongside both Jacques Plante and Ken Dryden, Elmer Lach and Jacques Lemaire, Emile Bouchard and Guy Lapointe, not to mention Bernie Geoffrion, Dickie Moore, Doug Harvey, Henri Richard, and of course the Rocket. Meanwhile, the bulk of his career was spent under the coaching leadership of one of the greats, Hector "Toe" Blake.
"If people are saying I am good, it is nice to hear. But to play good hockey you must be lucky to be born with ability. Then you work hard at it the rest of the time." — Jean Béliveau
In 18 full seasons in the NHL, his team missed the postseason just once. He led Montreal in scoring five times, including in the 55-56 and 56-57 seasons, when he finished ahead of none other than the Rocket himself. He retired following the 1970-71 season, after leading the Canadiens to a 4-3 series win over the Chicago Black Hawks for his 10th Stanley Cup.
"I may never be able to play like Jean Béliveau, but I'd like to be the man he is." — Guy Lafleur
The franchise however was in good hands; the following season Scotty Bowman took over behind the bench, and a young phenom from the Quebec Ramparts named Guy Lafleur, who idolized Béliveau, would begin his first season in Montreal. Lafleur had worn Jean's #4 throughout Juniors but on reaching the NHL he was advised by the man himself to change numbers; not because #4 belonged to Jean, but because Jean wanted Lafleur to make his own number famous.
Post-Hockey Career
On his retirement, Béliveau quickly settled into the role of the Montreal immortal, even if he never gave any indication of it.
When he was in Italy, Pope Paul VI sought a private audience with him. As a constitutional monarchy, Canada has a head of government and a head of state; Prime Minister Jean Chrétien offered him the role of Governor General of Canada–the Head of State, the commander-in-chief, and the Crown's representative in Canada's Parliament. He respectfully declined, concerned that life in Ottawa and away from his grandchildren would unnecessarily deny them of their grandparents, becoming what journalist Roy McGregor calls "the best governor-general the country missed out on."
Latest Canadiens Content:
Named a Companion in the Order of Canada, Jean Béliveau was also named the Honorary Captain of the eventual gold medal-winning 2010 Olympic men's ice hockey team.
In 2007 Jean and his wife Elise moved to downtown Montreal, leaving the modest home they had lived in in Longueuil since 1955.
NUMBERS & HARDWARE
Regular season
Games played: 1125
Goals: 507
Assists: 712
Points: 1219
PIM: 1029
Playoffs
Games played: 162
Goals: 79
Assists: 97
Points: 176
PIM: 211
Hardware
One Art Ross Trophy
One Conn Smythe Trophy
Two Hart Trophies
10 Stanley Cups, including five of them as Captain
---
---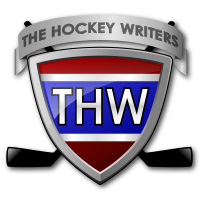 The archives of THW contain over 40,000 posts on all things hockey. We aim to share with you some of the gems we've published over the years.