In this edition of the Vancouver Canucks News & Rumors, Filip Hronek made his Canucks debut on Thursday in the team's win over the San Jose Sharks. Also, the organization will look to fill their third-line centre spot. Ivan Barbashev is one of their targets, while Vladislav Gavrikov is someone they're interested in adding to their blue line. 
Hronek Makes Canucks Debut
Hronek made his Canucks debut on Thursday in the organization's 7-2 win over the Sharks. The team traded for the defenceman, acquiring him from the Detroit Red Wings for the New York Islanders' conditional first-round pick and their second-rounder. He started the game playing alongside Ethan Bear and logged a team-leading 24:25 time on ice.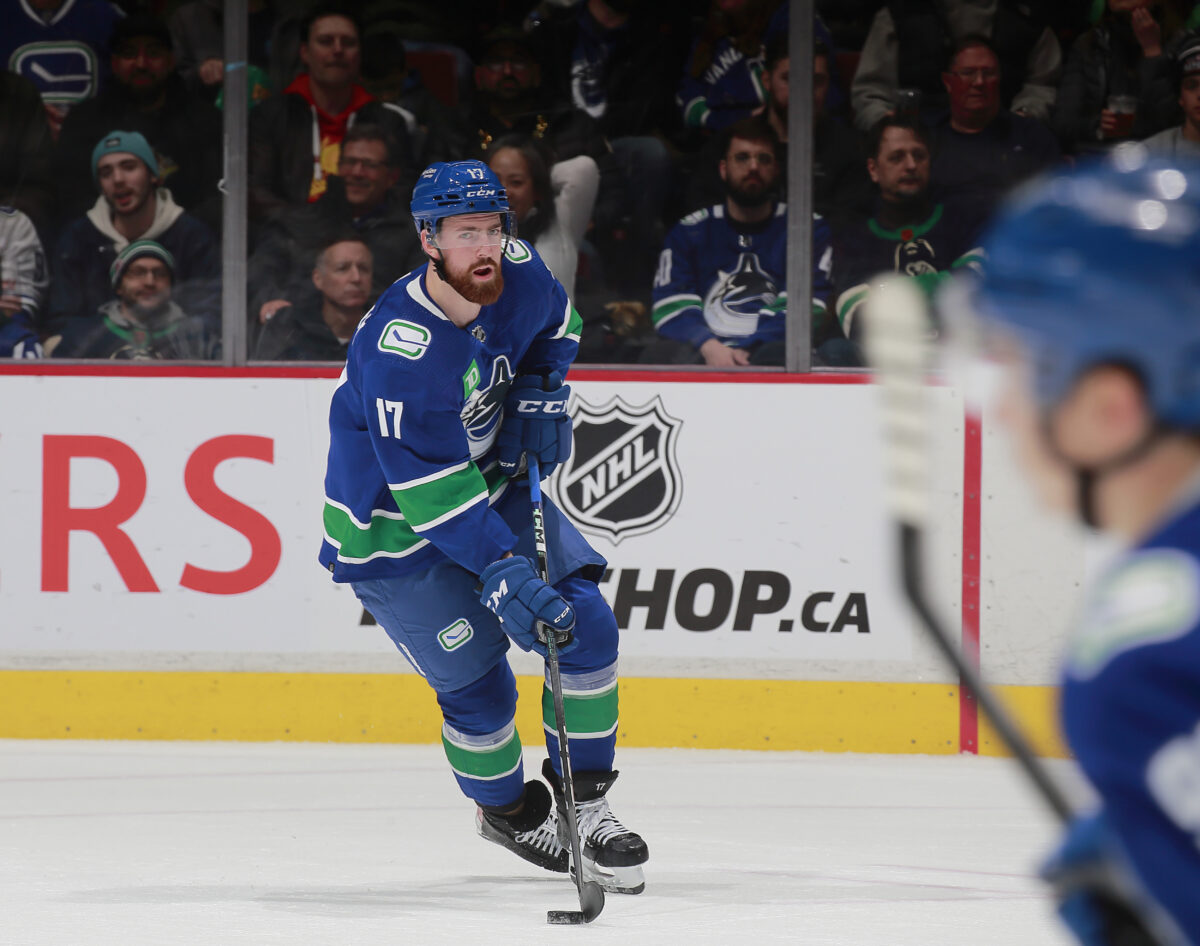 "I felt good; I was surprised," Hronek said. "We were down to five D so I didn't have time to think about it too much."
Defenceman Christian Wolanin was injured in the first period on Thursday, which caused Hronek, Bear, Quinn Hughes and Tyler Myers to play north of 20 minutes. Despite not registering a point or a shot on goal in the win, he was a plus-2 and had three hits and one block in the game.
Canucks Planning to Target Barbashev and Gavrikov in Free Agency
Rick Dhaliwal said the Canucks are making it very clear that a third-line centre is a target in free agency. The Canucks will have to clear up cap space through trades and buyouts since the club is over the cap limit for next season. He named Vegas Golden Knights centre Barbashev as a player of interest. The pending unrestricted free agent (UFA) posted 14 goals and 38 points in 72 games with the Golden Knights and the St. Louis Blues. The Blues traded him to the Golden Knights for prospect Zach Dean.
---
Latest News & Highlights
---
Dhaliwal also mentioned Gavrikov, who is also a pending UFA. The Columbus Blue Jackets traded Gavrikov, along with Joonas Korpisalo, to the Los Angeles Kings for Jonathan Quick, a conditional 2023 first-round pick and a 2024 third-round pick. He's a 6-foot-3, 221-pound defenceman. Gavrikov has scored four goals and 14 points in 61 games this season.
Related: Canucks Third-Line Centres to Target in Free Agency
Barbashev and Gavrikov are both clients of Dan Milstein, who is the agent of Andrei Kuzmenko. Dhaliwal previously mentioned the Canucks brought up both players when they met with Milstein during negotiations for Kuzmenko's contract extension. The Canucks will look to improve their blue line by targeting Gavrikov and adding help on their third line with Barbashev. 
John Garrett Announces 2022-23 Season Will Be His Last in Canucks Broadcast Booth
Long-time Canucks colour commentator John Garrett announced the 2022-23 season is his last with the club's broadcast team before the third period of Thursday night's game. He has been a part of Sportsnet's Canucks broadcast for over two decades. Garrett joined Sportsnet in 1998 as an analyst.
He will continue to do select NHL on Sportsnet broadcasts next season. Fans of the team will be able to listen to Garrett on all regional broadcasts throughout the remainder of the season.
Bear Contract Talks Have Slowed Down
Along with the report about Barbashev and Gavrikov, Dhaliwal discussed Bears' contract negotiations. He is a pending restricted free agent. Dhaliwal noted his agent was in town on Tuesday, but there weren't any talks between the two sides. He added there may not have been any talks since the All-Star break.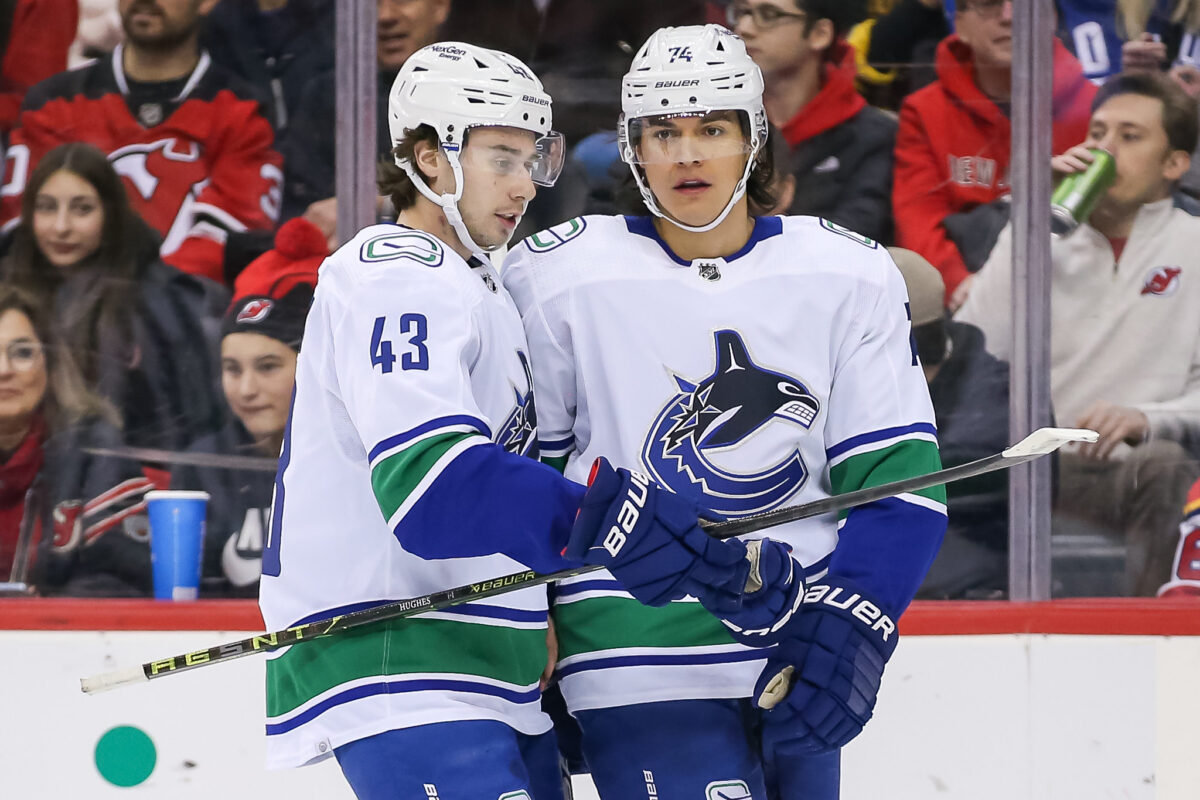 Dhaliwal said Bear is ok with a one-year deal as he'll walk into UFA status. If the Canucks want to buy into UFA years, they'll likely have to offer a bit more, but with their lack of cap space, that might be tough at the moment. The Canucks will need depth on the right side, as Myers has one year remaining and may not return to play with the club next season. Therefore, extending Bear at least for next year will likely be a priority for the organization after they free up cap space.
Canukcs Extend Christian Wolanin
In other defenceman news, the Canucks announced they extended Wolanin to a two-year, two-way deal. The 28-year-old split his time between Vancouver and the Abbotsford Canucks in the American Hockey League (AHL). 
"Christian has been a key contributor at both the AHL and NHL level this season," said general manager Patrik Allvin. "He has developed nicely under the watchful eye of our Abbotsford coaching staff and player development team. This has allowed him to step into his current role in the NHL and show that he can help our team get results."
Wolanin impressed in the AHL, scoring six goals and posting 55 points in 49 games. The 28-year-old has three points and is plus-3 in 15 games in the NHL.