On March 23, Rick Dhaliwal said the Vancouver Canucks are making it clear they will target a third-line centre in free agency. However, the Canucks are already over the cap limit for next season. Dhaliwal adds the organization will attempt to create space through trades and buyouts. If the club clears up space for a third-line centre, they have a few options to target. Here are four players the team can attempt to sign in free agency.
Ivan Barbashev
The one player Dhaliwal mentioned was Ivan Barbashev of the Vegas Golden Knights. The organization traded for the player in February, acquiring him from the St. Louis Blues for prospect Zach Dean. In his seventh season with the Blues, he posted 10 goals and 29 points in 59 games before the trade. Since joining the Golden Knights, the 27-year-old scored four goals and eight points. However, in 2021-22, he posted a career-high 26 goals and 60 points in 81 games, adding to his career total of 82 goals and 186 points through 422 games.
---
Latest News & Highlights
---
Barbashev signed a two-year extension with the Blues in 2021 with a cap hit of $2.250 million. Since it seems like his 2021-22 season is an outlier, as his numbers have plummeted this season, the Canucks could potentially sign the middle-six forward for $2.5 million to $3 million this offseason. Although he is listed as a centre, he can play all three forward positions. Also, Barbashev may be a better fit on the wing than at centre for the Canucks, as he struggles in the faceoff circle posting under 40% in faceoff win percentage (FO%) the past two seasons.
Frederick Gaudreau
Frederick Gaudreau is a solid third-line centre for the Canucks to add. The forward started his career as an undrafted player with the Nashville Predators. After three seasons with the organization, he signed a one-year deal with the Penguins while Canucks president of hockey operations Jim Rutherford was in charge. Finally, he joined the Minnesota Wild on a two-year, $2.40 million deal.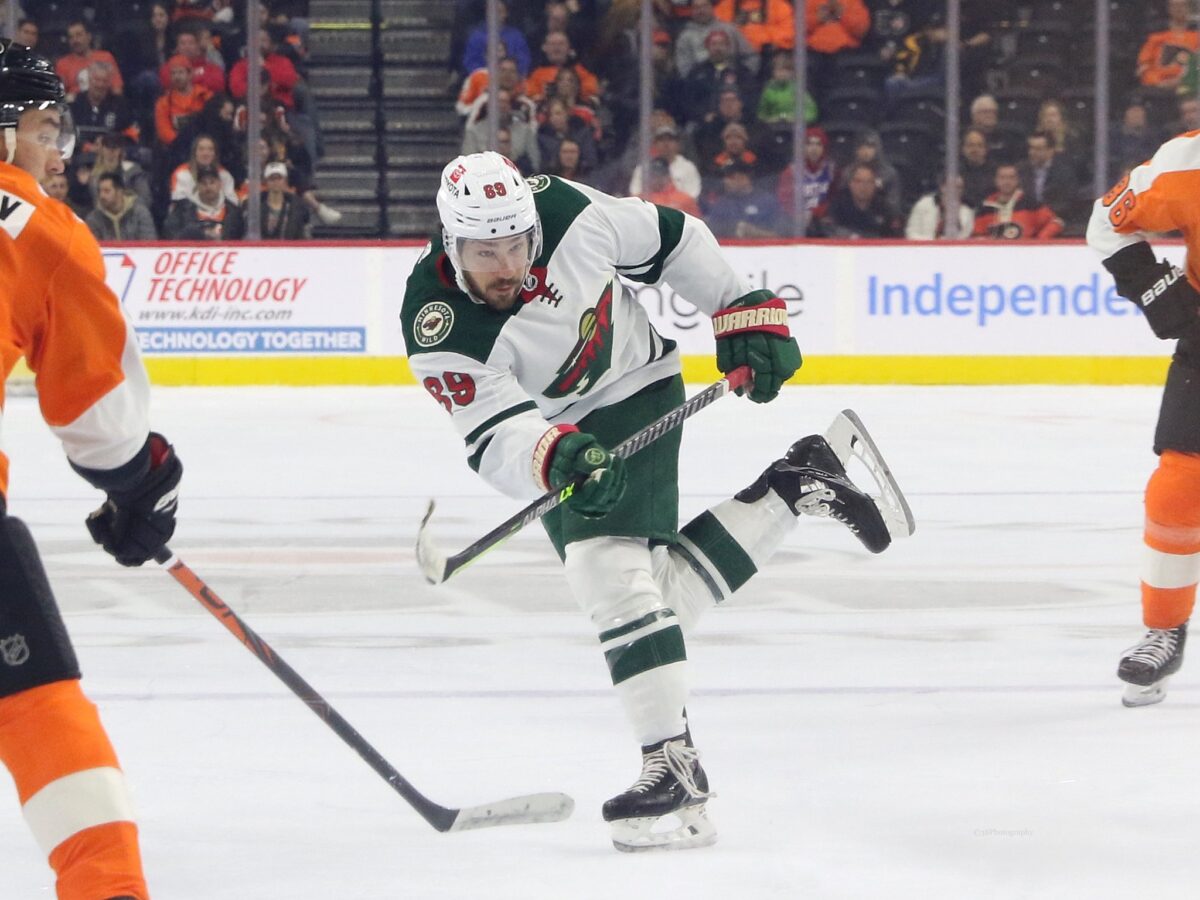 Since joining the Wild, Gaudreau has put together his best seasons. In 2021-22, he posted a career-high 14 goals and 44 points in 76 games. This season, he scored 13 goals and posted 31 points through 71 games. The 29-year-old leads all Wild centres in FO% with 49.4. He's also taken the most faceoffs on the penalty kill at 169, winning 82 of them. Gaudreau provides a good combination as a third-line centre, with his ability to produce offensively and win faceoffs. The Canucks could offer him close to $2.5 million this offseason.
Nick Bjugstad
Nick Bjugstad is in his 11th NHL season. The 30-year-old centre spent seven seasons with the Florida Panthers, where he set career highs for goals and points. He scored a career-high 24 games in the 2014-15 season and posted 49 points in 82 games during the 2017-18 season. Bjugstad joined the Penguins mid-way through the 2018-19 season, making him another player on this list Rutherford acquired. He posted 10 goals and 16 points over the 45 games he played with Pittsburgh. However, Rutherford traded him to the Wild in the 2020 offseason.
Related: Canucks Buyout Options for the 2023 Offseason
Bjugstad scored 13 goals and posted 30 points with Minnesota before departing in the 2022 offseason to sign a one-year contract with the Arizona Coyotes. After playing 59 games with the club, they traded him to the Edmonton Oilers. In 68 games this season, he has 16 goals and 27 points. He also isn't bad in the faceoff dot, as he's posted a FO% close to 50% every season where he's taken 250 or more faceoffs. The veteran forward will come off a one-year, $900,000 contract this offseason. He should receive a contract close to that cap hit and term.
Pius Suter
Pius Suter is a 27-year-old centre in his third NHL season with the Detroit Red Wings. His rookie season came with the Chicago Blackhawks, where he scored 14 goals and posted 27 points in 55 games.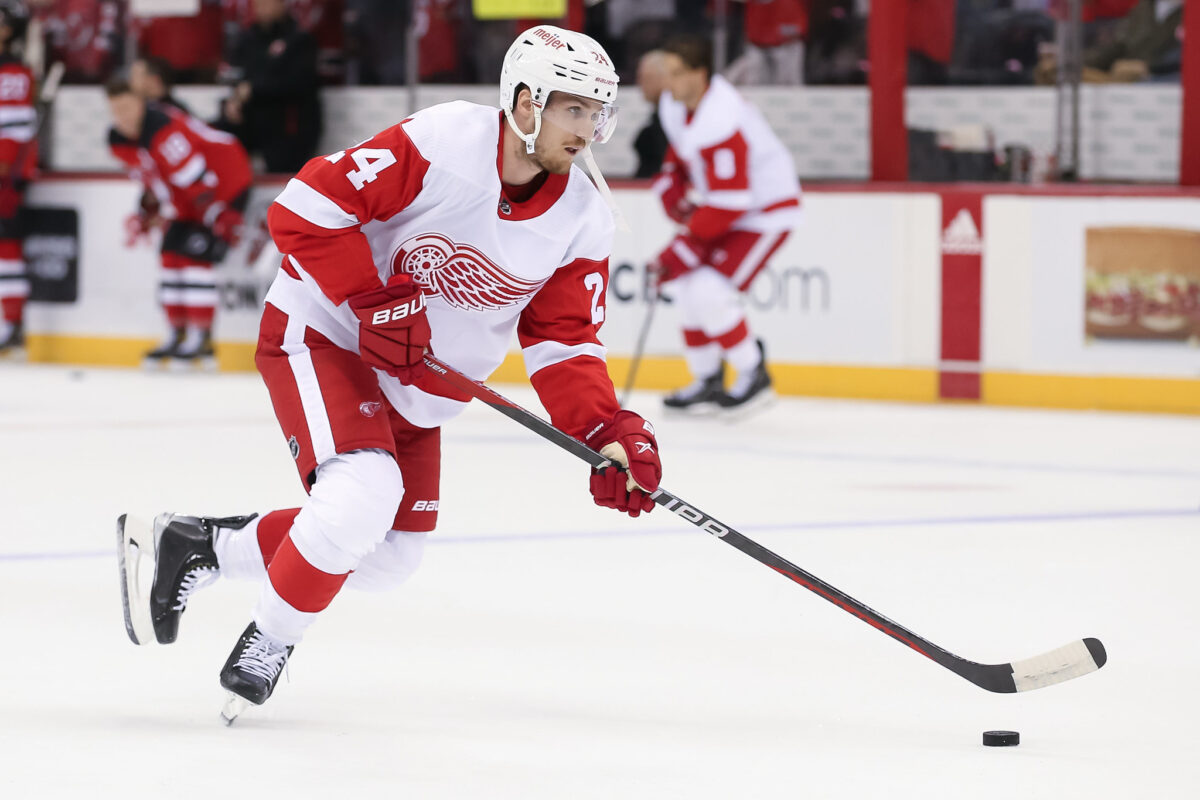 The Detroit Red Wings signed him to a two-year, $6.5 million contract in the 2021 offseason. He scored 15 goals in his first season and posted 36 points in 82 games. In his second season with the club, Suter has scored 13 goals and posted 21 points in 67 games. He has a FO% of 47.6 this season. Suter will likely ask for a similar cap hit or more going into his fourth NHL season. His cap hit could be in the $4 million range next season.
Canucks Have Options If They Create Space 
If the Canucks clear cap space as Dhaliwal suggests they'll attempt to do, they can target these four players. Barbashev is a good option as a middle-six forward, but he seems to be a better addition if the Canucks use him as a winger. Meanwhile, Gaudreau is a good option as he seems to be the ideal fit as a third-line centre. He can produce offensively and is good in the faceoff circle. However, at 30 years old, the Canucks would have to sign him to a short-term deal. As for Bjugstad, he is the cheapest option of the four and is similar to Gaudreau. Lastly, Suter will likely be the most expensive option based on his previous contract. Therefore, the best and cheapest options the Canucks have for their third-line centre heading into next season are the two 30-year-old forwards, Gaudreau and Bjugstad.
---
---