Bradly Nadeau
2022-23 Team: Penticton Vees (BCHL)
Date of Birth: May 5, 2005
Place of Birth: St.Francois-de-Madawaska, New Brunswick, Canada
Height: 5-foot-10, Weight: 163 pounds
Shoots: Right
Position: Center
NHL Draft Eligibility: 1st Year Eligible
Rankings
Bradly Nadeau is going to be a late riser on many draft boards as his end of season stat lines look ridiculous and are too gaudy to ignore. Nadeau played his draft year in the British Columbia Hockey League (BCHL) and has committed to play for the University of Maine in the NCAA next season. Canada's Junior A hockey leagues don't get a ton of respect so even after scoring nearly a point per game in the BCHL as a 16-year-old last season, there weren't a lot of people talking about Nadeau coming into his draft year.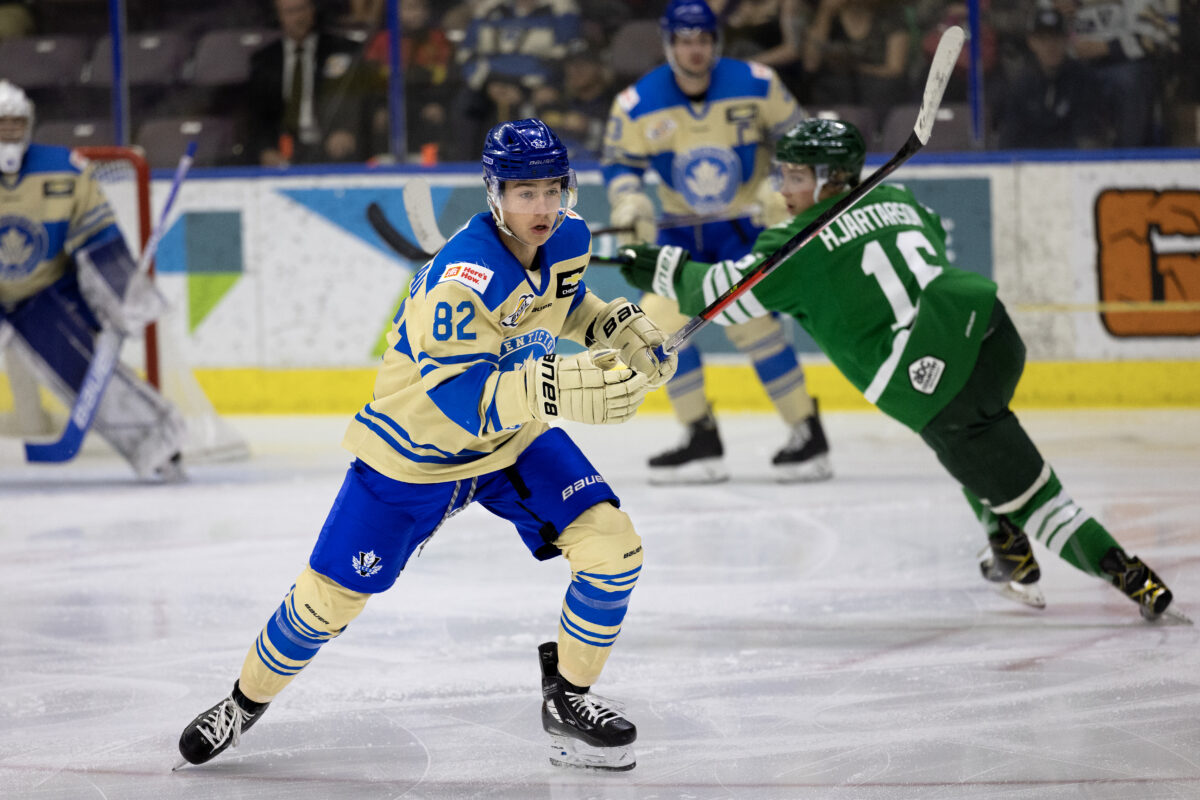 However, all that has changed as Nadeau dominated the league all season, leading the league in goals, assists, and points. His game is pretty well rounded, but his speed and shot clearly stand out when you watch him play. Nadeau's wrist shot and one-timer are both NHL-caliber and are good enough that I'm comfortable saying he is one of the 5 best shooters in the 2023 Draft, and I don't think he's number 5.
Nadeau is a threat on the rush no matter what part he's playing because his speed, shot, and hands make him a dangerous on-puck presence, but he's also a slippery skater and has a knack for finding open space with his smart off puck routes. His skating skill is most clear in his acceleration and top-speed which allow him to take advantage of his opponents in ways that most players aren't quick enough to do. It also doesn't hurt that his speed and compete level make him a decent defensive forward because he's just buzzing around in the defensive zone constantly skating.
"Okay," I hear you say, "so if he's got an excellent shot, skates fast, and is a solid defender, then why isn't Nadeau being talked about as a top-20 pick?", and that's because he's 5-foot-10. Seriously. That's basically the only argument against him being an early pick in this year's draft unless you don't think that his success in the BCHL will translate at all (which I'd disagree with). 
Related: 2023 NHL Draft Guide
Nadeau decided to take the Junior A to NCAA route rather than being held to the CHL/NHL rules for the next three years which may have hurt his draft stock, but I expect will be a positive choice for his overall development. He scored 46 points in 49 BCHL games last year and has over doubled that this year with 45 goals and 113 points in 54 games (2.09 points per game). 
The last player to be drafted in the top-20 straight out of the BCHL was Alex Newhook who had a similar physical profile (5-foot-10 winger) and production, though Nadeau is scoring goals at a significantly higher rate and projects to be a better NHL scorer than Newhook has been. Newhook finished his draft year with 102 points in 53 games which Nadeau has already passed handily. It's certainly not a perfect comparison, though it shows the potential for Nadeau to rise significantly on draft day compared to expectations. 
Other THW Draft Profiles
Bradly Nadeau – NHL Draft Projection
Nadeau has been gradually rising all season and I don't see that stopping anytime soon. Expect him to be a first rounder with an outside chance at going in the early 20s area. I've currently got him ranked 25th in the class which I think would be a great spot to land him, though his speed and shot are good enough that I can see an NHL team taking him much earlier than that.
Quotables
"Nadeau continuously stays in motion on the ice to make adjustments either with turns or to quickly accelerate into space. Even when he's in defensive postures, he's often in a glide or using one foot to sort of continue to propel himself forward." – Joel Henderson, FC Hockey
"His greatest strength is his offensive awareness, he knows how to dissect BCHL defences better than any other player in the league. He supports this ability by constantly surveying the ice for teammates and opponents, as well as lanes to exploit." – Sebastian High, Dobber Prospects
"He sees the ice at a high level, making a lot of seam passes and making tough passes on the move. On the power play he can make a lot of plays, but it's his shot that's a real weapon. He has an excellent one-timer that projects to beat NHL goalies from distance." – Corey Pronman, The Athletic (2023 NHL Draft prospects: Bedard No. 1 on Corey Pronman's ranking, Fantilli and Michkov next, March 7, 2023)
Strengths
Top speed
Wrist shot/one-timer
Off-puck offense
Solid effort level
Under Construction – Improvements to Make
Fill out frame a bit more
Refine defensive strategy
NHL Potential
Nadeau has the potential to become a speedy top-six winger who scores plenty of goals, something that every NHL team is looking for. He will need to fill out his frame a bit with some muscle and/or improve his physical game to the point that his size isn't an issue in the NHL for him to reach that level. Even if his physicality never quite catches up, I think he can be a good bottom-six forward who provides offense and is a powerplay specialist.
Risk-Reward
Risk – 2.5/5, Reward – 3.5/5
Fantasy Hockey Potential
Offense – 8/10, Defense – 6.5/10
Interviews/Links
Awards & Achievements
2021-22 BCHL Champion
2022-23 BCHL Brett Hull Trophy (League's Leading Scorer)
Bradly Nadeau Stats
Videos
---
---
---
Latest News & Highlights
---