The Minnesota Wild were looking to bounce back and clinch a playoff spot when they took on the Vegas Golden Knights for the second time in three days on April 3. They didn't come out with a win but they did clinch a playoff spot for the 10th time in the last 11 seasons. It didn't look good when the Golden Knights got things started halfway through the first period with the only goal of the period.
#mnwild clinch a playoff spot for the 10th time in past 11 years. Played a mostly solid game tonight but didn't close. One point in 2 games vs. Vegas may have cost chance of winning the conference and now took them out of the division lead.

— Michael Russo (@RussoHockey) April 4, 2023
In the second period, the Wild found their momentum and scored twice to claim their first lead before the Golden Knights answered back to tie it at two. However, the Wild fought back and retook the lead 3-2 before the end of the second. The third was a lot of back-and-forth action and the Golden Knights snuck one in during the final seconds of regulation to tie it up and force overtime. It remained tied through overtime and a shootout commenced with the Golden Knights sneaking out the win 4-3.
Wild's Scoring Carousel Continues
Kirill Kaprizov started skating yesterday morning prior to the Wild's Golden Knights game, but while he's been out, numerous players have stepped up offensively in his absence. They had a slight problem in their Saturday, April 1 meeting against the Golden Knights when they only scored once but thankfully that was short-lived. In their most recent meeting, they scored three times, and all by different players.

The first was by Brandon Duhaime who's been struggling on and off all season to get anything going scoring-wise. He received a pass from linemate Ryan Reaves and outskated the Golden Knights defenseman just enough to get a shot off that sailed past the goaltender. That solid effort was his first goal in almost a month and will hopefully be enough to boost his confidence and start a scoring streak as they head into the postseason.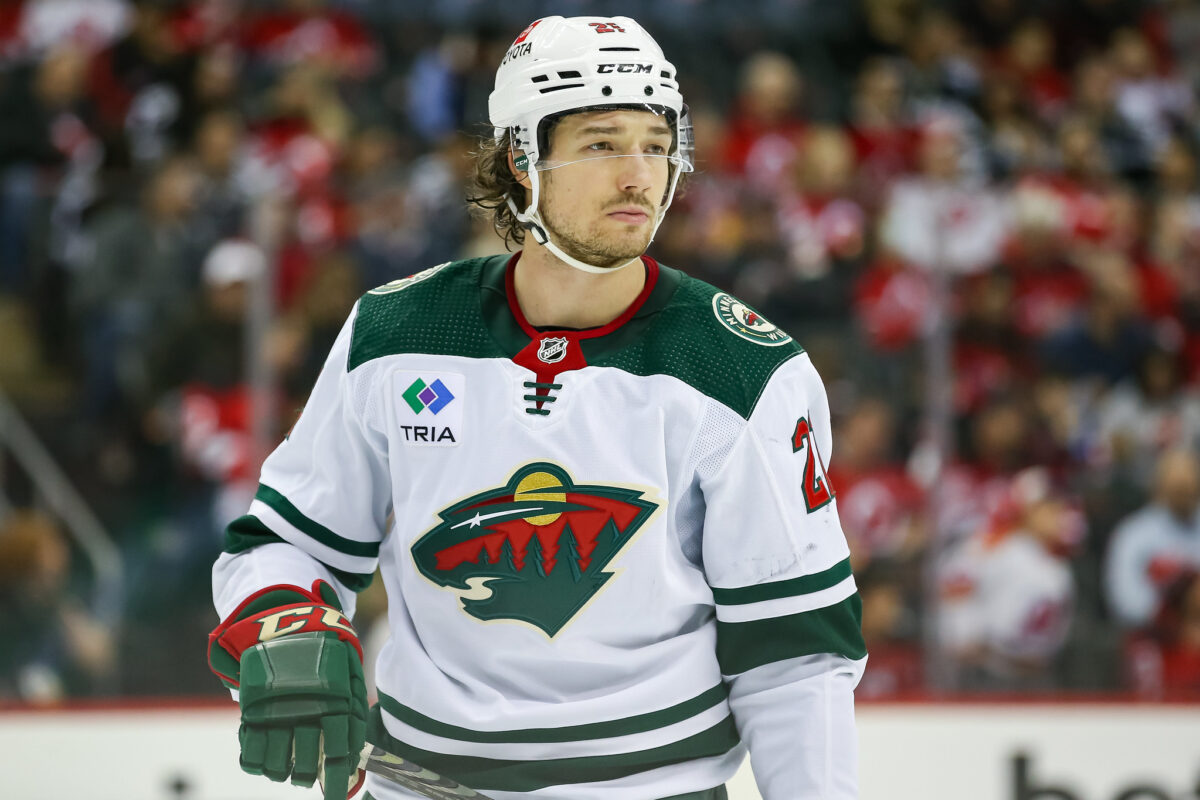 The next goal was by John Klingberg who also had somewhat of a scoring struggle and recently made a few defensive mistakes. He made up for those mistakes with his 10th goal of the season and just his second in a Wild jersey. The final goal was scored by their new scoring machine, Matt Boldy. It was his 30th goal of the season and he's just the fourth Wild player drafted by them to score that many in a season. If he's able to keep this up he may be a 40-goal scorer before the end of the regular season.
Wild's Special Teams Are Back
The Wild's power play has been in somewhat of a drought lately but it broke through against the Golden Knights and it was their new point man Klingberg that made it happen. He did have some help from Boldy and Mats Zuccarello but Klingberg's patience along the blue line and the timing of his shot made all the difference.
Related: 3 Things Wild Need to Improve Before 2023 Postseason
---
Latest News & Highlights
---
The power play can't take all the spotlight either, their penalty kill stood tall and killed off all three penalties plus had a few shorthanded opportunities as well. Things got a little heated in the first period when it looked like the Wild were going to be marching to the penalty box especially when Joel Eriksson Ek took a four-minute roughing penalty.
Eriksson Ek rarely takes penalties, let alone a roughing penalty, but thankfully things calmed down and the Wild got back to business. They'll need to remember that calmness as the postseason starts and tempers run high.
Wild's Shootout Specialists
The Wild weren't able to come up with the win despite some very outstanding goals in the shootout and some big saves by Filip Gustavsson. The two players who scored for the Wild in the shootout deserve some recognition both for their goals as well as their other efforts that have gone unnoticed. The first player is Eriksson Ek who made an absolutely insane move that had Golden Knights goaltender Laurent Brossoit all over the net and unable to stop it.
While Eriksson Ek took an unnecessary penalty he made up for it with his overall effort in the game. He had two hits, a big blocked shot, and a takeaway; plus what he did away from the puck that he doesn't get enough credit for. Things like shutting down opposing players and knowing where to be are prime examples of the efforts not only Eriksson Ek contributed but also Frédérick Gaudreau.
Gaudreau was the other goal scorer in the shootout and he also had a very impressive shot that he blew by Brossoit. He used his typical stickhandling move all the way up with a quick shot that no one knew was in the net until it was too late. His extra effort that usually goes unnoticed came on the penalty kill where he showed how good his defensive skills are. Hopefully, Gaudreau and Eriksson Ek can keep up both these strong scoring skills as well as their extra behind-the-scenes efforts as the Wild will need them going forward.
Wild's Next Opponent
The season is winding down and the Wild will head out on the road for their final meeting of the regular season against the Pittsburgh Penguins. If they want to retake first place in the division, their defense will have to find a way to stonewall Sidney Crosby, Evgeni Malkin, Jake Guentzel, and Rickard Rakell.
If they want to win, the Wild's offense and mainly Boldy will have to find a way past either Casey DeSmith or Tristan Jarry. Their offense has been very powerful the last few weeks and they'll need that to continue as well as their special teams remaining strong to get past the Penguins. If they can do that, that's one more win they need to secure the top spot in the Central Division.