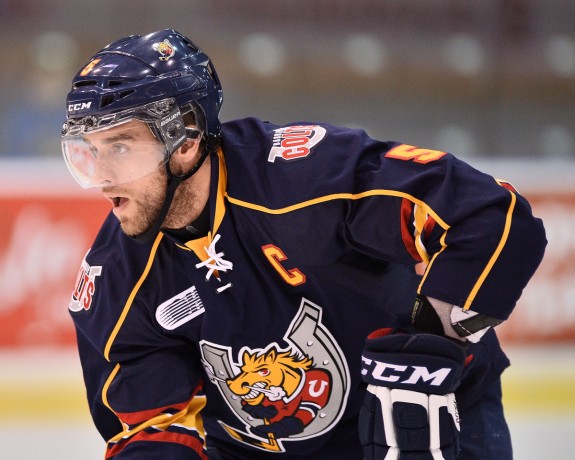 Defense is killing the Detroit Red Wings.
After watching video from a season as recent as 2010-2011, it becomes clear that what Detroit possessed just three years ago is what they lack now: cohesion between the defensemen and the forwards in all three zones. Detroit has a stockpile of next-generation weapons at the forward positions, some of whom have strutted their stuff in the NHL already.  Because of this, Ken Holland's attention must shift to rebuilding Detroit's barely average defense corps.
Scouts are underwhelmed by the 2014 NHL draft class, but so what?  Drafting quality players is a crap shoot and unanticipated contributors emerge annually in the NHL.  The defensemen below are the anticipated contributors Detroit should seek to secure this summer.
Aaron Ekblad
"Aaron is the proverbial 'workhorse' defenseman. Capable of playing significant minutes, he has a seemingly ability to get better the more he plays and he seems to thrive on these types of demands. Smart and capable of playing in all situations, he is also capable of dominating opponents. Defensively, offensively, skill game or physical game, Aaron can excel in all types of games. Top 2 type defenceman." Profile from: TSNs Director of Scouting Craig Button – Sept. 18th 
Haydn Fleury
"One of the elite shutdown defenders; logs big minutes & a vital leader in RD (Red Deer)." -Nov, 2013, @ISShockey
"Fleury is a big, physical blueliner who shows good offensive ability. He's strong and balanced on his skates, keep his head up and understands developing plays. He rubs opposing forwards out and isn't shy to make a solid hit." -August, 2013, Future Considerations
Anthony DeAngelo
"DeAngelo's calling card is his puck moving ability, but he's pretty feisty too. Not a big guy but he isn't afraid to throw his body around." -December, 2013, @ToddCordell 
"Offensive from blueline showing elite quickness, agility & vision as he rushes puck." – December, 2013, @ISShockey
"DeAngelo is a smooth skating, offense-generating defenseman who has some very quick feet. He's slippery and very creative with the puck. His offensive awareness is incredible but is easily out-muscled in his own end and needs to work on his positioning." -August, 2013, Future Considerations
Julius Honka
"Honka is a small offensive-minded blueliner who skates very well with strong lateral movements and agility. He's extremely elusive and hard to contain or catch. He possesses good recovery speed and quick on the transition from defense to offense." -August, 2013, Future Considerations
Roland McKeown
"Total package on the blueline; IQ on both sides of puck. Impressive +16 in 11 GP in Oct" – November, 2013, @ISShockey
"McKeown is a strong, do-it-all defensemen whose biggest asset is his ability to think the game and know his position. He makes strong, simple plays, has a good shot and distributes the puck effectively." -August, 2013, Future Considerations
Sebastian Aho
"Aho is a small but skilled puck moving defenseman who can make a strong multi-zone stretch pass or who can skate the puck up ice on the attack himself. Defensively he is not afraid to play physical or block shots. Size is an ongoing concern. -November, 2013, Future Considerations
Detroit's twenty year scoring surge took adulation away from the defensemen.  Other than Nicklas Lidstrom, defensemen in Detroit have played second fiddle to the forwards, and Lidstrom did not become a household name until the 2000s.
Defensemen have a less glamorous job than forwards.  Scoring goals is more fun than preventing them.  But if 2013-2014 has reminded Hockeytown of anything, it's that the attack begins in the defensive zone. Detroit needs defensemen who can get into "the zone" themselves for the attack to be effective.