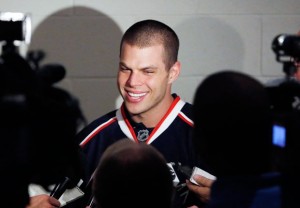 Is one player enough to pull a hockey team into the playoffs? No, this game is a team sport after all. Short of an all-world performance from a goalie, a single player can only help add to an existing club. They can't do it all. But is one player enough to give a team legitimate, dangerous depth? Now there's a thought worth considering. In the case of the Columbus Blue Jackets, it's a transformation we're watching happen in real time. As the Metropolitan Division heats up and a postseason push begins in earnest, Columbus' newest weapon is already making an impact and seems primed to continue as the season winds on. Enter Nathan Horton.
Nathan Horton Delayed and Debuted
The Columbus chapter started on a mixed note for Nathan Horton. Free agency splash and excitement turned to anxiety as shoulder surgery controlled the forward's fate. Yes, the Blue Jackets had landed the top player available, but they wouldn't see him until December at the earliest.
Days turned into weeks, weeks into months, a season underway, games come and gone. The waiting continued and recovery news began to trickle out. Then, at long last, Nathan Horton arrived. And the opening salvo lived up to the hype, with Horton tucking away the game winning goal in his first appearance with the Blue Jackets. That night was one to remember for the player and the fans.
After a loss against the juggernaut St. Louis Blues team, the Horton era rocketed off to the current 4 game winning streak. With a surging record and Nathan Horton's 4 points in these 6 games, expectations are only sure to grow. So what can we anticipate going forward?
Long Term Impacts Yet to Come
Some good news: Nathan Horton might actually keep scoring like this. His career average pace is 0.68 points per game, ever so slightly higher than his current 0.67 with the Blue Jackets. Next, some better news: Horton's impact on his team reaches much further than the scoresheet.
First, let's consider the individual: Nathan Horton's history is as a great contributor to puck possession. Even with unimpressive Florida teams, Horton pushed play the right way, suggesting the best is yet to come for his tenure with the Blue Jackets. Once Horton's shooting tendencies return to normal (and his chemistry with new teammates builds), his influence on games will only increase.
Second, just think about the forwards. Even with Marian Gaborik on IR, the Blue Jackets have depth that should astound long-time Columbus fans. Consider the top 3 lines:
Matt Calvert – Brandon Dubinsky – Cam Atkinson, a fine group that has clicked all year and is among the top possession producers in the NHL.
Nick Foligno – Ryan Johansen – RJ Umberger, a trio come to life thanks to Ryan Johansen's outstanding breakout year.
Boone Jenner – Artem Anisimov – Nathan Horton, a group that I've characterized as the "3rd" line and features the team's top free agency signing.
But that's the thing: it's hard to sort those lines by quality. And, frankly, that's outstanding news. While the Blue Jackets lack an elite score-at-will line (Johansen's continued growth notwithstanding), Columbus is now capable of score-by-committee that actually means something. Opposing clubs just don't wade through the CBJ lines anymore, they're forced to weather an onslaught. You've survived Ryan Johansen's skill and strength? Now you get to meet Atkinson's speed and shots. Have you braved Dubinsky's positional excellence? Now Boone Jenner will wear you down and dish to Nathan Horton. Oh, and one of the league's best 4th liners (Mark Letestu) is there to meet whatever grinding line an opponent dares to ice.
This is a remarkable transformation for the Blue Jackets, a three-headed threat that promises to confound enemy squads for the rest of the year. But it's that final addition of Nathan Horton that makes the third group possible, and gives double protection to any single scoring line.
The Playoff Push Anew
The Columbus Blue Jackets have been quietly improving from a slow start. Possession performance, team health, they're both pushing toward the positive, a trend that leaves the NHL team just a few points shy of playoff positioning. While the Jackets had shown life throughout December, the addition of Nathan Horton to an improving young lineup suddenly makes talent and scoring appear on three lines rather than two.
It's this shift to talent that's so important. With perhaps the deepest squad in Columbus history, the Blue Jackets are primed to make a run. It's an exciting time to be a CBJ observer, as the best seems to be just ahead for the team. And while Nathan Horton can't drag his new teammates to the promised land alone, his presence promises to improve the club in the months to come.